Are you a busy stay-at-home mom/dad looking for ways to earn money online?
If so, you're in a better time now than ever before. Home-based jobs are increasingly ramping up in popularity, allowing you to earn a quick buck while still supervising your child.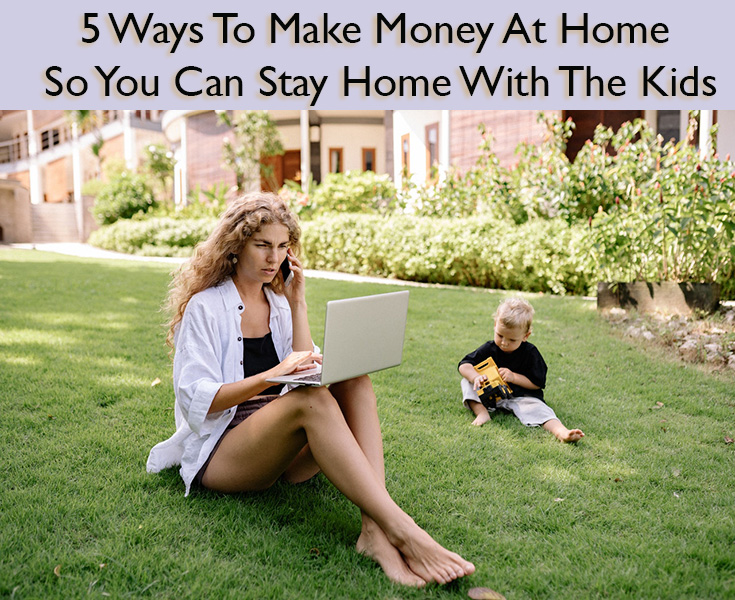 Let's explore the ways you can earn money while watching over your children. 
1) Becoming A Tutor
Do you want a relatively low barrier-to-entry job with a flexible schedule?
As long as you have a good Internet connection, a webcam, and headphones, you can start finding tutor jobs as soon as today.
Being a virtual tutor for students from any part of the world is a good way to pad up your income. You can earn on average around AU$29/hr tutoring students online.
The best part is: you won't ever have to worry about running out of students to teach. There will always be a demand for tutors in subjects like math and science, or those looking to ace their CETs. 
And if you don't think you're fit to teach advanced subjects, don't worry. There are ESL teaching jobs online that position you to teach East Asian natives how to speak and write English at a flexible schedule too.
2) Being A Virtual Assistant
Do you like administrative work?
Many businesses seek virtual assistants to deal with administrative tasks. This role can include setting up appointments, planning travel itineraries, maintaining a calendar, data entry tasks, and other repetitive tasks. 
The beauty of the job is that all the work is exclusively remote. You could even end up working for companies on the other side of the world potentially. Not only that, but different companies also have different arrangements, like a one-time project or a per-hour payment scheme. This can give you the freedom to choose what best suits you as you scout for work.
Job marketplace sites like Upwork and Fiverr are some good job hunting sites to give your virtual assistant career a good jumping point.
3) Becoming A Customer Service Representative
Another low barrier-to-entry job is being a customer service representative, which includes taking inbound calls and helping customers. This is a great job for people who have a knack for being patient, calm, and solution-focused.
The work is shift-based, granting you a structured schedule if you're the type of person who prefers sticking to a routine. Since this is a customer service role, telling the hiring manager of any past relevant customer service experience would help you stand out. You can also take up courses relevant to the field for an even better chance of getting hired. 
4) Becoming A Small Business Owner
If you like creating trinkets and crafts, you can sell your products online through small business marketplaces like Etsy or social platforms like Instagram. 
Many small business owners use marketplaces and social media platforms to market their business and interact with prospecting customers. Anyone nowadays can set up a digital store, so you don't have to be tech-savvy to start generating some passive income. 
But do keep in mind: the marketplace is fiercely competitive. If you're looking to sell beyond your circle of acquaintances, you'd need some fine marketing chops to stay ahead of the crowd.
One way to stand out is by ensuring that your product is to be well-received by buyers. 
Another option, especially if you want to get into the nitty-gritty and are dead-set in scaling your business, is to take up courses online to add to your skillset. Many online courses have offerings from digital marketing, customer service, and finance courses – all created to fine-tune your business sense.
5) Data Entry
Data entry is all about accurately typing information on a spreadsheet, which requires little advanced knowledge to get started. If you're a mom who can power through listing a set of items in a spreadsheet, a data entry job might be well-suited for you. 
Here are some preferred skills for data entry jobs:
Fast typing speed

Amazing attention to detail

Good Internet access

Basic knowledge of installing software
For Australia, the starting rate tends to hover around AU$23.82 per hour. You can find companies looking for data entry jobs on freelance websites like Upwork, Freelancer, and Fiverr. 
If you want to stand out to prospecting clients, you can also take a couple of courses online to give you an edge.