The state of Arizona offers terrific adventures for families both indoors and out. It can be tempting to think of Arizona as nothing but desert, but you can find activities that run the gamut; from great mountain hikes to killer swimming holes, you can find an Arizona adventure for your family that will suit your travel goals and schedule.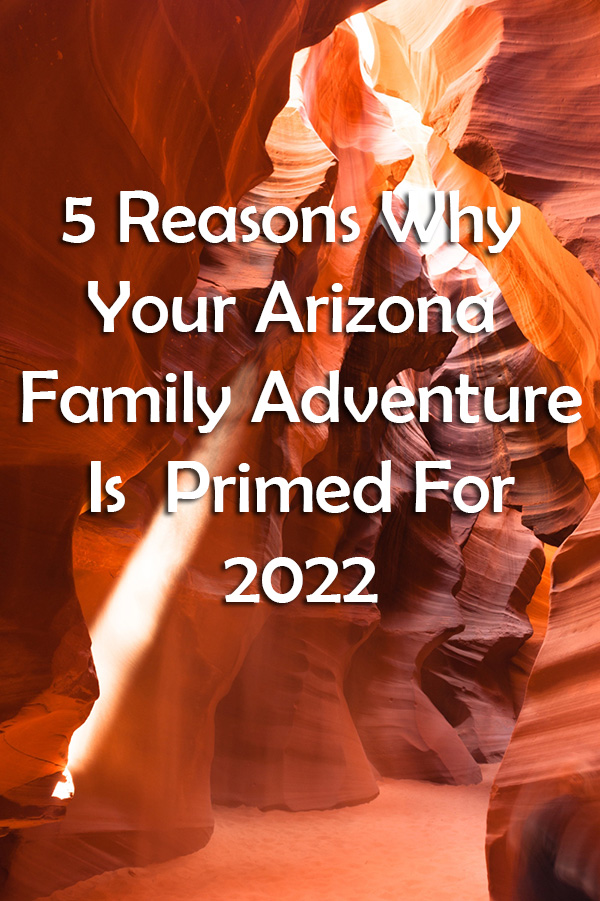 Have a Snowball Fight
The largest ponderosa pine forest in the world is located in northern Arizona. If you're keen on high mountain hikes and rock scrambling, try a trip into Buffalo Park. For families with younger children who prefer viewing the mountains to climbing them, you can find great flat trails that allow you to view Mt. Elden all year round. Fly into Flagstaff's Pulliam Airport for your winter Arizona adventure.
If snow isn't your thing, visit northern Arizona in the fall and celebrate the foliage. You can spend time in Sedona, hike the Devil's Bridge, and bring your camera for a hike on the Inner Basin Trail. Be aware that the Inner Basin Trail is at a high elevation, though the hike is only 1.5 miles. Make sure you bring plenty of water, sunglasses and warm clothing to protect you and your family from the chill as the sun goes down.
For those who love to travel in any season, consider a tour of all the ghost towns of Arizona. This can be especially a fun adventure for children! Many of these spots can be a bit creepy. You can supplement the music on your car trips with spooky tales and audio books to help keep your family in the spirit of the adventure. Stopping by one of the many camping and picnic areas around the state can be a great way to wind down the day, share stories, and roast some marshmallows.
Check Out the Night Sky
Plan a trip to Arizona Sky Village for some serious star gazing. This region of southeast Arizona can easily be reached after flying into Tucson, then driving straight east. Your family can spend time hiking through the Chiricahua Wilderness, visiting the Chiricahua National Monument, getting lots of photos of the many balancing rocks in the area, and planning to snuggle in for sundown.
If you love the idea of studying the sky with a telescope, visit the Kitt Peak Observatory in Tucson. For those who prefer to study the sky with few folks around, get permission from the Navajo nation to be overnight in Monument Valley. Follow the rules, pay for your permit, and watch the sky bloom over some of the most striking land in the United States.
Gearing up for a visit to this area of Arizona will take some extra planning. Hot sun and dry winds will take lots of water and high SPF protection. As the sun goes down, especially at high elevations, the desert can get quite cold. Carry lightweight nylon wind-breaking gear to protect you and your families body heat from the cooling night air. Make sure your wind-breaking garments are big enough to fit over fleece and knit garments that will help you hang onto your body heat.
Visit an Amazing Swimming Hole
Beating the heat on your Arizona adventure can be as simple as hiking into the Water Wheel on Ellison Creek. You can also hike, canoe, or helicopter to the Havasu Falls, or kayak to the Elves Chasm deep in the Grand Canyon. Some of these adventures may be a bit strenuous for younger children, so plan accordingly. Families with older children should have no issues finding lots of great adventures around these parts.
It's important to note that many swimming holes in Arizona are protected by the State Parks system. Check to make sure that you have the proper permits so you don't get turned away on a hot day. Make sure you are also ready to follow all necessary rules in terms of trash, fires, food, and storage. If you're not sure, get in the habit of using Leave No Trace rules for short adventures so you can build skills for longer visits and camping trips. If you aren't sure you can have a campfire, don't build one.
It's also a good idea to invest in water shoes before you swim in any river; rocks can be sharp and mud can be slippery. Heavy duty rubber bottomed swimming shoes can protect you from a cut or scrape that may limit your vacation.
Dine on Traditional Desert Fare
If your family gets the chance to go to Monument Valley, make sure you stop and enjoy a meal of traditional Navajo foods, from berries, cactus, goat milk and meat. Corn is a critical part of the culture of the Dine, as are beans and squash. Meat lovers may want to try some game, including venison and wild rabbit. While traveling through the Navajo nation, keep an eye out for handmade items at craft shops and in the tourist kiosks set up to provide visitors with handmade Navajo crafts.
When you get into Phoenix, look for restaurants that offer locally grown foods, including
cholla buds from cactus flowers

tepary beans

nopales, or cactus paddles
If you're feeling adventurous, you may want to cook your own nopales. Be aware that the purchase and preparation are hugely important; soft, bendable nopales are not fresh. Buy them firm and be ready to do quite a bit of scraping before you cut them into strips for boiling.
Take a Guided Tour of a Slot Canyon
Slot canyons are formed when water is forced through rocks. The slot canyons of Antelope Canyon are loaded with curves, bends, and arcs. You cannot enter these slot canyons without a guide; it's very easy to get disoriented and lost inside these canyons. These canyons are also still a flood risk during most of the year; always check the weather before you enter any canyon. Your children will remember these stunning features for years to come.
To get the full benefit of your vacation, check out the many airports near Antelope Canyon to either land close, or land in a spot that will allow you to drive through some of the most beautiful areas of the western United States. For example, you might fly into Flagstaff, visit the Painted Desert, then head north to Antelope Canyon.
Arizona offers such beautiful desert landscapes! It also offers many more adventures and sites to study and enjoy. Make sure you gear up for all four seasons if you plan to camp or go stargazing. Water, sunscreen, and a hat will round out your gear list!