Summer is a super fun season to have a birthday. Sunshine, blue skies and lush greenery entice families to head outside and experience the restorative influence of nature. In addition to gorgeous weather, many families also fill their schedules with vacations, family visits and extra time off from work.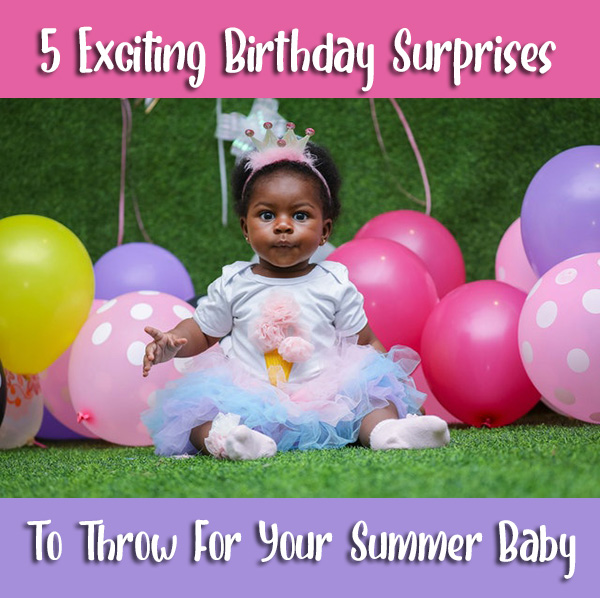 If your baby has a birthday this summer, there's no shortage of fun ways you can celebrate. Although they might not remember the party, you will – and it's an amazing opportunity to invite friends and family over to celebrate with you. You can enjoy the memories and pictures for years to come. Here are five exciting birthday surprises to throw for your summer baby. 
Host a Summer Picnic
A picnic is a summer classic. Turn yours into a birthday bash by adding a cake and requesting that your guests bring gifts. You can choose a summer theme like fruit, lemonade, bees or ladybugs to add extra pizazz to the event. Use this theme for your invitations, table settings and any other fun props you bring. 
Decorate with bright, summery colors like red, yellow and orange. Think about the age groups coming and plan some fun outdoor games so everyone will have fun. You can use water balloons, three-legged races or chalk to liven up your party. Although you'll have to watch the weather, a summer picnic is a super fun way to celebrate your baby's birthday. 
Go Fruit Picking
For a quieter day, take your immediate family to an orchard. Summer is the season of fruits – strawberries, cherries, blueberries and blackberries all ripen during these warm, sunny months. Pack an easy lunch and head to an orchard near you to enjoy the beautiful summer weather as a family. 
Don't forget to take sun protection and plenty of water. You'll want to carry baby in a comfortable sling that you can switch between people during the day. After a few hours in an orchard, you'll have buckets of fresh produce to enjoy all summer long. You can freeze berries, bake them into a flavorful cake or turn them into a delicious birthday pie. 
Throw a Pool Party
Another summer classic, a pool party is a fun way to celebrate your baby's birthday. Head to the local pool with your family or invite everyone over to a private pool for a more controlled setting. Serve summer foods like fruit salad, lemonade and hot dogs so your guests don't get hungry. Designate an adult to watch each child so you're sure they stay safe. 
If you're concerned about having kids near a pool, consider hiring a private lifeguard. That way, your guests can enjoy the party without worrying about their kids. You can also take this opportunity to start teaching children to swim. Many parents start teaching their kids to float at around one year old so they're safe from accidents. Older kids can practice jumping in and swimming to the side of the pool. 
Watch an Outdoor Movie
For a chill evening event, host an outdoor movie to celebrate your baby's birthday. You can invite friends and family over for dinner or just supply evening snacks. Choose an entertaining film that's family-friendly and enjoy a leisurely evening together. For a comfortable experience, lay out blankets with plenty of cushions or use lawn chairs for back support. 
If you have mosquitoes where you live, make sure you have insect repellent on hand. Do your research and choose bug sprays with baby-safe ingredients. Use fairy lights or tiki torches to create a cozy ambiance and use a large projector for a drive-in movie feel. This party might turn into a weekly event for your friends and family!
Enjoy a Tea Party
Tea parties are another summer must and there's no better time to celebrate summer this way than with your baby's birthday. Invite friends and family over for a fun afternoon sipping tea and eating finger food. You can serve summer classics like chicken salad, blueberry scones, lemon curd and Devonshire cream. Don't forget to add a cake to the mix. 
Young children can drink some herbal teas, including chamomile and mint. You do want to be careful because some teas can cause an allergic reaction in small children. If you're concerned about possible allergies, try making the kids a simple tea out of lemon juice, honey and hot water instead. Ask everyone to dress up and incorporate favorite stuffed animals into the party for even more fun. 
Celebrate Your Baby This Summer
Every day is special once you start raising kids. Children grow much faster than you think they will, so it's important to treasure every moment. Although your child won't remember their first birthday, you will – and it's the perfect opportunity for your family to get together and make precious early memories. 
Use these ideas to throw the perfect summer party for your baby's birthday. You could host an outdoor picnic, go fruit picking or throw a pool party. An outdoor movie or tea party is another great way to celebrate this season with friends. You can personalize your party as much or as little as you want – a birthday is a perfect excuse to get together, regardless of how you celebrate.