As the proud owner of an RV, motorhome or towed trailer, you'll know that there's nothing more thrilling than hitting the open road and enjoying the great outdoors – all with your home comforts within reach of course. When heading out on the road to find an adventure, it is best to be prepared for the unexpected.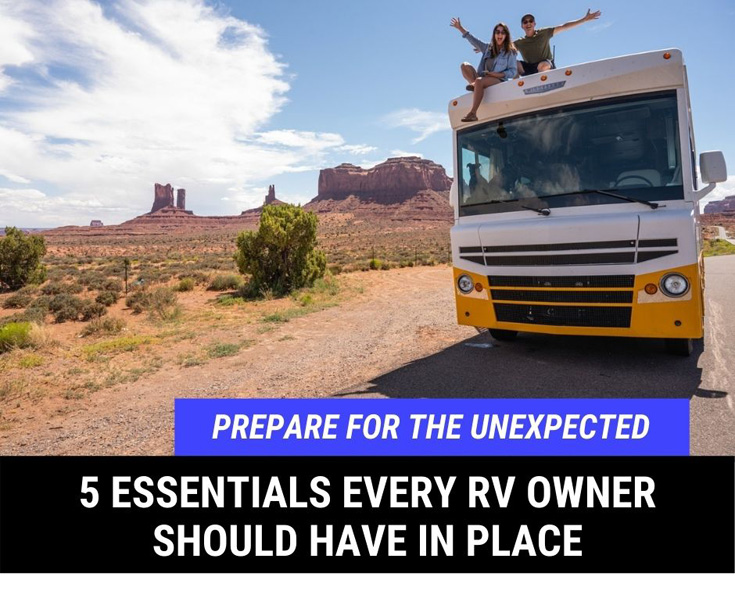 More people than ever are embracing the freedom and adventure that comes with camping in the great outdoors with an RV. But if you're someone who's never been responsible for a recreational vehicle, or you're planning the vacation of a lifetime in 2021, there are some items you just shouldn't travel without. Here we'll explore how you can be prepared for the unexpected, with 5 essentials every RV owner should have in place before they hit the road.
Your insurance
Having your recreational vehicle adequately protected from the unexpected means you get to enjoy your camping adventures despite whatever the road throws at you. From road accidents and breakdowns to fires or floods, theft and random accidents! Don't let the unexpected put your vacation on hold. Speak with the team at Alberta RV insurance for the latest information on coverage for motorhomes and trailers. 
Fire safety essentials
It's a terrifying thought, but a fire breaking out in your RV whilst it's vacant, whilst you're driving or even when you're sleeping, doesn't bear thinking about. Although – thankfully – quite rare, a fire in an RV can spread quickly, so being prepared and having the right fire safety essentials in place will keep you and your fellow passengers safe. Fully operational fire and CO2 alarms, a range of different fire extinguishers e.g. dry powder, foam, water, wet chemical etc, for all kinds of fires. A fire blanket is also essential. Following some simple fire safety practices whilst in your RV will keep everyone safe.
A sewer kit
When you're on the open road, there'll come a time when you need to empty your septic tank system. To do this safely and correctly you're going to need a sewer kit which should include a high-quality hose and gloves to protect your hands! Remember – you should only dump waste at a designated dumping station. You should also sanitize the tank with certain chemicals after each dumping process.
A steering wheel lock
These days thieves are targeting RVs like never before. And they're finding ways to bypass immobilizers and take off with our prized possessions. Having a steering wheel lock handy so you can install it whenever you leave the RV stationery can help to deter thieves, reduce your insurance premiums and give you peace of mind.
And finally, an emergency road kit
The unexpected is what makes road trips so exciting! However, a roadside breakdown can prove to be more of an annoyance than a thrill. So, having an emergency road kit to hand will ensure whatever issues come your way, you can handle them quickly and get back on the road again in no time. A first aid kit, additional blankets, food and water, jump leads, a flashlight with plenty of batteries, reflective triangles and outerwear, a jack and a spare tire. If you don't know how to change a tire – now is the time to learn.