Ohio is a haven for families with kids of all ages from tiny tots to teens. The adults are sure to have a good time too with such a long list of attractions indoors or out, with these some of the very best for the whole family.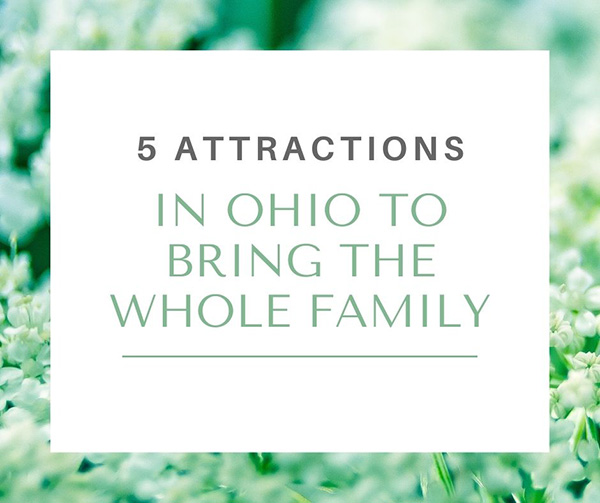 The Rock and Roll Hall of Fame, Cleveland
One of Cleveland's most popular attractions is the Rock and Roll Hall of Fame and Museum. It's not just for adults, music enthusiasts of all ages can have a good time here although the kids will especially enjoy "The Beat Goes On," an exhibit where they can choose a popular rock tune, learn about the musical styles that influenced the creators, and then listen to the artists who originated the song. 
The museum showcases some of the biggest legends in rock throughout history, including The Beatles, Jimi Hendrix, the Stones, and Metallica, through exhibits and workshops. There's a jukebox that plays nearly every song by Hall of Fame inductees, and many personal possessions are displayed, such as concert costumes, instruments, and cool stage props.
If you happen to have a friend who's a pilot, or can afford to charter a flight, you can see the building's remarkable shape from above: the museum is shaped like a record player while the round plaza out front is the record.
Cincinnati Zoo, Cincinnati 
One of the oldest and one of the best zoos in the country, the Cincinnati Zoo was founded in 1873. It's home to thousands of animals and is an important part of large-scale conservation efforts to preserve and protect Congo lowland gorillas and other endangered species.
You'll see everything from tigers in Cat Canyon to great apes in the African jungle habitat, and perhaps even reach out and touch the long-necked giraffes at Giraffe Ridge. Zoo-loving families might even want to consider a move, checking out some of the Cincinnati houses for sale.
Great American Ball Park, Cincinnati
Another top attraction in Cincinnati is Great American Ball Park. If you visit during baseball season you'll definitely want to take the family here. In fact, the Cincinnati Reds is the nation's oldest professional baseball team and just about every seat has an outstanding view of the field. 
If it's outside of the season or the team is away while you're here, tours are available to learn more about its history and get a behind-the-scenes look. 
Hocking Hills State Park, Logan
One of the top spots to visit in all of Ohio for nature lovers, Hocking Hills State Park is incredibly photogenic and a favorite among waterfall lovers. Not only are there beautiful cascades but also gorges, cliffs, wildflowers, and lakes.
Visitors can hike or mountain bike scenic trails and paddle across Rose Lake in a kayak. There's even a nine-hole disc golf course. Plus, if you visit in the fall, the changing of the leaves here is breathtaking with red, gold, and orange hues.
Cuyahoga Valley National Park, Peninsula
Located between Cleveland and Akron, there's no entrance fee into this national park along the Cuyahoga River, but you will find plenty to do. Its 32,000 square miles are a wonderland of lush rolling hills, deep forests, and waterfalls like 60-foot-high Brandywine Falls. There's even a scenic railroad to explore, while the Canal Exploration Center will tell you all about the Erie Canal's history.
You can also hike the Ohio and Erie Canal Towpath Trail which follows a restored section of its original towpath.