One of the first things you'll often see in the living room of a home is a photograph of the family. Many households have a tradition of sending their portrait pics as Christmas cards.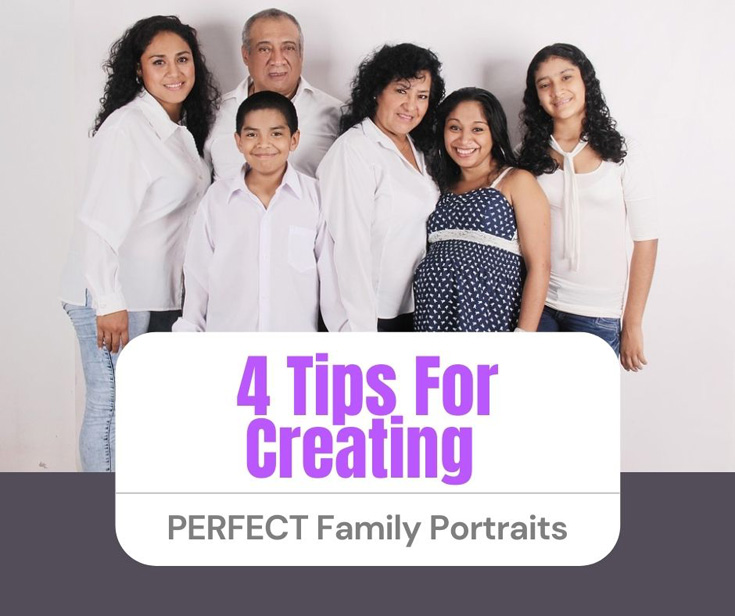 Now you can preserve such memories in paintings as well, as this idea from Instapainting suggests. Imagine your favorite group picture reproduced with oil paints on a canvas.
However, family portraits are more than capturing moments to look back on in later years.
Not everyone knows this, but there's a psychological benefit for children if their parents display photos of all of them in the home. Studies reveal that these kids grow up with more confidence and a greater sense of belonging.
The picture-taking process can be tricky, though. As many experienced photographers will tell you, it's tough working with a group of people, especially if there are little ones.
Here are four tips that the professionals suggest to help you create perfect family portraits and enjoy the session.
Show Them How to Pose
While lighting and other factors matter, getting the pose right is critical. Almost everyone perceives they have flaws, so you'll need to find ways to work with them.
It's not enough to tell everyone what to do. Each member might interpret it differently. Try to simplify and be as clear as you can. It's best to demonstrate how to stand, sit, and so on.
Children don't usually like to do many poses, so you've got to keep those to a minimum. Select stances that are fun and make them feel at ease because kids tend to be wiggly when you ask them to be still.
If you can get the family to enjoy themselves, you'll end up with beautiful photos.
Make it Fun for Children
Remind yourself not to put pressure on the kids to behave in front of the camera. Instead, tell your children that they're going to take some photos and have fun.
Photographers should also avoid trying to cheer up a grumpy kid as that could make them withdraw further. After all, they're a total stranger. It's better to leave that task to the parents.
Tired or hungry children can be tough to handle, so you've got to schedule the photoshoot according to their natural rhythm. Choose a time when they're alert and playful, and it'll be easier to get them to pose and look happy.
Tell Them What to Wear
Families always want to know what they should wear for a photo session. It's best if their attire is coordinated but not identical to project togetherness.
If it's a casual or elegant look you're going for, everyone should wear the same clothing style. Unless you want an individual to stand out, don't have anyone dressed in bright colors while the others are in natural shades.
Expression is Essential
Every professional will tell you that knowing how to get the perfect expression is everything for a successful photo.
The way to make people smile or laugh comes down to experience. There's no "right way."
What's important is the result.
Bonus Tip
Don't take things too seriously. Have fun with the session!
Be goofy and get the whole family involved in doing something wacky. It'll lighten the mood, and everyone's inner beauty will shine, resulting in outstanding photos.