The business maxim, "cash is king", is meant to draw business owners' attention to the importance of cash flow. But, these days, the phrase could be re-written to say, "credit is king".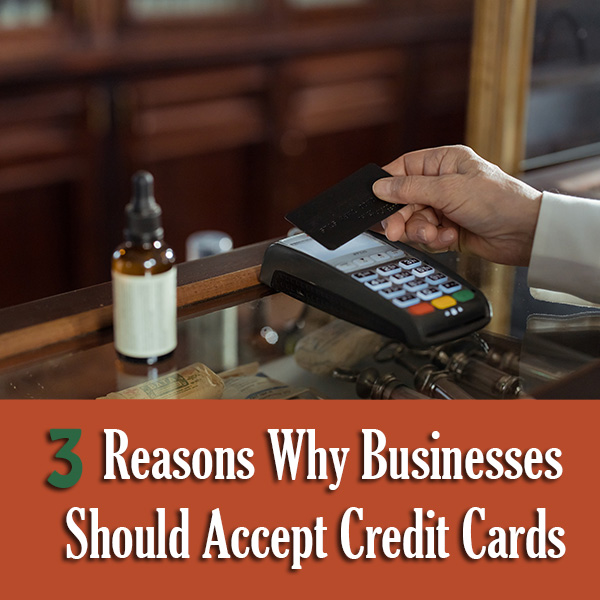 This is because businesses that accept credit cards have a distinct competitive advantage over those that don't. Here are three reasons why.
1. Credit cards are safer
For as long as anyone can remember, fraud has been a problem for businesses and consumers alike. Since the earliest days of fake banknotes and checks, people have been trying to game the system to take financial advantage.
This problem has grown more acute with the advent of online and remote shopping. For business owners, not having a customer physically in front of you increases the chances that something may be amiss.
This is one of the reasons why fraud grew 70% between 2020-2021 according to a Federal Trade Commission report. Consumers lost $5.8 billion in that year alone. Imposter scams were the most common kind of fraud, but they were followed in second place by online shopping scams.
Knowing this, consumers are right to demand the highest level of security when making payments.
Credit cards offer that because they use various cutting-edge technologies, including EMV (Europay, Mastercard, and Visa) microchip-embedded card payments. Many card readers also incorporate NFC (near field communication) technology, which makes sure that Apple Pay and Google Pay transactions are secure by requiring the customer's phone to be physically close to the merchant's payment device.
Credit card companies also set rules meant to reduce fraud. These include the PCI DSS (which stands for the Payment Card Industry Data Security Standard). This requires businesses to have proper systems and policies in place to protect their IT and payment systems from abuse, with a particular emphasis on online fraud.
2. Credit cards are easier to use
Consumers and businesses alike have become increasingly comfortable with credit cards. No doubt online shopping has played a part. So has the pandemic, which forced businesses such as restaurants and medical providers to quickly adapt. They had to get comfortable with Card-Not-Present (CNP) transactions for telephone or online orders or risk going out of business.
The smartphone has also made a huge impact, thanks to the Apple and Google Pay systems mentioned above. This has relieved customers of the obligation to carry cards or cash, a trend that is increasing and will gain even more traction as smartwatch payments become more widely accepted.
3. Customers prefer to use them
Most of us rely on credit in one form or another. The use of credit, and credit cards, has grown over time but accelerated significantly last year. As the Federal Reserve Bank of New York reported, in the fourth quarter of 2021, "Credit card balances increased by $52 billion, the largest quarterly increase observed in the 22-year history of the data."
This reliance on credit means that businesses that refuse to accept cards are cutting themselves off from their customers and valuable income.