When I was a child, I would not even dare touch a sip of coffee. I spent most of my weekends and my grandparents and they would always drink plain BLACK coffee that was HOT. They actually still do! Back when I was a child, I did not think that coffee was appealing in any sort of way. It didn't smell good and it sure didn't look like something I wanted to drink. I actually thought it was something that the "old" people drink but never knew why. Now I am grown up, a mom and one with so many different things on my plate I understand the benefits of coffee. I have also found a way to make coffee appealing too!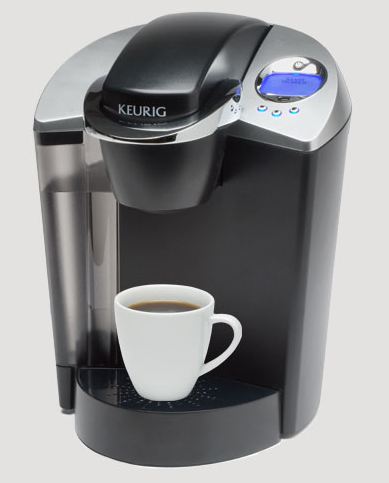 In my kitchen you are going to find one of the stylish Keurig Special Edition Coffee Systems. I not only think the coffee machine looks cool, it is actually really convenient. Since the kids don't drink coffee, I have found my single serve Keurig coffee machine as a way to save money and not be so wasteful when it comes to coffee. Prior to the Keurig in the kitchen, we would often make a whole pot of coffee and waste at least half of it. With the Keurig coffee system, you make one cup at a time so there isn't much to waste if you don't drink it all.
One of the things that I love about my Keurig is all the different varieties of coffee that are available in the K-Cups that you use with it. Not only can you buy a ton of different flavored coffees, you can also buy tea and hot chocolate for your Keurig too!
So here is some of the cool features of my Keurig that I want to share with you.
This coffee machine is programmable
Choice of 3 cup sizes (6 oz., 8 oz. and 10 oz.)
Removable 48 oz. water reservoir
Quiet-Brew Technology®
Energy Savings Mode – Auto On/Off
In addition to the features I mentioned above, the Keurig ROCKS. I have used my share of coffee machines in the past and this one happens to be my favorite. Not only can I brew the perfect hot beverage, this thing works well with iced beverages too. There are actually over 200 different varieties to choose from!
This past month, we have been drinking some of the YUMMY Green Mountain Coffee K-Cups. With Green Mountain Coffee, there is a TON of options to spoil your tastebuds. I want to try their iced coffees and hot chocolate next. If you want to try Green Mountain Coffee too, be sure to use the following PROMO Code to save 10% off your purchase: AM0013-3601. This code is valid through June 10, 2011 so hurry and take advantage of the savings now!
To find out more about Keurig, please visit: www.Keurig.com
Disclosure – I received a Keurig Special Edition Coffee System mentioned above to provide you with this review. I am a proud Ambassador for Keurig! This post is not a paid post and the opinions stated herein are 100% my own.