I was invited by Disney/Marvel to attend the #BlackPantherEvent. All thoughts and opinions are my own.
One of my favorite Disney stories growing up was Lady And The Tramp. When I think about the first Disney stories that I remember as a child, I think of my Lady And The Tramp (a Little Golden Book) along with a few others like Cinderella, Bambi and the 101 Dalmations. Those were the gems before the VHS, DVD and Blu-ray movies took over the movie world. I now love adding each of these stories that I enjoyed as a child to my Disney movie collection that I consider one of my prized possessions!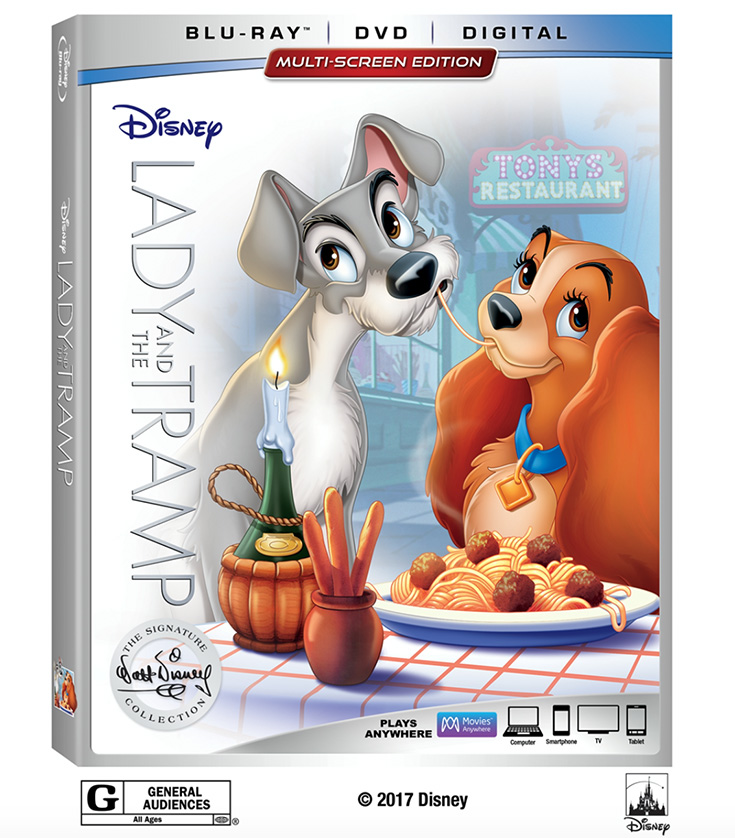 In January during my time in Los Angeles for the #BlackPantherEvent I attended a special Lady And The Tramp Blogger Dinner at Maggiano's Little Italy where we enjoyed an Italian three course meal to celebrate the moving joining the Walt Disney Signature Collection with a new Blu-ray release. For those of you Lady And The Tramp fans, you can NOW watch this new release on Blu-ray, DVD, Digital and Movies Anywhere.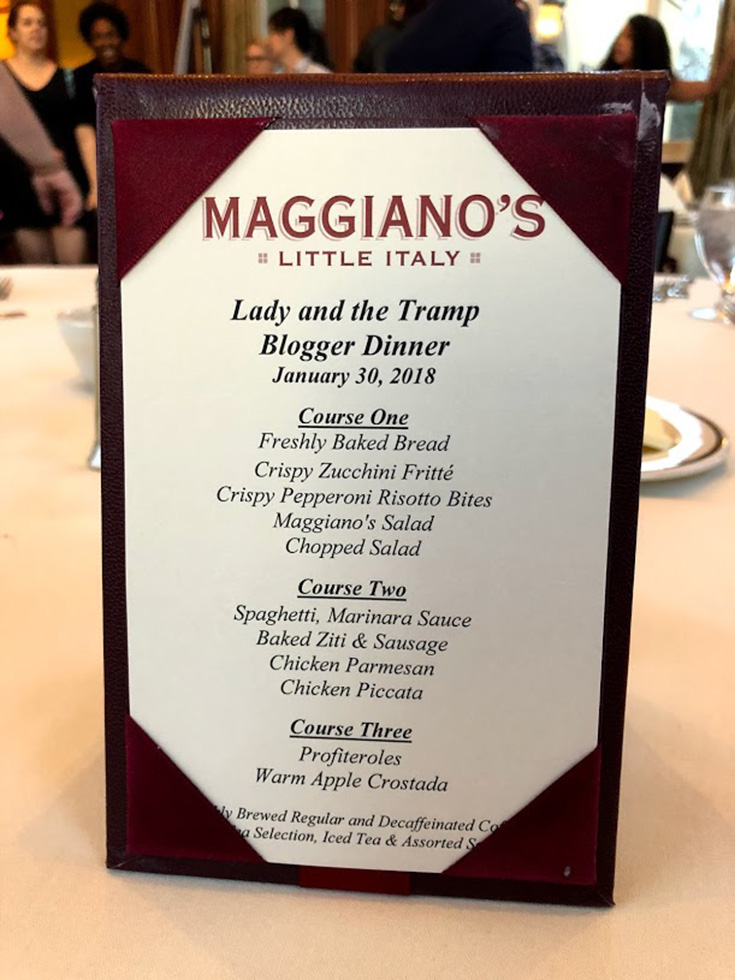 After dinner we headed over to Paint & Sip Studio LA for another fun event for the event to celebrate Lady And The Tramp's new Blu-ray release! I have never been to one of these types of painting events so I was excited because this was something I have been wanting to do. Not only was I going to get to paint for the first time,  it was Disney themed with some of my favorite fellow Disney bloggers!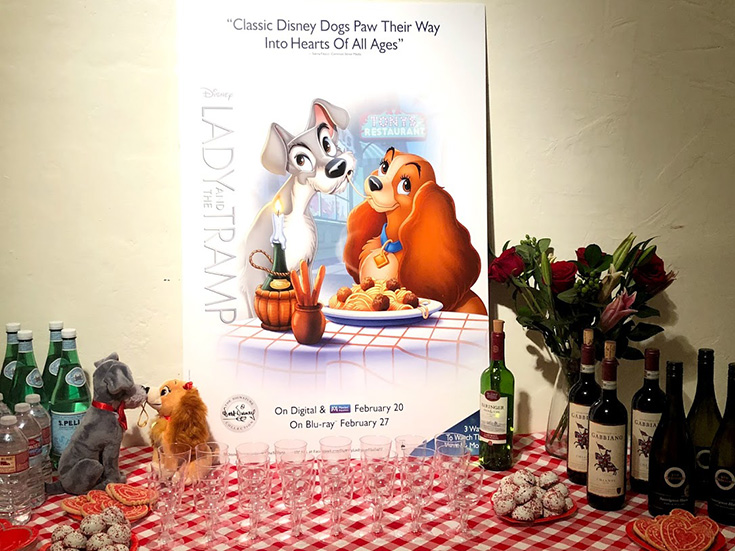 When you go to these paint events you usually bring a friend. I LOVED being able to paint and sip with my blogging  bestie Tricia from The Night Owl Mama! I was able to mark off something on my bucket list on this trip!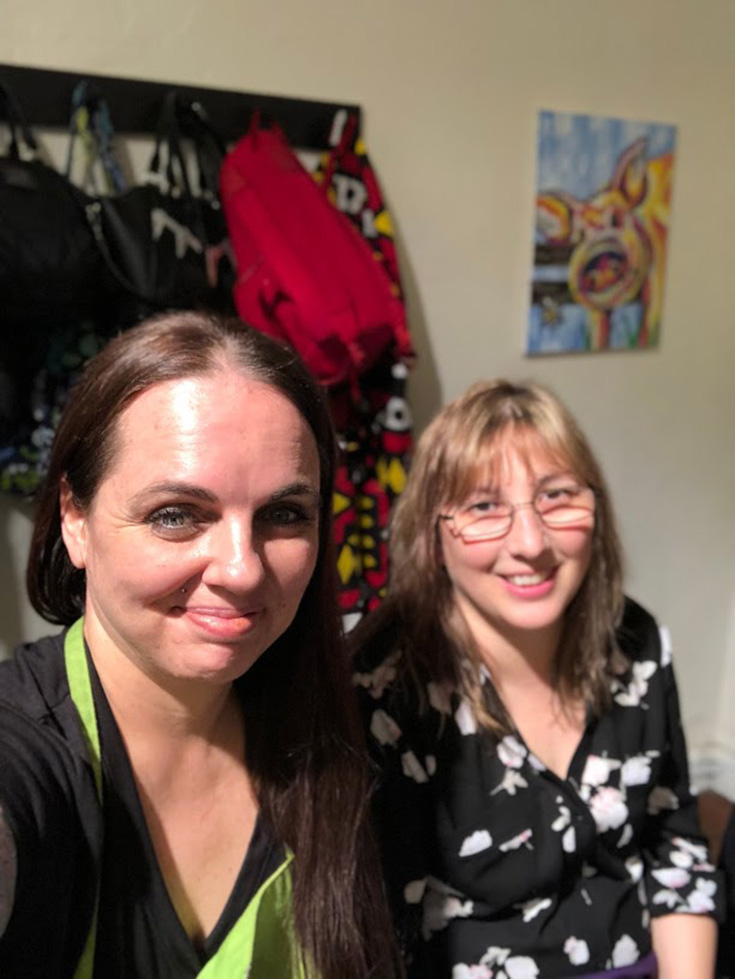 I don't consider myself an artist so when I seen the picture we were going to paint I knew it was going to be a little challenging. We were going to paint a table with spaghetti, breadsticks and wine with a restaurant window in the background. Sounded a bit complicated at first but luckily we were shown how to draw an outline first of what we were going to paint before we started actually painting which made things a little more easier.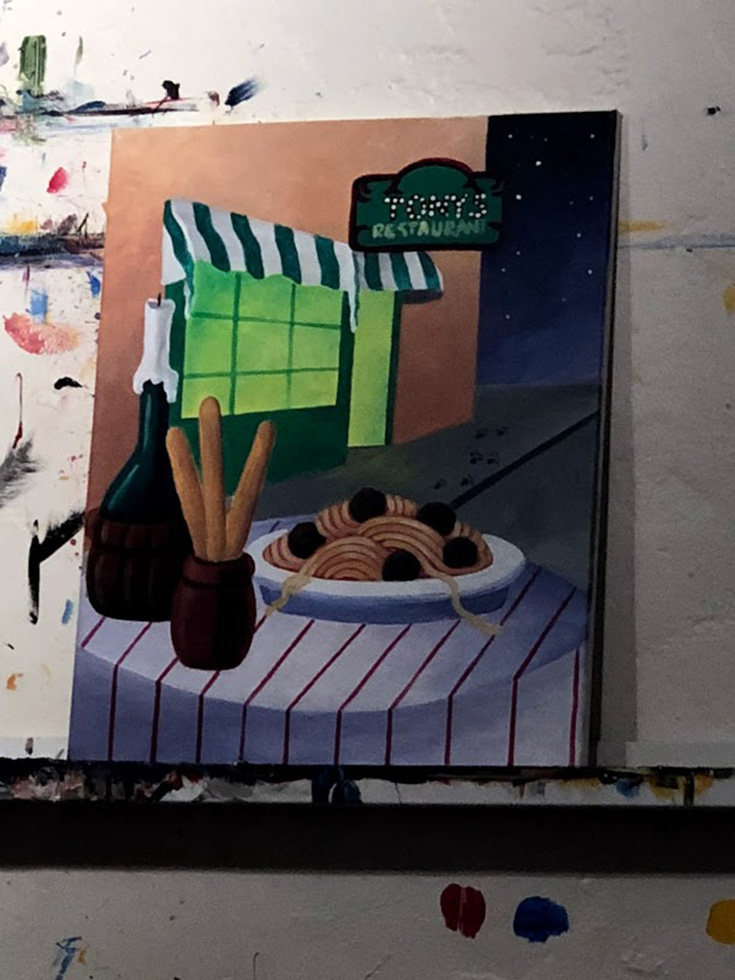 After a couple hours of painting, here is my masterpiece…  🙂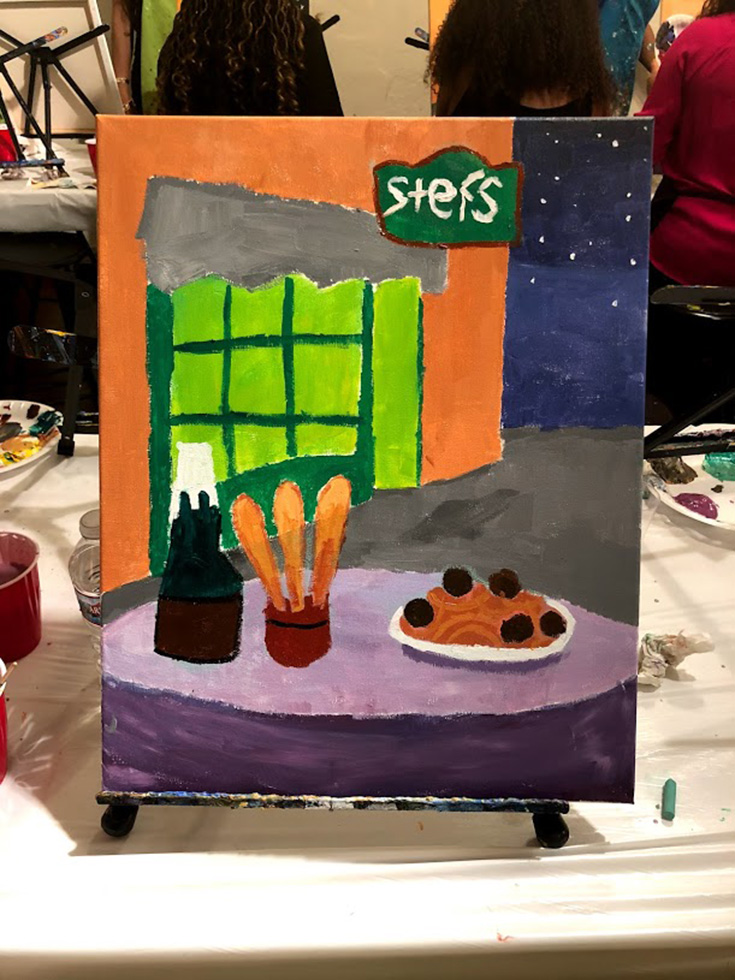 We were actually all having so much fun that we ran out of time before I could finish. I would have put more detail into my painting (like the stripes on my table) that I now have hanging proudly in my office. Here is a picture that was taken with our group before we called it a night!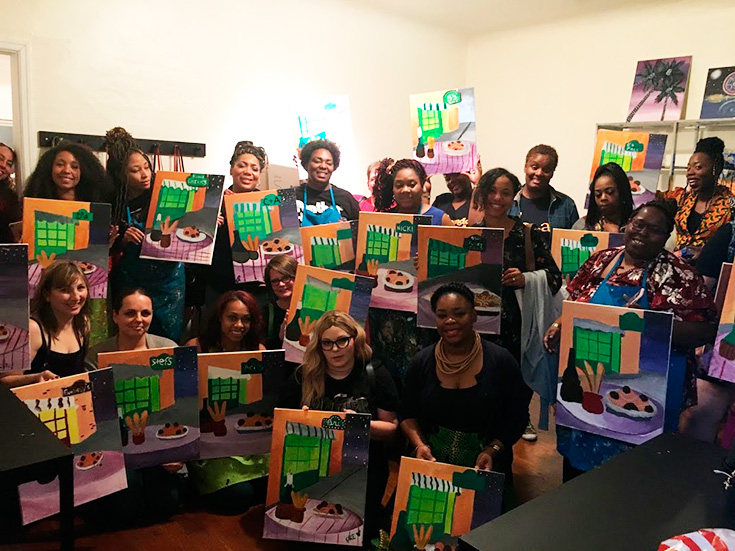 The Walt Disney Signature Collection edition offers THREE exciting ways to watch "Lady and the Tramp"—the original theatrical version, sing-along mode and Walt's story meetings—both Digitally and via the Multi-screen Edition (formerly the Blu-ray Combo Pack). The Multi-screen Edition includes Blu-ray, DVD and a Digital copy, giving in-home consumers the flexibility to watch the film on different devices. In addition to classic bonus features, all-new extras invite viewers to enter Walt Disney's original office suite on the Studio lot, discover Walt's personal passion for pups, and receive a celebrity-hosted spaghetti and meatballs cooking lesson.
There is some AWESOME bonus features you will want to see!  My favorites would be learning more about Walt and how to make a meatball! Learn more about what is included in the bonus features below.
Lady and the Tramp Bonus Features:
BLU-RAY & DIGITAL*:
Film Versions
Original Theatrical Edition – Enjoy this cherished Disney classic that captivates audiences of all ages.
Sing-Along Mode – Sing along with all your favorite songs as you watch the movie.
Inside Walt's Story Meetings – As you view the film, hear reenactments of Walt's story sessions with animators and see how their ideas were realized on-screen.
New Signature Bonus
Walt & His Dogs – Through archival recordings and photos, hear the tales of the dogs Walt Disney owned and loved over his lifetime.
Stories from Walt's Office – Take a tour of Walt's office suite on the Studio lot, carefully re-created to look just as it did when he occupied it.
How to Make a Meatball and Other Fun Facts About "Lady and The Tramp"– Watch a delicious lesson on how to make perfect meatballs with teen chef Amber Kelley and Oh My Disney Show Host Alexys Gabrielle.
Songs
"Peace on Earth"
"What Is a Baby/La La Lu"
"The Siamese Cat Song"
"Bella Notte"
"He's a Tramp"
Classic Bonus Features
Diane Disney Miller: Remembering Dad – Walt's daughter shares memories of her father and Disneyland's early days, as well as a look at his apartment above the firehouse.
Never-Recorded Song – "I'm Free as the Breeze" – Take a listen to a song originally meant to be sung by Tramp.
Deleted Scenes
Introduction of Boris – Tramp wasn't always meant to be Lady's only suitor. Meet Boris the aristocrat and Homer the peasant in this deleted scene.
Waiting for Baby – Lady watches as Jim Dear plans out his new son's future in this early storyboard.
Dog Show – See the storyboards for this deleted scene in which Lady and Tramp unexpectedly find themselves in the middle of a dog show.
Classic Bonus Features on Digital Only*
Lady's Pedigree: The Making of "Lady and the Tramp" – A behind-the-scenes look at the making of Walt Disney's first feature-length animated film based on an original story.
Finding Lady: The Art of the Storyboard – Explore the origins of the storyboard and how they're used by filmmakers today.
Original 1943 Storyboard Version of the Film – View a unique presentation of the original 1943 storyboards for "Lady and the Tramp."
PuppyPedia: Going to the Dogs – Wild and wacky comedian Fred Willard takes us on an outing to the dog park to learn all about dogs and their owners.
Deleted Scenes
Turning the Tables – In this story-reel presentation, Tramp dreams of a world where dogs run the show and humans are on the other end of the leash.
The Arrival of Baby – In this alternate scene re-created from original storyboards and with original voice talent, Lady makes way for a new arrival.
Baby Arrives – Lady is baffled by the strange goings-on in the house—the arrival of a squealing bundle only deepens the mystery.
Lady's Sweater – Lady gets a new sweater for her birthday and must figure out an ingenious way to lose it for good.
Trailers
1955 Original Theatrical Trailer – More than just a trailer, this preview features several minutes of footage from the film and introduces each major character.
1972 Theatrical Re-Issue Trailer – This trailer from the 1972 rerelease heralds Disney's "happiest motion picture."
1986 Theatrical Re-Issue Trailer – Released theatrically for the 1986 holiday season, this trailer highlights the love story between Lady and the handsome Tramp.
*Bonus features may vary by retailer