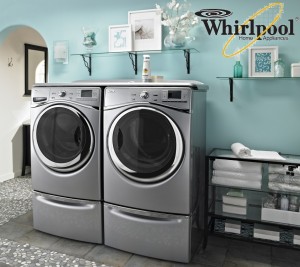 A couple weeks ago I got one of the best emails I have yet to see come through my inbox. I got an email letting me know that I was one of the LUCKY 50 influential moms that have been chosen for the Whirlpool Mom Test Drive through Mom Central and Whirlpool. This is AWESOME news and it actually has taken a couple weeks for it to sink it. My hard work is paying off!
What does being a Whirlpool Mom mean? It means that I get to test drive a premium Whirlpool front-load Duet washer and dryer. I then will share with my readers about my experience using these Whirlpool products.
Do you know much much laundry I wash each week? I have 4 kids and each of them go through their share of making dirty laundry for mom. My washer and dryer that I currently is OLD and I definitely needs to be retired.
Keep on the look for my posts once I receive these pretty things! Thank You Mom Central & Whirlpool, I can't wait to receive my set and put them to use……..
If you are on Twitter, be sure to follow all the #Whirlpoolmoms tweets.
"I wrote this review while participating in a test-drive campaign by Mom Central Consulting on behalf of Whirlpool and received a complimentary Whirlpool Duet washer and dryer to facilitate my review."