.This is a sponsored post with 7 Charming Sisters. All thoughts and opinions expressed are my own.
There are days when I get up and want to get dressed up and look cute but with my own little style. I am a jeans and a t-shirt kind of chic but I also like to be unique too! I like to add a necklace or maybe a bracelet or maybe even both to give myself my own look which can be easily done with one of my two new statement necklaces I received from 7 Charming Sisters.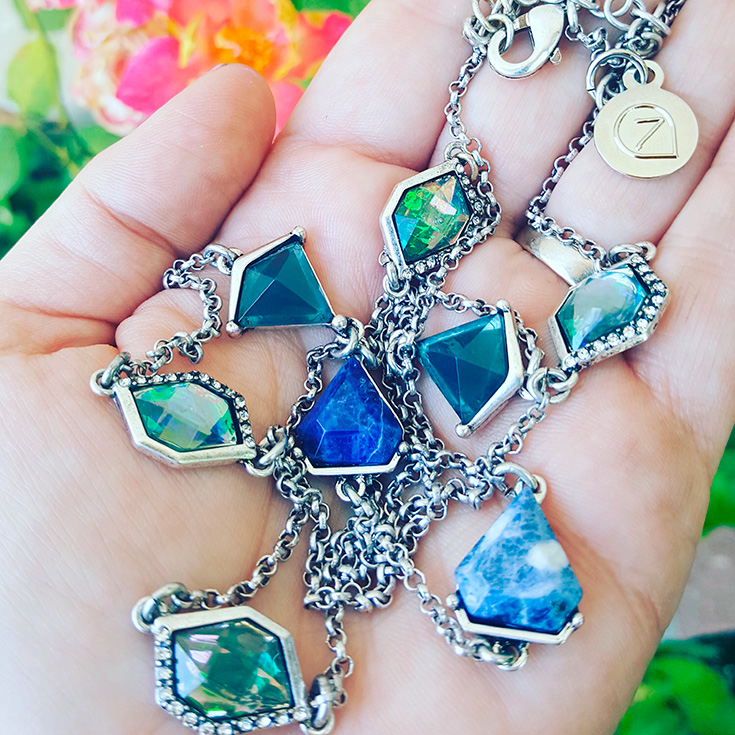 7 Charming Sisters is the brainchild of seven "work sisters" who have been colleagues for 10 to 15 years. What they have done is they have created 7 lines using their own tastes and personal styles that you can choose from and find your own perfect style! These 7 Charming Sisters include…
Kimberly – All-American Girl
Kimmie – Life Of The Party
Donalda – Social Butterfly
Jessica – Sexy Nerd
Paula – The Executive
Melissa – Super Mom
Jennifer – Fashionista
The first necklace of the two that I received  (pictured above and below) is their Blue Crystal Station Link Necklace. This pretty necklace was designed by Kimmie Life of The Party and goes PERFECT with my t-shirt and jeans and a variety of other outfits I have in my closet! I love the design of this necklace and especially the pretty colors that go great with my eyes!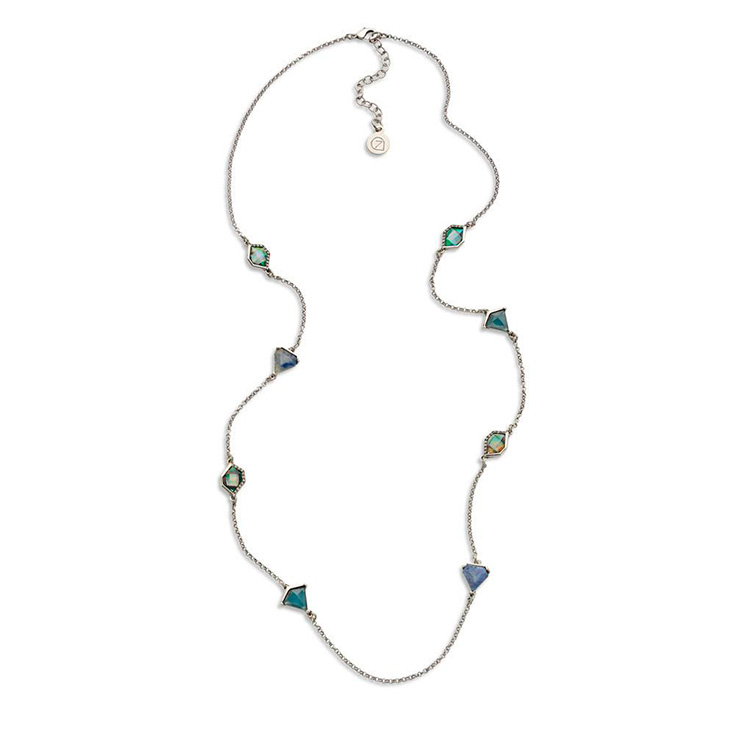 The second necklace that I received is just as cute if not more! I just LOVE my new Pearl and Crystal Pendant Necklace designed by Paula The Executive that also goes well with my t-shirt and jeans but also goes perfect when I want to really dress up for a night on the town!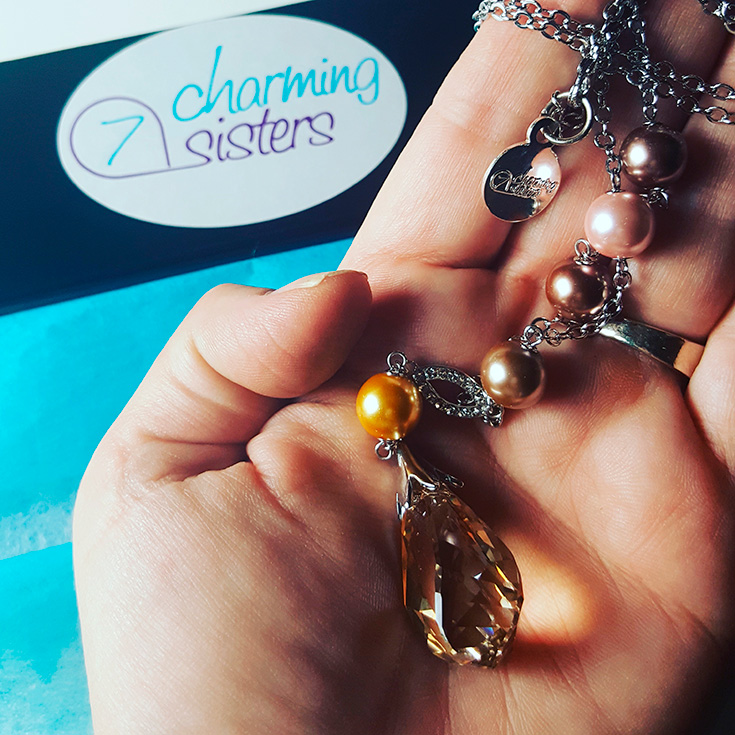 I have always been a fan of Swarovksi crystals so I fell in love with this necklace as soon as I took it out of the box. It has just the right about of pearls for my style and has a long chain which is another feature of this necklace I like. You actually can wrap it around your neck to make it look layered.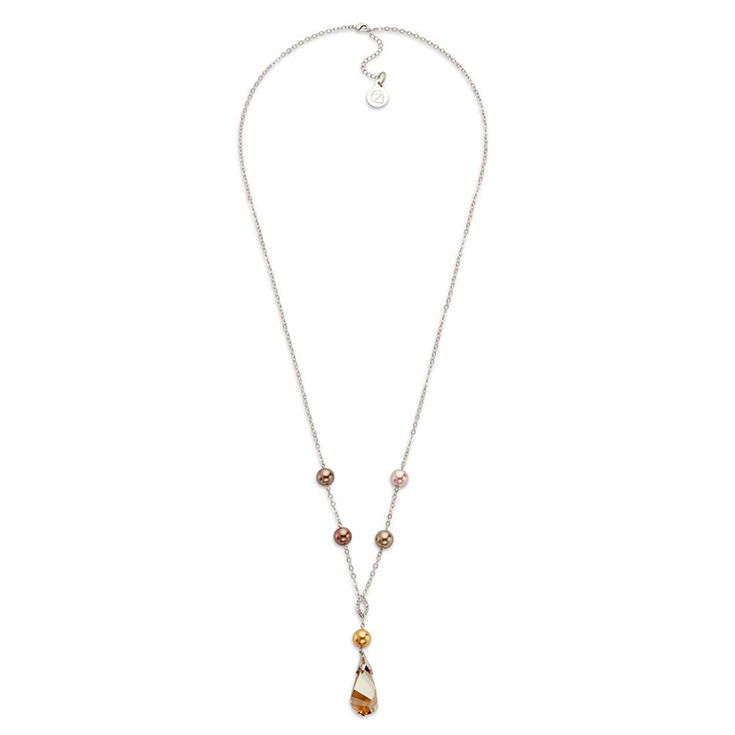 These are just two of the pieces that you can find on the 7 Charming Sisters website. They have a variety of earrings, necklaces, bracelets, rings, jewelry accessories and more that you can mix and match to create your own fashion statement. Some of these pieces would make for a great gift idea too!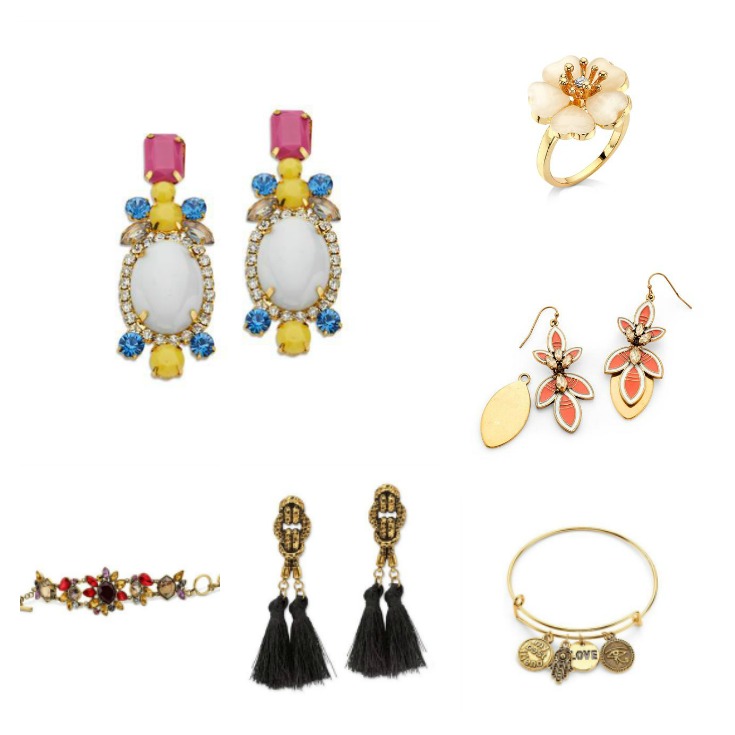 What makes the jewelry even more special to me is that 7 Charming Sisters also has a deep commitment to helping those with disabilities find jobs. They help by employing disabled people in their studio and many of their handmade pieces are handcrafted by those with intellectual disabilities. To learn more 7 Charming Sisters visit: www.7charmingsisters.com.
Save 15% OFF (excluding sale items) by using PROMO Code: MommyEnterprises15