Marketers love the Google Chrome browser, not only for its speed and ease of use, but also for its large ecosystem of useful extensions. Chrome extensions are simple to install, and they follow you as you browse the web, providing lots of cool features and assistance relating to the webpages you visit. If your work involves doing online research, tracking analytics, contacting websites, or doing social media, Google Chrome extensions can accelerate your work and help you get more done.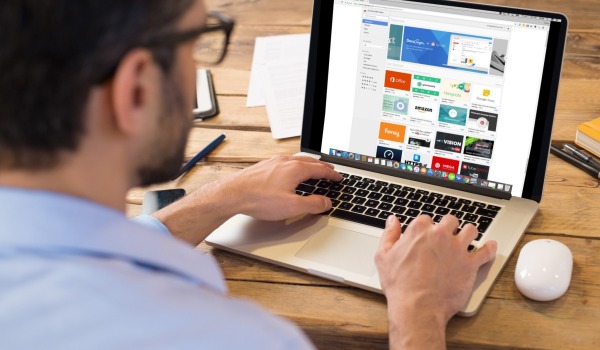 But which Chrome extensions are best? While there are thousands of extensions in the Chrome Web Store, not all are created equal. Some extensions are easier to use than others, and a select few extensions are well designed and have the robust features to make it into your everyday work routine. Here are ten extensions which I've used that are truly useful, and are backed by reputable companies and / or have lots of positive reviews.
Create beautiful, shareable social media images in seconds with Pablo
Pablo is an intuitive and super useful tool for quickly creating social media images for sharing on Instagram and other social sites. With Pablo, you can search their database of images (they have a huge selection of great-looking pictures), or use your own image, and then annotate it with text.
Pablo gives you just the right set of options to layout your image in seconds, and get it ready for social sharing. Pablo's Chrome extension allows you to right click any image and import it into Pablo to then annotate it and create your social image. You can also highlight any text on the web and turn that into your image.
Pablo is free to use. Pablo is created by the folks at Buffer, so you know this extension has the support of a major social media tools company behind it.
Print web articles without wasting paper
Ever wondered why when you print a news article from your browser, it ends up printing like 10 pages? Put simply, HTML is designed for browsers, and not for printing.
PrintFriendly is a helpful Chrome extension which gives you a print button for any web article, and it will neatly consolidate the article to print in one or a few pages.
To illustrate, when I tried to print this Techcrunch article straight from my browser, it would have printed 9 pages.
With PrintFriendly, that went down to 1 page.
PrintFriendly is a free Chrome extension you can install here.
Create an awesome-looking, interactive email signature in minutes
If you're like me, you probably have a very basic text email signature with a couple links to your social media pages. WiseStamp is a nifty service that automagically creates a nicely designed, interactive email signature that links to your social profiles, includes images, and can support follow and like buttons.
The process for creating a signature is super easy, and WiseStamp provides pre-made templates for different industries.
WiseStamp's Chrome extension will also make your signatures available across email clients, different computers, and across browsers.
WiseStamp is free to use. You can upgrade your account if you'd like to remove the WiseStamp promotion on your signature, that costs $6 per month.
Alleviate browser tab overload with OneTab
I never know how it happens, but once I open a new browser window to start on a new task, before I know it I end up with 44 super tiny, unusable tabs and a lagging browser. In moments like these, I've wished that I could easily save all these tabs to a note somewhere, but doing so manually would take forever.
Chrome does have a feature to save all your tabs to your bookmarks, but then you end up with a ton of bookmarks, which never helped anyone.
OneTab is a nice Chrome extension that gives you a button to save all your open tabs. It creates a list of URLs, which you can refer back to and open up one by one. You can also re-order your tabs, and access them from different devices, or share them with other people.
Plus, once you click the OneTab button, your computer's memory usage drops because all those tabs are no longer open.
OneTab is free to use, and you can grab the extension here.
Create screencast videos with a click with Loom
Often the fastest way to communicate a complicated idea or flow with team members is to simply record a screencast with your voiceover and send the video. Loom is a nice Chrome extension which basically enables you to do this with a click.
The nice thing about Loom is that it captures the entire workflow of creating a screencast. You simply click record, Loom connects to your webcam, and starts recording either your desktop or browser tab along with your face and voice. When you're done recording, it automagically publishes your screencast to a shareable URL which you can send to people. You can also download your video as an MP4 file to upload to YouTube.
Loom is great for marketers who need to create video walk-throughs or tutorials for websites or apps, since it's easy to send your videos to YouTube or any other video sharing site.
Loom is free to use, however, with a free account your recording time is limited to 10 minutes, and your videos will expire after 7 days. You can unlock power features to get around these limitations by paying or referring other members. You can download the Loom Chrome extension here.
View PDFs in your browser without downloading them
Viewing, reading, and managing PDFs on the web is still a clunky experience. When I receive PDFs from emails or find them during web searches, I typically download the file and view it within my Mac's PDF viewer.
The PDF Viewer Chrome extension uses the PDF.js engine to natively view any PDF file using HTML5 directly in your browser. This means you get a full featured PDF experience, including thumbnails and full text search. Plus, you can bookmark the URL, and the next time you visit it, the PDF Viewer extension will remember your last place and jump you straight there.
You can install PDF Viewer in the Chrome Web Store. The extension is free to use.
Run lightweight mass email campaigns from within Gmail with GMass
If you're familiar with the popular Yet Another Mail Merge extension for Google Sheets, you're familiar with the time-saving benefits of this simple tool. However, you may want to check out GMass, which is a Chrome extension that integrates into Gmail and greatly simplifies the mass email management workflow (it's faster and easier to use than YAMM).
With Gmass, you simply setup your outreach list in Google Sheets (as you do with Mail Merge).
Then you go to Gmail and setup your email template, and customize your templates from the columns you setup in your sheet.
Then you send it. It's a quick and fast way to setup email campaigns. With a free account, you can send up to 50 emails per day with GMass. You can upgrade to unlimited accounts for between $6 and $12 per month. You can install Gmass from the Chrome store.
Hunt down email addresses more quickly with Hunter
If you do email outreach, you probably know what a pain it can be to find contact email addresses for websites. While there are numerous email finder Chrome extensions out there, Hunter is the most popular and probably the extension with the best overall performance.
When you're visiting a website that you'd like to contact, just click the Hunter extension and it will search through a range of sources to find the relevant, up-to-date contact email.
Although separate from the Chrome extension, Hunter also provides a tool as a part of its service which allows you to verify the validity of an email address. This can help you determine which an email address will likely reach the intended recipient (useful if you're just guessing someone's email).
The Hunter extension can be installed from the Chrome Web Store and is free to use for up to 100 searches. After that you must upgrade to a paid account for between $39 and $400 per month.
Take better notes while browsing the web with Lumio
While there are some really good note taking extensions for Chrome out there, such as Evernote and Google Keep, Lumio's extension stands out for its simple and easy user interface for keeping notes.
With Lumio, you can highlight any text on any website, add your own notes, and save your highlights to collections. The extension works smoothly and is very fast and feels lightweight. Lumio is great for research projects – rather than compiling a huge list of URLs and notes, you can simply create a collection in Lumio, aggregate your highlights and notes from across the web, and easily get back to them. Lumio also allows you to share your notes with team members and collaborate on collections.
Lumio's Google Chrome tool can be installed here and is free to use. To enable offline access and full archive of web pages you need to subscribe to a paid plan, running between $3 and $9 per month.
Keep your passwords centralized across your team, and across devices with LastPass
While Chrome has a pretty good password management system, as do the other major browsers, there are security risks with some of these, and none will make your passwords available across all browsers and platforms.
Our team has been using Lastpass for several months now, and we're very happy with the service. The Lastpass extension for Chrome makes all your passwords easily accessible, and it does a great job of saving your passwords as you enter them into various sites (Chrome will often miss passwords or associate them incorrectly).
Lastpass is also available on any browser, and also has a great mobile app that makes your passwords available on your phone or tablet.
But probably the most powerful aspect of Lastpass are the team collaboration capabilities. With teams, you can create shared folders and give people access to passwords which will automatically keep everyone updates if passwords change. Also, you can designate arms-length team members with limited access to just login to various sites, without having any visibility into the passwords or the ability to edit them.
You can install Lastpass's Chrome extension here. LastPass is free to use. Enterprise features are paid and start at $48 per user per year. You can check Dealspotr's LastPass page for any coupons.