When it comes to paperwork, I tend to SAVE everything. My filing cabinet is full and this past month I have been going through years of saved receipts, bills, statements and other important documents and shredding the things that I really don't need. Since I don't throw documents away that have my important information, a paper shredder can come in very handy.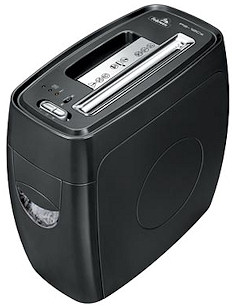 This past month I have had the opportunity to review the Fellowes P-12C Cross-Cut Shredder. Now before I got my hands on this paper shredder, I thought paper shredders were all the same. I thought a paper shredder is just a paper shredder. Little did I know there are heavy duty shredders like the Fellows P-12 that can cut more than just paper. This shredder not only shreds paper, it has the ability to power through credit cards, paper clips, stapes and junk mail without jamming. It is the World's Toughest Shredders! I love that it can cut credit cards. I don't thing I will try sticking a paperclip in it, as there is no reason to. I have been able to eliminate a ton of paperwork out of my filing cabinet with this awesome shredder.
Fellowes, Inc. and the Identity Theft Resource Center recommend their top-5 tips for spring cleaning the home office:
Begin with the Basics: Sort through the piles of paperwork on your desk and in your office drawers. Place them into two categories: 'save' and 'shred.'
Proper Storage: Organize the "save" pile into labeled folders and be sure to put anything confidential into a fire-proof lock box. The "shred" pile should be properly disposed of with a Cross-Cut shredder, such as a Fellowes P-12C*. Cross-Cut technology is an important feature for a shredder because it provides high security, destroying confidential information into unidentifiable pieces. Equally important are enhanced safety features, such as Fellowes' SafeSense technology, which shuts the machine down when hands come too close to the paper opening.
Get a Digital Makeover: Refresh your home office computer by deleting files you no longer use and backing-up important data onto an external hard drive. Clean out your inbox and change all passwords. Refreshing your computer is a good practice to follow throughout the year as well.
Make Life Easier: Plan ahead by purchasing organizational tools for your desk, such as computer risers or file folder holders. This will help clear clutter from your desk top while keeping things within arms reach.
Freshen Up: Get rid of dust and germs that easily build up on office equipment such as keyboards, telephones and cabinets. You'll feel instantly more productive with a clean workspace
My favorite feature of this Fellowes shredder is the Advanced Safety Feature. This machine is designed to automatically stop when hands tough the paper opening. Since I have a toddler, this makes me feel at a little more at ease having a shredder in my home office. To find out more information on the Fellowes Shredders, please visit: http://www.fellowes.com.
Now For The Giveaway
One LUCKY Mom's Blog reader is going to win one of these cool Fellows Powershred P-12 Shredders too! (Value $89.99)
1) To enter this giveaway, please visit the Fellowes website and tell me another product you wouldn't mind owning. (This entry is MANDATORY)….

Extra Entries:
#2 – Subscribe to this blog and leave a comment that you are a subscriber. (2 extra entries – leave a comment for each)
#3 – Follow me on Twitter – leave your user name in your comment.
#4 – Send a Tweet with Twitter @mommye – leave a link to your Tweet. This can be done once 2 times per day! (Copy/paste – Enter Mom's Giveaway to win a Fellowes Powershred P-12 Paper Shredder @mommye http://bit.ly/fjSfvW)
#5 – Blog about this giveaway – Leave link to your post (5 extra entries – leave comment for each entry)
#6 – On Facebook, become a fan of Mom's Blog or Mommy Enterprises or both (leave comment for each)
#7 – Join/Follow Mom's Blog On Google Friend Connect (See right sidebar)
#8 – Add my button to your website or blog (see sidebar) – leave link
#9 – Follow Fellowes on Facebook and leave a comment telling them that Mom's Blog @ Mommy Enterprises sent you. (3 extra entries, leave comment for each)
#10 – Comment on any NON-GIVEAWAY post – Unlimited Entries – LEAVE A COMMENT FOR EACH entry with name of post
This giveaway will end on April 11, 2011 at 11:59 PM PST. The winner will be chosen at random using "And The Winner Is" plugin from all valid entries and submitted. The winner will be notified via email and will have 48 hours to contact me with their mailing information before another winner is chosen. This giveaway is open to U.S. residents only ages 18 years or older.

Disclosure – I received a Fellowes Powershred P-12C  for review purposes only.This post is not a paid post and the opinions stated herein are 100% my own.