Are you like me and like to take hundreds if not thousands of photos? If you like to snap pictures and are sure you can take good pictures, start making that camera earn an extra income for you.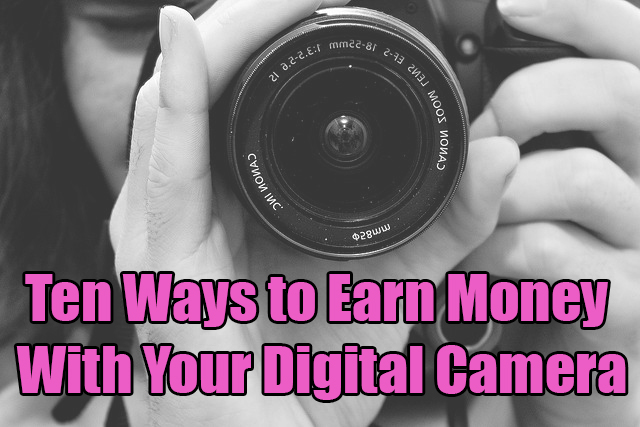 The world of photography has changed since the instant camera was developed. With a digital camera, you can take a not so good shot and make it perfect using a variety of software options. Best of all, pictures can be printed on quality paper on your printer or at a store kiosk for just a few cents per picture. Technology has created memory cards much like the flash drive storage medium to file and save pictures for sharing on the Internet. You can easily upload pictures from the memory card to your friends, family and a blog or website if you have one.
Below are ten different ways that you can earn money with your digital camera:
Stock photography. This business is growing. For website newsletters, magazines and articles, publishers look for photos that capture the essence of their articles. It is not terribly convenient to go out and snap some pictures every time you need one. Selling stock photographs to businesses and individuals is convenient for them and lucrative for you.
Wedding photographer. Okay so if you aren't a professional you won't be the main photographer at first but you can be hired to take candid shots at the reception or wedding photos after the ceremony. The happy couple can order as many pictures as they want and you can create wedding CDs of the pictures you took.
Newspaper pics. If you are in the right place at the right time, you might capture photos that are worthy of the newspaper. When news happens, a newspaper photographer might not be on the scene. You can capture the moments and sell them to newspapers. Snapping shots at community events may also earn you some money from local newspapers.
Magazine photographer. Create a portfolio of photos that you've taken and submit them to magazines.  Looking at your work, they may hire you for assignments. Magazines are a tough market to break into so cut your teeth on other smaller assignments for local newspapers.
Local photography business. Ever gotten a mailing that shows cars for sale or houses for sale? Someone had to take those photographs. It could be you. Hire yourself out to area businesses to do the photographs for them.
Event photographer. Some families like to document their events like family reunions, christenings, bar mitzvahs and birthday parties. You can be the eyes in the room catching candid shots of everyone.
Senior portraits – Every senior in high school usually has senior portraits done at on outside company. Offer your services to your local high schools at a good rate.
Photography website. If you know a lot about digital cameras and photography, create a website to sell photography products. Keep visitors and customers coming back with engaging content on various aspects of photography.
Teach a photography class. Those cameras look easy to use but some of those symbols can mix people up. Teach others to use their digital camera and create great pictures that they, too, can market as a business.
Food photographer – If you like to take pictures and style food, you can make some good money as a food photographer for grocery stores, website owners, etc.
Do you like photography too? Share your ways that you can make money with your camera.