I happen to LOVE the Criminal Minds show. It is one of my favorites and I have seen most of the episodes more than once. Shemar Moore may star in Criminal Minds, but I remember him years ago when he used to play on The Young & The Restless. I thought it was neat seeing one of my favorite soap opera actors on a show that I watch regularly.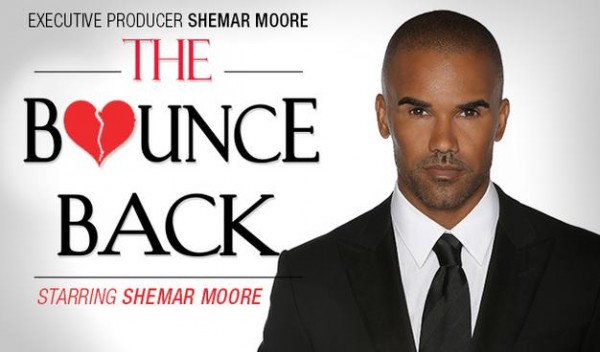 For the Shemar Moore fans, I have some good news. Shemar Moore is planning on producing a movie called "The Bounce Back" that the ladies are sure to LOVE and asking his fans for support.

"The Bounce Back" is a heartfelt romantic comedy about finding the courage to love after love has let you down.
Have you ever been in a relationship that had you really down in the dumps when you broke up? The kind of bad breakup that has you NOT wanting to date again for anytime soon.  Here is the plot for "The Bounce Back".
When I read "The Bounce Back" – that very same issue was at the core of the script and the character, Matthew Taylor. I saw a lot of myself in Matthew, although I've never written a book (but I'm thinking about it now, hint, hint). I felt a kindred spirit to what Matthew was going through and my own life. Matthew loses his wife, his first love and after a short recovery creates a best selling book and a system of survival in order to shield himself from the pain.  He throws himself into a year long speaking tour.

That system of survival; his book and speaking tour, keeps him from falling in love again when he meets the perfect girl, the beautiful and zany Kristin Moreland. Matthew realizes that he has to renounce his book and the world he has created around it in order to take the big unknown plunge of letting himself fall in love again.

I think there is a wonderful poetry to that, the idea of risking it all for love. And I feel, in my heart, that is why we're here on this planet. To love. After I put down the screenplay, "The Bounce Back," I knew I had to make this movie simply because I believe in love all the way down to the fabric of my being.
Shemar Moore wants to make a movie the NON-Hollywood way and has submitted a new movie project on the indiegogo website asking for donations to get this movie on the go. I am one of the lucky bloggers that will be covering this film from the beginning stages of the fundraising of it to the red carpet premiere.  Stay tuned for giveaways, access to exclusive interviews, insider scoops, celebrity photos and other cool "The Bounce Back" news and updates.
Shemar Moore is asking in your  help to make this film a success. For those that donate, you may be eligible for some really cool perks like spoiler alerts, personal video updates, t-shirts, autographed pictures and more. If you have some extra money to spend and you are a big fan of Shemar Moore, you might be really interested in this once in a life opportunity.

When he first started he already had some really cool perks for those who donate. Here a few NEW perks that Shemar Moore just added since he got a huge response from fans asking for more perks.
A Night to Remember – ($2500) Want to go clubbing in Hollywood with me and some of your friends? You and FOUR of your friends can meet me for a night on the town. The five of you will join me for some flirty, fun dancing at a popular LA night club and hang out for the evening VIP style. (Travel not provided)
Personal Photo Shoot – ($1,500) Join me on the set of an upcoming photo shoot and be photographed with me by a professional photographer. You will have a memento to show off and keep forever. I will send you an 8 x 10 print autographed and dedicated to you (as well as the digital file to keep). (Travel not provided)
Criminal Minds Set Visit – ($500) Back by popular demand, you and a guest can visit the set on Criminal Minds for an hour to watch filming behind the scenes. (Travel not provided) (50 available) (Travel not provided)
For those of you that are fans of Criminal Minds for me, to donate $500 and get a Criminal Minds Set visit would be an incredible experience. I know I would LOVE to see the set and watch the filming behind the scenes. Of course these two other perks are pretty cool too! For those that don't have that much money to spend, there are perks starting with a $15 donation.
For more information or to donate visit: http://www.indiegogo.com/projects/the-bounce-back
Disclosure – I was asked to participate in this campaign by the Bounce Back Film Campaign as part of a first-of-its-kind blogger initiative. I will cover the making of the movie from fundraising to premiere throughout the next year. I am being provided promotional material, giveaways and exclusive interviews but this is not a paid post. As always, my opinions are my own.