I am one of those semi eco-friendly parents that try to use eco-friendly products around the house. When it comes to cleaning products, I aim to use those that will not cause harm to my environment. I am a mom with a TON of laundry that tries to use only eco-friendly laundry products and until recently, I had NEVER heard of optical brighteners. I may have heard the term, but honestly never paid much attention to what they are.
Below is a photo from a laundry experiment. The two shirts pictured below are two identical organic cotton shirts. One shirt was washed with conventional laundry detergent (the one on the left) that contains optical brighteners and the other shirt was washed with the Seventh Generation liquid detergent that does not use optical brighteners. Check out the difference…..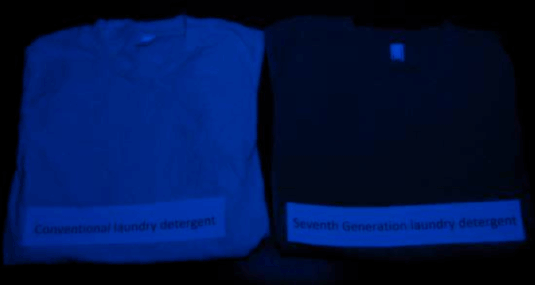 Now that I have done a little reading, I have learned that optical brighteners can cause allergic reactions. HELLO, this is the main reason I am picky about my laundry products. All throughout my life, certain laundry products would cause an allergic reaction on my arms. My mom had always said it was the laundry detergent, so when it came time to buy my own, I always looked for products that did not cause a reaction. These optical brighteners are also TOXIC to small fish and other aquatic life as well dangerous for our waterways. When the ultraviolet light hits these optical brighteners in clothing, they convert UV rays into visible light to create an optical illusion that will trick your eyes into thinking the clothes are whiter and also brighter. For me, I will avoid the products with these optical brighteners.
Thanks to MyBlogSpark, we have been using the Seventh Generation laundry products and have been very pleased. I normally do not use liquid fabric softener, but after using the Seventh Generation Liquid Fabric Softener, I think I may switch to liquid. They also offer a chlorine free bleach if you are one that uses bleach when doing laundry.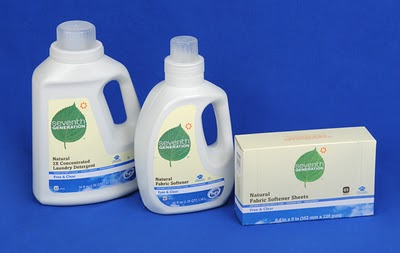 If you want to avoid these optical brighteners, the Seventh Generation has laundry detergents that are not only FREE of optical brighteners, they are NON-TOXIC. Their liquid laundry detergents are also hypo-allergenic and biodegradable which makes it something I like using to wash my family's clothes.
Guess What Readers? The very nice people over at MyBlogSpark are offering one of my LUCKY readers a Seventh Generation Prize Pack that includes the three Seventh Generation laundry products pictured above.
1) To enter this giveaway, please visit the Seventh Generation website and tell me something you have learned that I did not mention in this post.

Extra Entries:
2 ) Subscribe to this blog and leave a comment that you are a subscriber.
3 ) Follow me on Twitter – leave your user name in your comment.
4 ) Send a Tweet with Twitter @mommye – leave a link to your Tweet. This can be done once daily!
5 ) Blog about this giveaway – Leave link to your post (3 extra entries – leave comment for each)
6 ) Become a fan of Mommy Enterprises on Facebook.
7) Become a fan of Seventh Generation on Facebook.
8 ) Join/Follow Mom's Blog On Google Friend Connect (See right sidebar)
9 ) Add my button to your website or blog (see sidebar) – leave link
10 ) Comment on any NON-GIVEAWAY post – Maximum of 5 extra entries – LEAVE A COMMENT FOR EACH EXTRA ENTRY
This giveaway will end on January 2, 2011 at 11:59 PM PST. The winner will be chosen using Random.org from all valid entries and submitted. The winner will be notified via email and will have 48 hours to contact me with their mailing information before another winner is chosen. This giveaway is open to U.S. residents only ages 18 years or older.
I received the Seventh Generation laundry detergent, two t-shirts and black light through MyBlogSpark to provide you with this review. I was not paid any monetary compensation to publish this review. This review is my personal opinion only and receiving the sample has no impact on my opinion of the product.