Almost every night I make a home cooked meal for the entire family that includes some sort of side dish that includes veggies. One kind of vegetable that everyone likes but my son is green beans, so I am always looking for new ideas on dishes I can make that includes green beans.
This month I have tried a few of the Steamfresh Chef's Favorites from Birdseye as a side dish to our meals. These come in a variety of options that include vegetables, potatoes, pasta and different sauces. What is neat is they are ready to serve in about  5 minutes. When you cook them, at end you can hear them steaming in the microwave.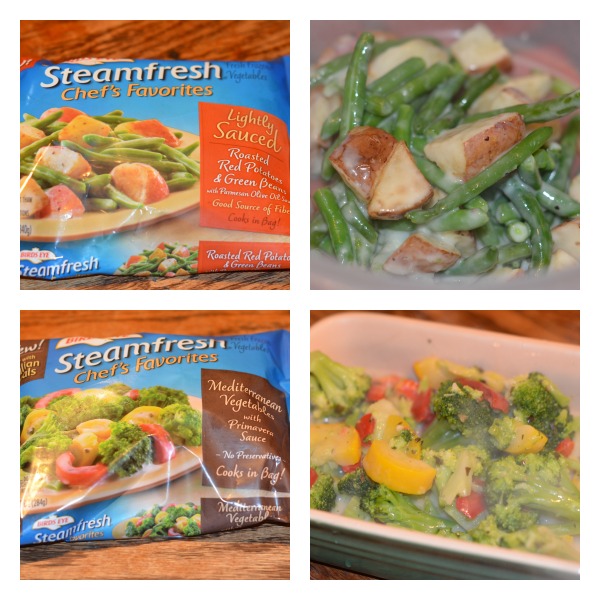 My favorite is the Lightly Sauced Roasted Red Potatoes and Green Beans. I LOVE the combination of these two along with the yummy Parmesan sauce. This would be perfect for a dinner for 2 and I can't wait to try some of the other varieties.
On the Birdseye website, they have a section just for KID inspired recipes. You can find A TON of very WILD creations that kids have made using veggies. You will actually find over 16 thousand recipes created from a virtual kitchen as part of the iCarly iCook with Birds Eye initiative. At my house we like to watch iCarly, so it is neat to see the show involved with veggies! I can't wait to make some of the recipes submitted by other fans with my 8 year old that is a big fan of iCarly and maybe get crafty and submit our own.
Take a peek with of a video from one of my favorite iCarly stars.
Watching this video makes me want to encourage my kids to get creative with vegetables too. I was just explaining to my 8 year old the importance of vegetables and why it is important to eat them and it would be great if they came up with a veggie recipe to submit.
Here is the recipe for the Yakimaniac Veggie Martians that we think looks awesome that was shown on iCarly.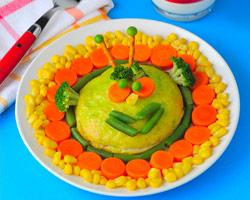 Here is the recipe if you want to try to make it at home too!
Yakimaniac Veggie Martians Recipe – from iCarly
Ingredients
1 bag (12 oz.) Steamfresh® Broccoli Florets, cooked according to package directions, divided
1 bag (12 oz.) Steamfresh® Mixed Vegetables, cooked according to package directions, divided
1 package (16.3 oz.) refrigerated biscuits (8 biscuits)
1-1/2 cups shredded Swiss cheese
1/2 cup plain Greek style yogurt
3 oz. cream cheese, softened
Green glitter icing gel
Thin pretzel sticks
Instructions
Preheat oven to 375°F.
In medium bowl, combine 1 cup cooked broccoli florets and 2 cups cooked mixed vegetables with Swiss cheese, yogurt and cream cheese, blending well.
Separate biscuits in half into 16 pieces; roll or press each half into 4-inch rounds. On ungreased baking sheet arrange 8 rounds. Evenly top each with rounded 1/4 cup vegetable mixture, leaving a 1/2-inch border. Top with remaining biscuit rounds. Press edges to seal. Brush each with glitter gel.
Bake 15 to 17 minutes or until edges are golden brown.
Decorate each "Martian" with reserved vegetables and serve with remaining vegetables.
For more WILD & Wacky vegetable recipe creations like this one above, visit: www.birdseye.com/kids.
"I participated in a campaign on behalf of Mom Central Consulting for Birds Eye. I received product coupons to facilitate my review as well as a promotional item as a thank-you for participating."