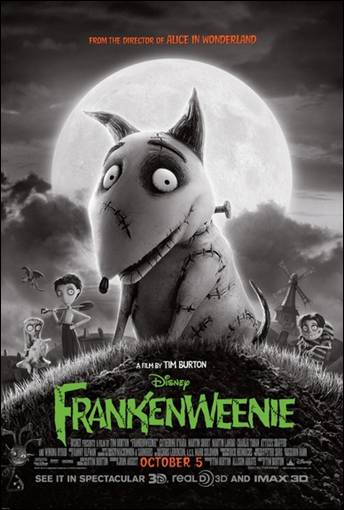 For months I had been wanting to see Disney's Frankenweenie that just came out in theaters on Friday. I was lucky and got to take my daughter Hannah to a pre-screening of the movie before it hit the theaters. For a movie that is in black and white, it was pretty darn good!
I like that this film is also in 3D that makes it even better. My daughter loves wearing those silly glasses in the theater and I love the 3D effects.
From creative genius Tim Burton ("Alice in Wonderland," The Nightmare Before Christmas") comes "Frankenweenie," a heartwarming tale about a boy and his dog. After unexpectedly losing his beloved dog Sparky, young Victor harnesses the power of science to bring his best friend back to life—with just a few minor adjustments. He tries to hide his home-sewn creation, but when Sparky gets out, Victor's fellow students, teachers and the entire town all learn that getting a new "leash on life" can be monstrous.
For a movie that deals with the death of a little boy's dog, the storyline is pretty good and it has a great ending. I thought my daughter Hannah wasn't going to like it, but she was giggling throughout the movie. I love the cast of characters too, especially Weird Girl and her cat Mr. Whiskers.
I want to share with you one of my favorite parts of the movie.

Frankenweenie is currently playing in theaters right now! If you are looking for a movie to watch with your children, this might be something you will want to see.
For those on Facebook, be sure to "Like" Frankenweenie at: http://www.facebook.com/FrankenweenieMovie
Disclosure – I received a press invite to attend screenings for this film. This post is not a paid post and the opinions stated herein are 100% my own