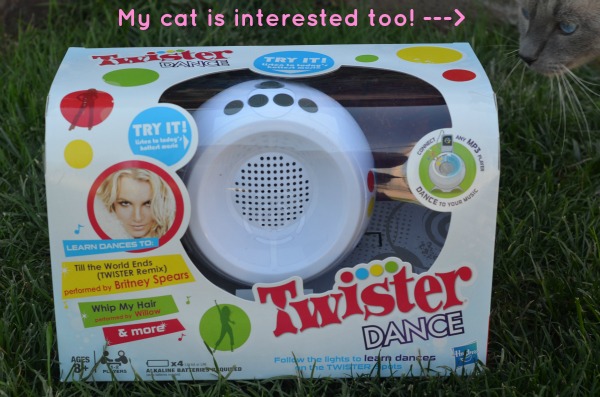 I remember playing Twister when I was a kid and it being such a silly game. Yesterday we played a new kind of Twister. Hasbro has came out with Twister Dance that can be fun if you like to step to the beat.
With Hasbro's new Twister Dance, you get today's best dance music with those iconic Twister colored spots. This game allows you to learn new and fun dance moves in a way that can be really fun.  When you buy the Twister game, it comes pre-installed with the 5 songs below:
"Till the World Ends," TWISTER REMIX, performed by Britney Spears.
"Whip My Hair," performed by Willow Smith.
"We R Who We R," performed by Ke$ha.
"Cupid Shuffle," performed by Cupid.
And an exclusive track, "Caught Up in a Twister."
Since I like that Cupid Shuffle song and want to know how to do the dance, my daughter and I started off with the Cupid Shuffle for first song to try this out with. It was a little confusing at first, but once you practice for a few minutes you will get the hang of it. You movie your feet to the colored spots ont he floor that coordinate with the multi-colored LED lights on the Twister Dance console. If you don't like the songs below, you can plugin your MP3 player to play your own music.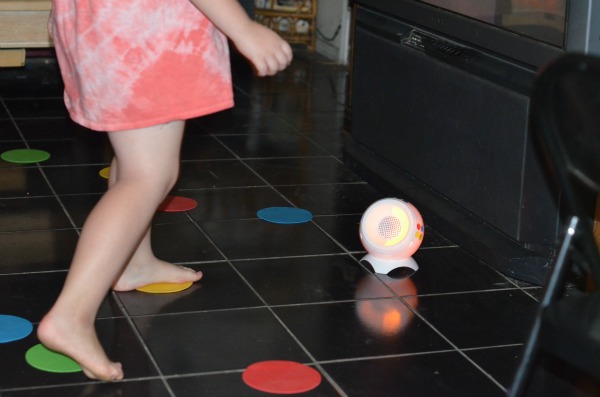 With the Twister Dance, it seems best to use it inside or outdoors when it is dark or getting dark. Since the game has a console that changes colors, it is hard to see the colors outside in the daylight. My daughters originally wanted to use it outside until they noticed they couldn't see the colors to well so the moved the Twister Dance party inside.
Watch the Britney Spear's Twister Dance video:
What I like about this version of Twister is that you don't have to have someone else to play this with, this game is designed for 1 or 2 players. The game is recommended for those ages 8 and up, but my 4 year old son was trying to play along too. This is definitely something I will enjoy playing with my kids too on a family game night.
For more info, visit: http://www.hasbro.com