Did you know that this Sunday, July 15 is National Ice Cream Day? To make the day extra special, MARS Chocolate North America has partnered with Six Flags Entertainment Corp to make this Sunday one of the "coolest" days of the year.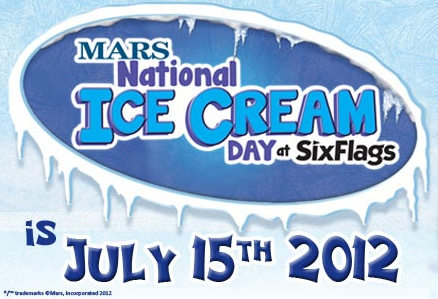 If you happen to be near a Six Flags Theme Park, you will want to take a trip there this Sunday for a day full of fun. There are special events that will be happening including:
Rise and Scream Event: Ice cream and theme park rides are a natural pair – they both make consumers scream in delight! The first 200 guests to arrive at select Six Flags parks on National Ice Cream Day will have the chance to receive a MARS Ice Cream Rise and Scream Wristband, which provides special VIP access to select rides before the park opens to the public.
MARS Ice Cream Social Hour: Need a break from the heat? Cool down with a frozen treat during the MARS Ice Cream Social Hour. Purchase a Mars Ice Cream product from any official Six Flags Ice Cream Day location within the park from 4-5 p.m. and you can receive a free Midway Game Voucher to use at Six Flags on Sunday, July 15.
"Adults Only" DOVE® Ice Cream Truck: For those in the Boston area on National Ice Cream Day, the special edition "Adults Only" DOVE® Ice Cream Truck will be stopping by the Six Flags New England in Springfield, beginning at 5:30 p.m. EST. Those 18 years or older can enjoy free DOVE® Ice Cream Bars and other adult activities – including massages by licensed massage therapist, manicures and music.
Now time for my Mars National Ice Cream Day Prize Pack Giveaway
I will be attending Mars National Ice Cream Day this year and am offering one of my readers the chance to spend the day there too!
One of my lucky winners is going to receive a Mars National Ice Cream Day Prize Pack that includes two passes to the Six Flags closest to you and a MARS Ice Cream product or full value coupons.
To enter this giveaway, use the Rafflecopter below to submit your entries:
This giveaway ends Tuesday July 10, 2012 at midnight. Winner will be notified Wednesday morning and winner must respond by Wednesday evening in order to get prize pack shipped in a timely manner to attend.