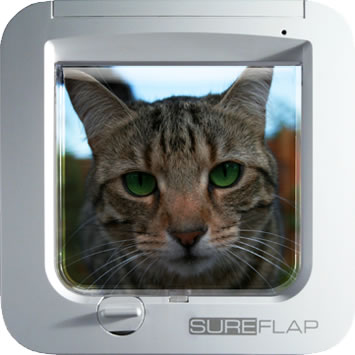 I have a cat named Simon that enjoys being free and roaming around the front yard. While I would prefer to keep him inside, he is a cat that wants to play outside just like my kids. While I have friends that have doggy doors for their dogs to come and go when they want, I recently found out that they have doors for cats too!
SureFlap offers cat owners a way to let your cat come and go, but keeping out the stray cats at the same time. This door can identify cats that currently have a microchip installed. If your cat doesn't have a microchip, then the door will not be able to be programmed to let him or her in. For those of you with cats that do have a microchip, this might be helpful if you don't want to be letting your cat in and out of the house all the time.
It works for multiple cats too! If you are a cat lover that has multiple cats that have their own unique microchip, the SureFlap has the ability to keep memory of more than 1 cat!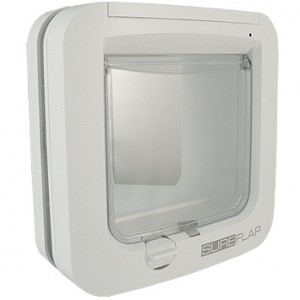 Here are some additional features I want to share:
Available in white or brown
Compatible with all common microchip types
Battery operated
Simple one button programming
Stores up to 32 cats!
I totally like the concept of this door! I have always wanted to install one of these for the cats that I have owned, but have always been afraid of the neighborhood cats coming in. Now I just got to get my cat a microchip! He is going to LOVE it… and I am going to LOVE not hearing him MEOW real loud to get let out.
For more information on the SureFlap Microchip Cat Door, visit: http://www.sureflap.com
Disclosure – I received one of these cool cat doors for Simon to provide with this review. This post is not a paid post and the opinions stated herein are 100% my own.