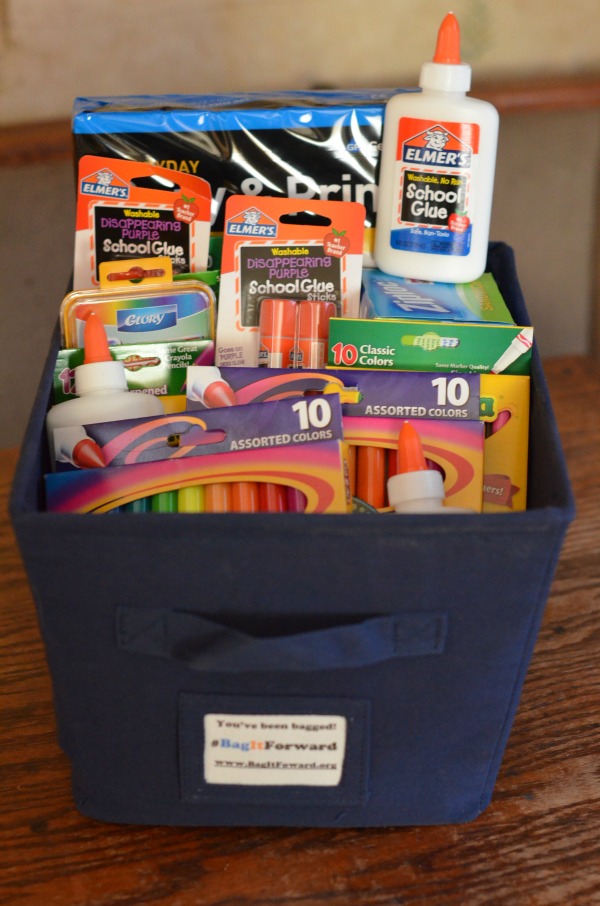 When it comes time to start shopping for back to school supplies, I think I tend to get more excited than my kids. I have always loved school supplies and always grab some for myself when I buy back to school supplies for my kids. Since I run my business from home, I need cool pens, pencils, markers and other good stuff too! One place I know I can always count on to find the school supplies at low prices is Walmart.
Last week I took my daughter Hannah to Walmart with me to shop for some back to school supplies. Our mission was not just to buy supplies for her, but to also buy school supplies for a deserving teacher as part of the #BagItForward movement I am participating in. For this fun campaign I am working on, I will be donating a bunch of school supplies to my daughter Hannah's second grade teacher. Hannah is now going into the third grade and says that this teacher is her most FAVORITE!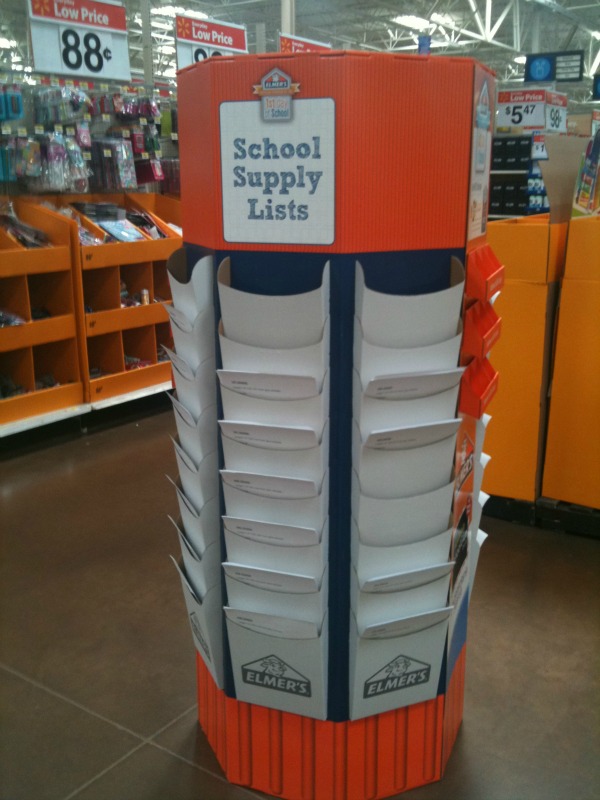 When we first arrived at Walmart, our first mission was to find the Elmer's School List Display. Not only does the school supply list holder contain the lists, but also information about the new Elmer's 1st Day App that is going to have taking pictures of your kids on the first day of school with your phone more fun and rewarding.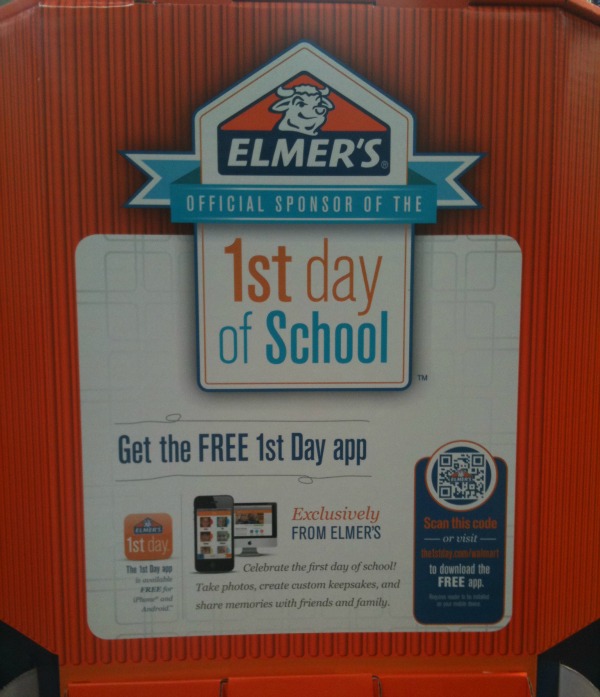 Once we found the Elmer's display, I grabbed a school supply list for second grade grade and put it in the basket. Next I scanned the Elmer's code on the display that took me to download the Elmer's 1st Day App.
Here is two screenshots I took of the Elmer's 1st Day App I took with my iPhone.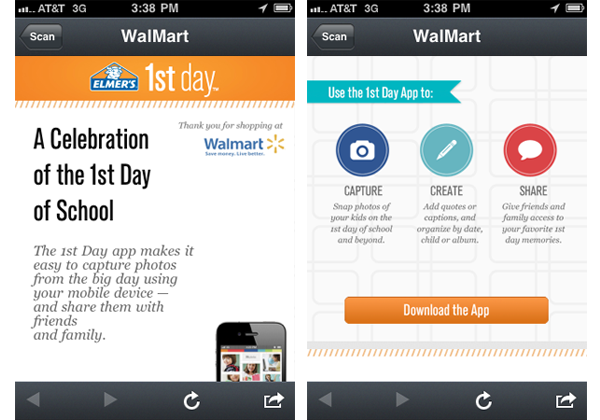 With the Elmer's 1st Day app, you can take pictures of your children on the first day along with other special "firsts" and other special moments you want to capture year after year. This app also provides a way for teachers to share photos of their classrooms, school projects and more. What I LOVE about this app is for every photo that is uploaded, Elmer's will donate one product to The Kids In Need Foundation, up to 200,000 products. Just for snapping photos of your child's first day and uploading them with this app will help other kids in need!
This Elmer's 1st Day App is FREE and available for iPhone and Android mobile devices. This app can be downloaded in the iTunes Store or via the QR (Quick Response) codes that can be found on select Elmer's glue bottles and the Elmer's School Supply List display like I pictured above.
After downloading the app, it was time to start shopping…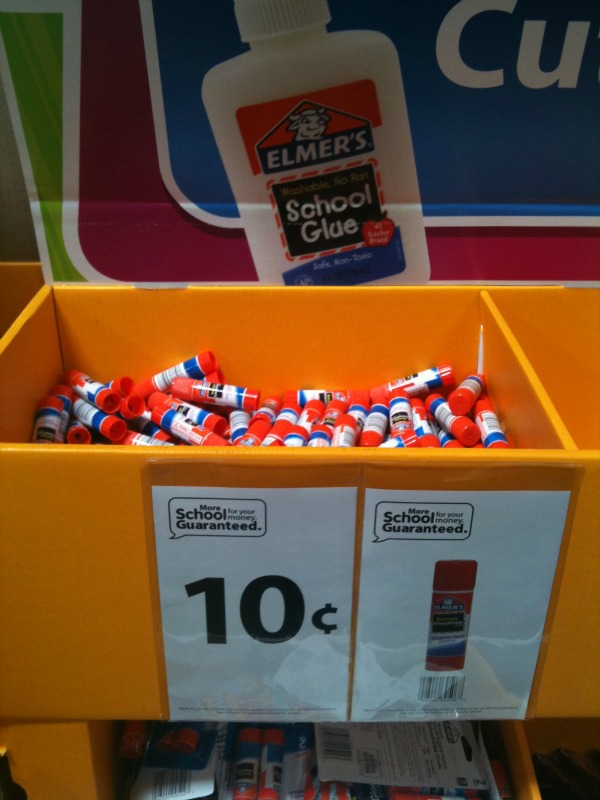 How can you not want to stock up when these are only 10 cents?
Like I mentioned previously, I want to give my daughter's second grade teacher a bunch of back to school supplies for the #BagItForward movement that she would be able to use in her class next month. This teacher is one of those teachers that are super friendly and always seen with a smile that all the students love. I want to show her some appreciation by giving her my #BagItForward movement donation.
I looked at the second grade supply list and we started to make our way through the Back To School Supplies aisles looking for items I wanted to give as my donation that would  benefit the children in her class. There were so many different quality back to school items that had super low prices, it was a little hard to decide on just what to choose.
When I seen this yellow school bus, I had to grab a box. It was something that was on the supply list, so it made even more sense on why I added a box to our basket.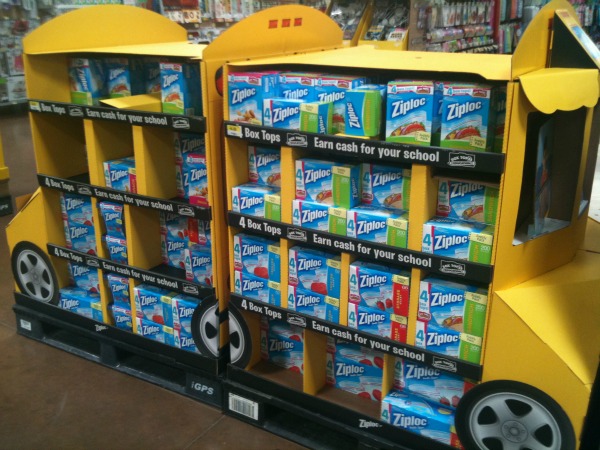 As we were looking for supplies it was actually a little fun finding things that I think the teacher would be able to use. Knowing how much it is going to tickle her heart that Hannah wanted to choose her as the teacher we donate to was also something I was thinking about. I was also thinking of how easy it is for others to help in the #BagItForward movement like I am doing too!
Not only is my #BagItForward teacher going to receive these cool back to school supplies, I also found a neat little canvas tote to keep them in.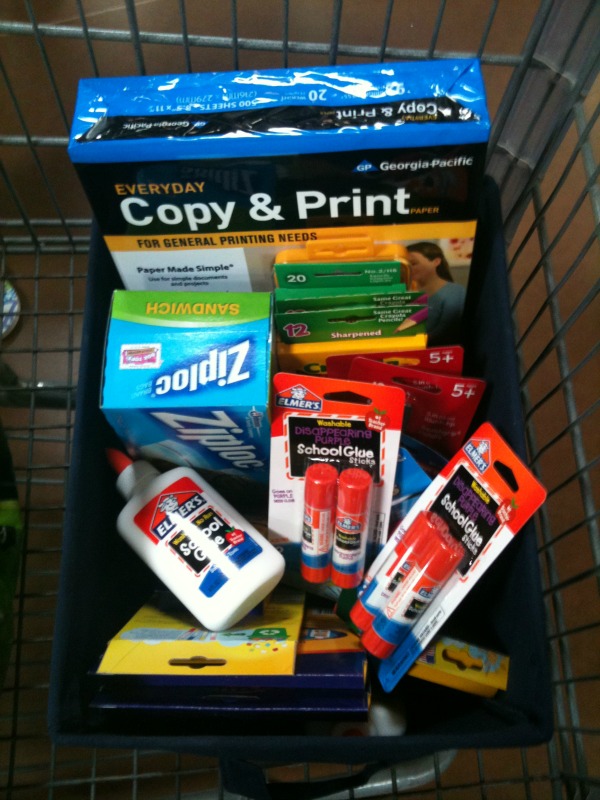 I had some fun putting the donation together and Hannah had fun showing it off in front of the camera. Now we just have to wait for school to start to give this to our deserving teacher at Hannah's school next month.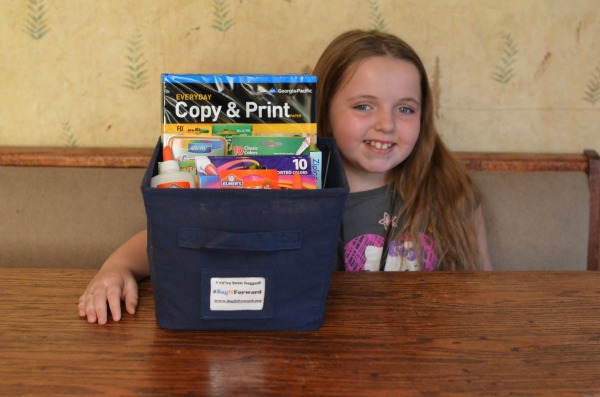 We can't wait to tell our teacher……….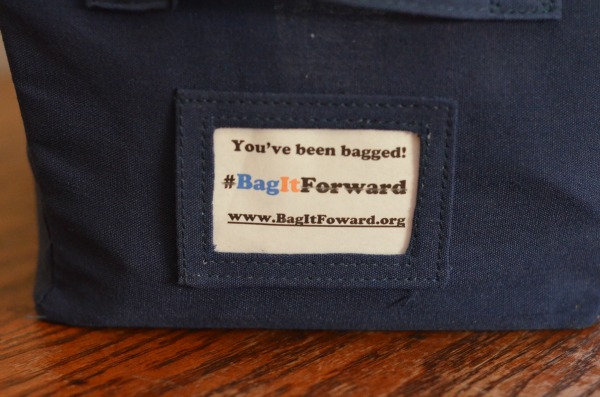 Want to see more pictures? Check out my #BagItForward Photo Album on my Google Plus profile. If you would like to donate to a deserving teacher, be sure to find out more about Elmer's #BagItForward movement on Facebook, Twitter and Pinterest too!
"I am a member of the Collective Bias™ Social Fabric® Community. This content has been compensated as part of a social shopper insights study for Collective Bias™ and Elmer's. The opinions stated herein are 100% my own. #BagItForward #CBias #SocialFabric