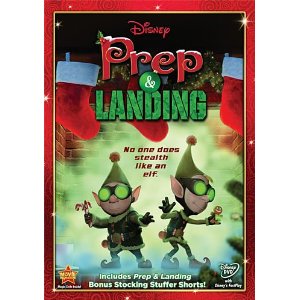 When you have children and the topic of Santa Claus comes up, you might get asked some questions that you don't necessarily know how to answer. One of those questions I had when I was little was "just how does Santa go to millions of home to deliver presents all in one night?". Of course we are going to tell our children about Santa's little elves, but will they really believe us?
I just watched Disney's Prep & Landing and this is perfect to watch with those with little curious minds.
Prep & Landing is an adorable holiday story about a high-tech team of elves who ensure homes around the world are properly prepared for their visit from Santa. After working for a tireless 227 years, an elf named Wayne (voiced by Dave Foley) is upset when he doesn't receive an expected promotion. Instead he is partnered with an idealistic rookie elf named Lanny (voiced by Derek Richardson) to execute a special Christmas Eve mission. While on their journey, Wayne and Lanny encounter unexpected challenges that push them to their limits and ultimately threaten Christmas for children around the world. But in the end, these two elves work together to guide Santa through a raging snowstorm in order to save Christmas.
Take a peek at the elves below…
My youngest two watched Prep & Landing yesterday and then I watched it again with them today. Normally I don't watch the Bonus Features on our movies, but this one has some really cute bonus features that your children will enjoy.
You can buy Prep & Landing right now on Amazon for only $13.99.