Since I collect Disney movies I was excited to finally get my hand's on my very own copy of DUMBO!  The grand live-action adventure from Disney and visionary director Tim Burton, which expanded on the beloved animated classic and sent spirits soaring is now available on Digital, Blu-ray, 4K and Movies Anywhere. You now have access to never-before-seen bonus features, deleted scenes, bloopers and more!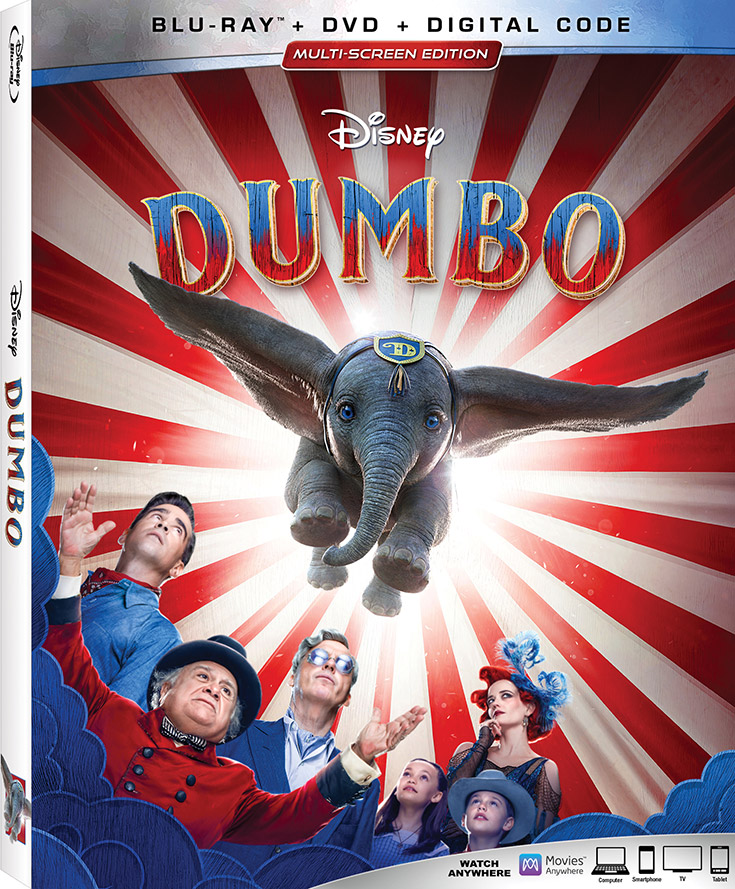 In "
DUMBO
," struggling circus owner Max Medici enlists former star Holt Farrier and his children to care for a newborn elephant whose oversized ears make him a laughingstock. But when they discover that Dumbo can fly, the circus makes an incredible comeback, attracting persuasive but sinister entrepreneur V.A. Vandevere, who recruits the peculiar pachyderm for his newest, spectacular, larger-than-life entertainment venture, Dreamland.
Watch the DUMBO trailer below:
What is always fun about watching it at home is the bonus features that are usually available. Here is the extras you will find on the DUMBO Blu-ray:
Circus Spectaculars:  Dumbo's cast share their experience of making the film—and get to the heart of a story about family and believing in yourself.
The Elephant In The Room:  Explore how one of Disney's most lovable characters went from an animated classic to a stunning live-action retelling.
Built To Amaze: Get a closer look at the film's production and costume design.
Deleted Scenes: A compelling collection of scenes that almost made the final film.

Roustabout Rufus
Pachyderm Plans
The Other Medici Brother
Monkey Business
A Star Is Born
Where's Dumbo
Elephant Heist
A Seat at the Show

Easter Eggs On Parade: Discover the hidden and not-so-hidden nods to the animated Dumbo in this narrated tribute to the Disney classic.
Clowning Around: Laugh along with the cast in a collection of big-top bloopers and goofs from the set.
"Baby Mine":  Visual video performed by Arcade Fire
Celebrate Dumbo on Blu-ray With Themed Animal Crackers
Want to make a snack perfect to eat while watching the movie? Geeks Who Eat has created a Sprinkled Animal Crackers recipe inspired by the circus that is easy to make
!