I recently received a box from Justice with some swag that I want to share! Justice recently released Ultra Squad, the FIRST book in a new graphic novel series from its recently launched entertainment division, Justice Studios. Ultra Squad follows the journeys of four tween girls as they battle and use their super-girl powers to save the universe by fighting an evil force that is threatening Earth.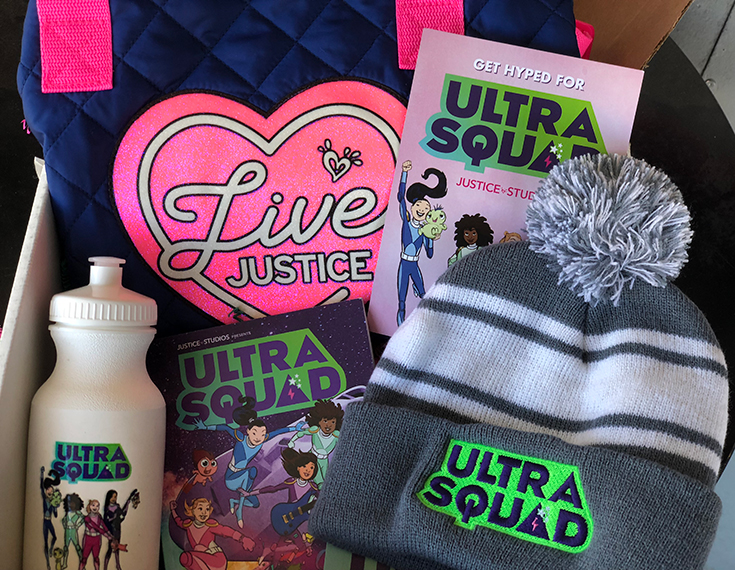 I have been a fan of comic books since I was a kid and was excited to check out the new Ultra Squad book. My daughter Hannah also likes comics and couldn't wait to check it out too! We both read the book, and LOVED it. I'm definitely going to keep it with my comic book collection. 🙂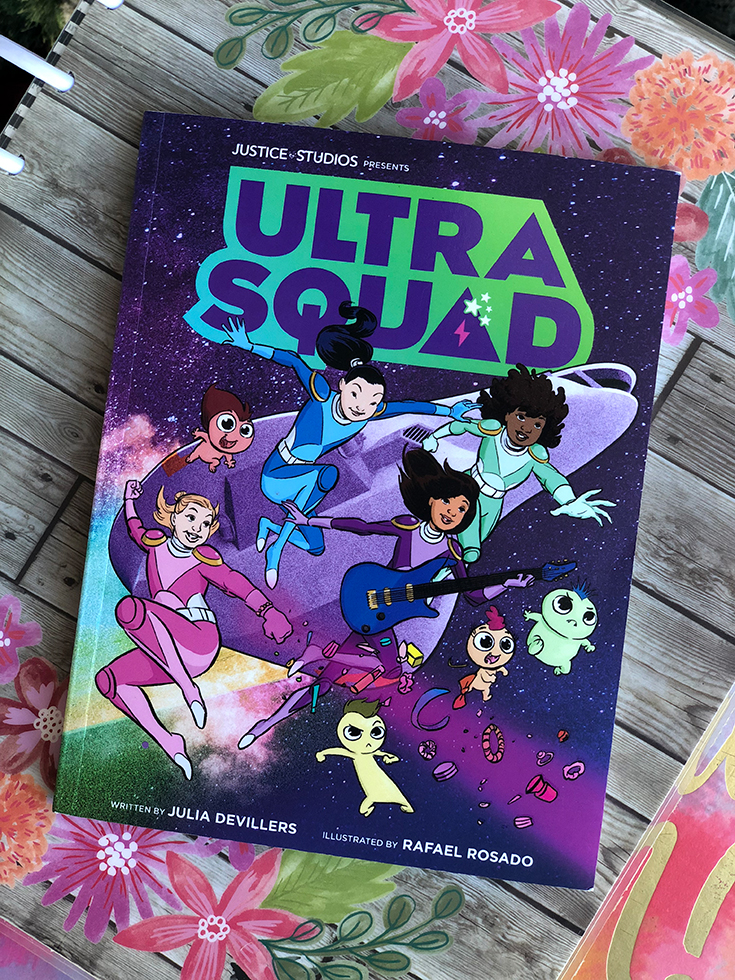 Ultra Squad was written by bestselling young adult author, Julia DeVillers, and illustrated by Rafael Rosado and specially created for a generation of girls who want to make the world a better place through teamwork, positivity and justice. The series features four main characters (Posey, Anna, Lyric and Sky), who come together and find out that their unique personalities can truly make a difference in and out of this world.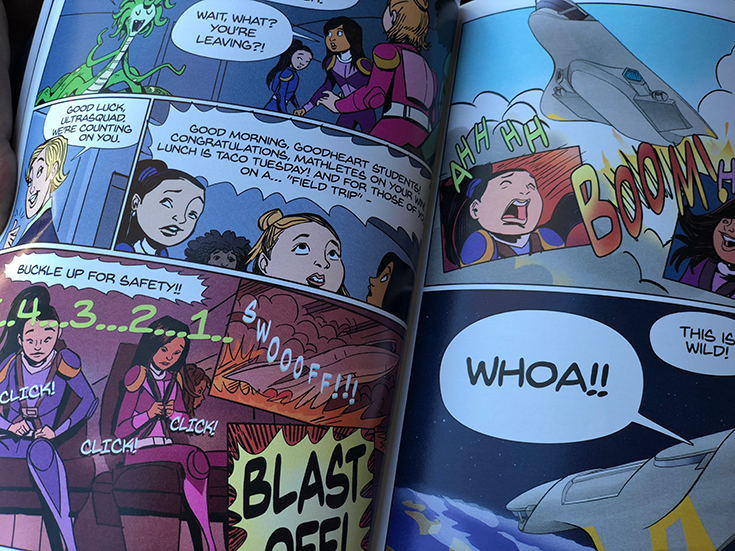 Meet the Ultra Squad:
Posey (Pink): She loves acting and has a passion for fashion, especially anything with sequins and glitter! Her motto is "Born to shine!"
Anna (Turquoise): She is a gymnast who loves to stay active both through sports like lacrosse and rock wall climbing. Her motto is "Girls run the world…and the galaxy!"
Lyric (Purple): She lives for music and her guitar and also loves writing poetry and volunteering at the dog shelter. Her motto is "Girls rock!"
Sky (Green): She is super plugged into technology and loves science experiments (like slime!). Her motto is "Problem? Problem solved."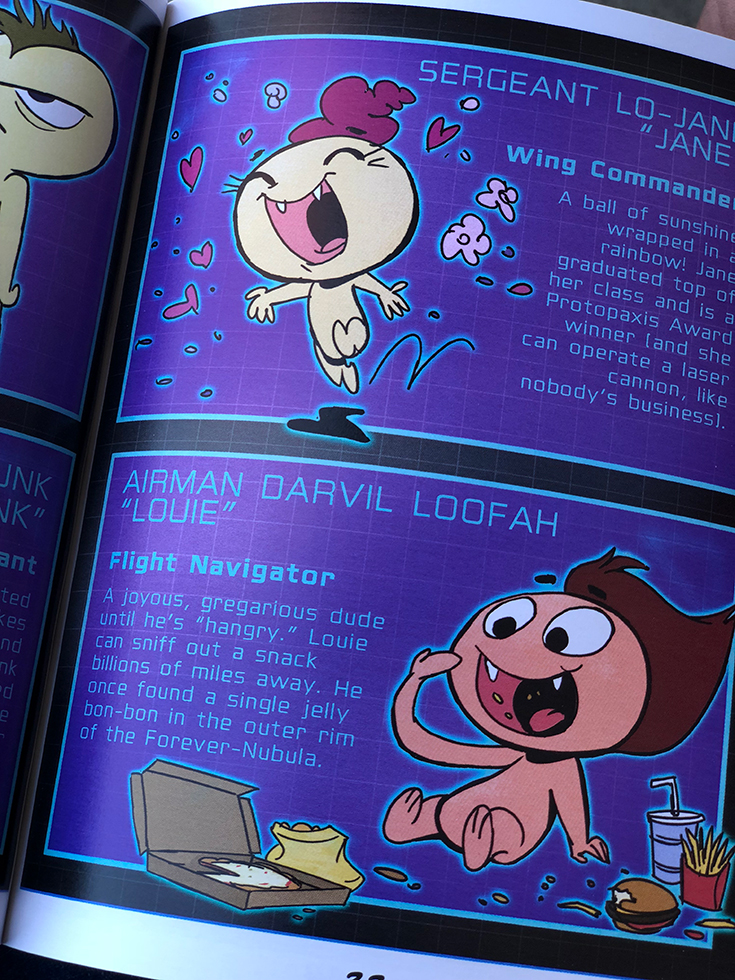 This book will make a perfect gift for Justice fans, and it's only $8 at stores nationwide and online. Right now to celebrate the launch of this new book, Ultra Squad will be FREE in-store with a $25+ purchase. And for your superhero loving girl, you can get an Ultra Squad tee-shirt too!
Are you an educator and want to use this book in a lesson plan? Be sure to check out the handy Ultra SquadEducators Guide to get you started!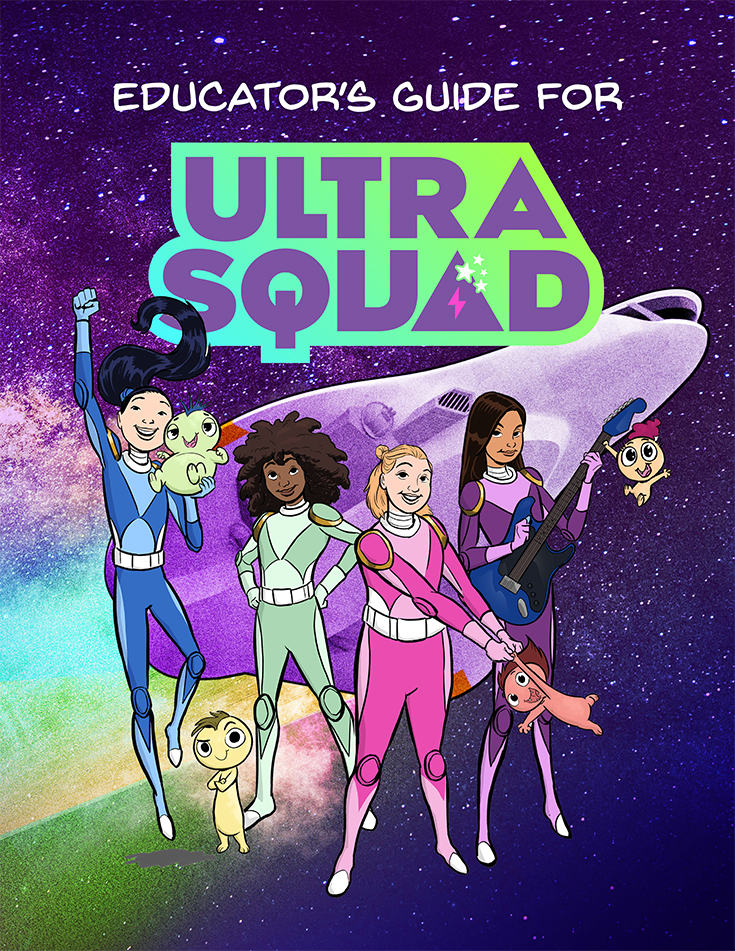 To find out more or shop the latest clothing styles, visit Justice stores nationwide or online at shopjustice.com.