This weekend it was time for a monster movie night! Hotel Transylvania 3 comes out TOMORROW on Blu-ray and Hotel Transylvania fans will want to grab a copy of the Hotel Transylvania 3 Monster Pary Edition that I have that comes with bonus features that includes 2 MINI-Movies you will want to see!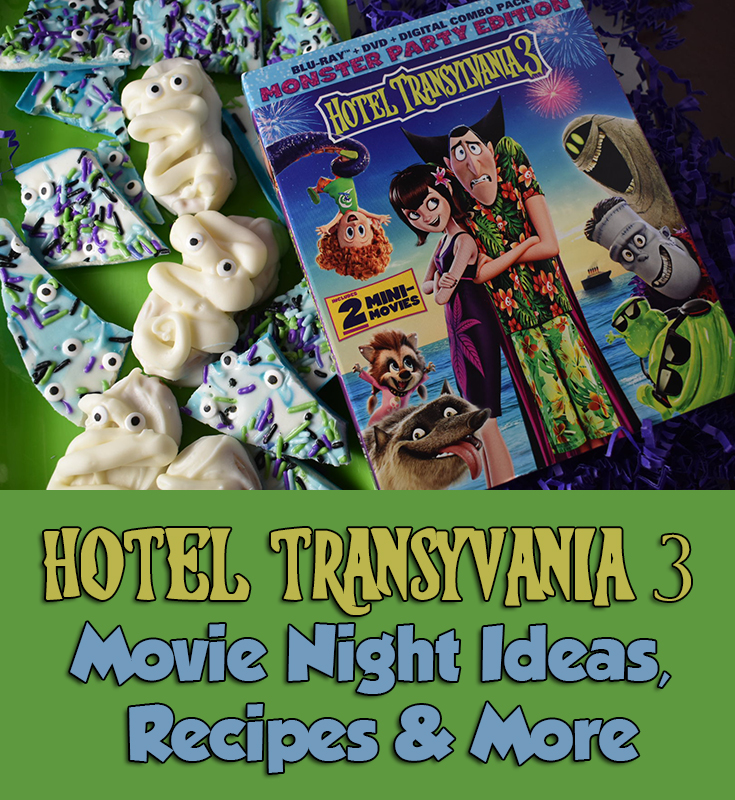 I received a cute coffin delivered to my house that was full of Hotel Transylvania 3 goodies! I am not sure who was more excited, me or my kids! I received a copy of the movie plus some awesome toys from Jazwares that my daughter claimed.
In the coffin was a Mavis costume that fit me perfectly! I wore it during our movie night and plan on dressing up as Mavis on Halloween too!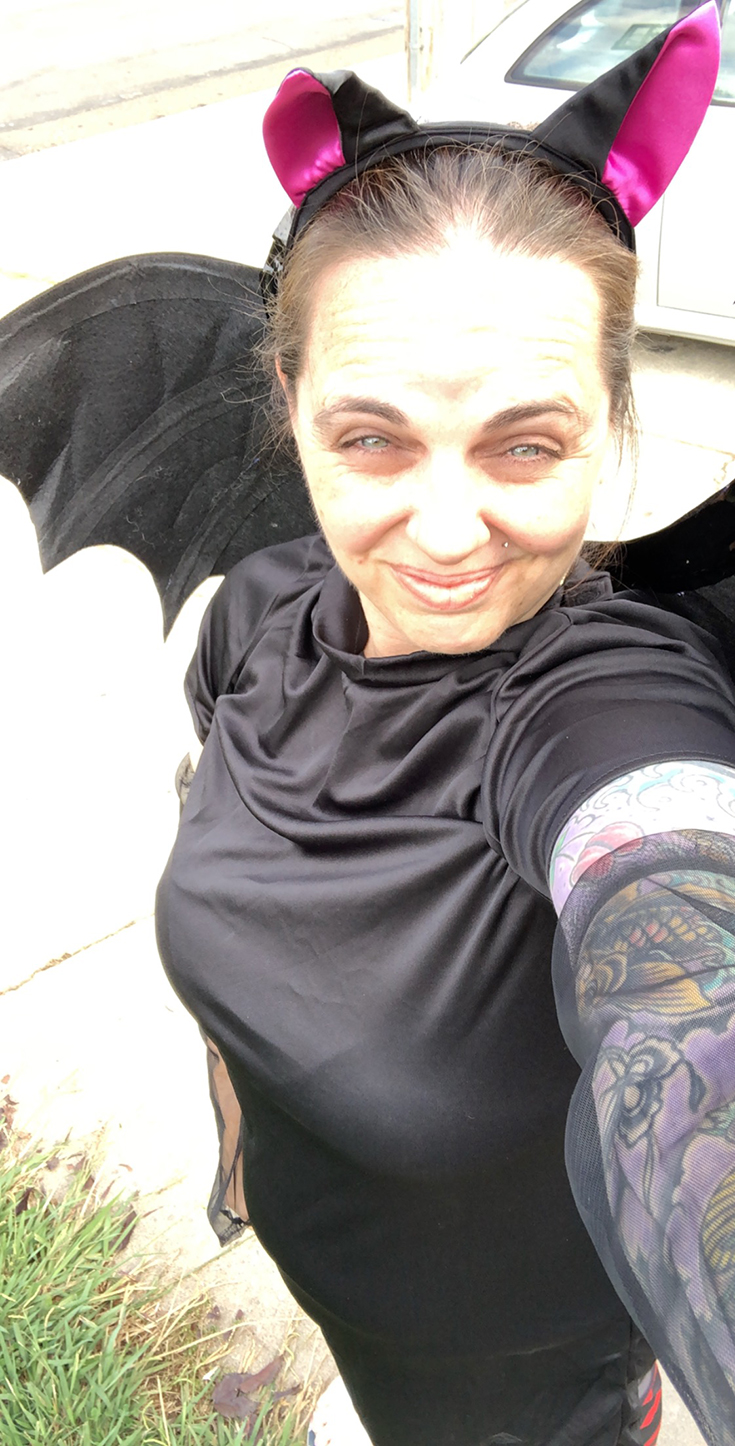 In Sony Pictures Animation's Hotel Transylvania 3: Summer Vacation, join our favorite monster family as they embark on a vacation on a luxury monster cruise ship so Drac can take a summer vacation from providing everyone else's vacation at the hotel. It's smooth sailing for Drac's Pack as the monsters indulge in all of the shipboard fun the cruise has to offer, from monster volleyball to exotic excursions, and catching up on their moon tans. But the dream vacation turns into a nightmare when Mavis realizes Drac has fallen for the mysterious captain of the ship, Ericka, who hides a dangerous secret that could destroy all of monsterkind.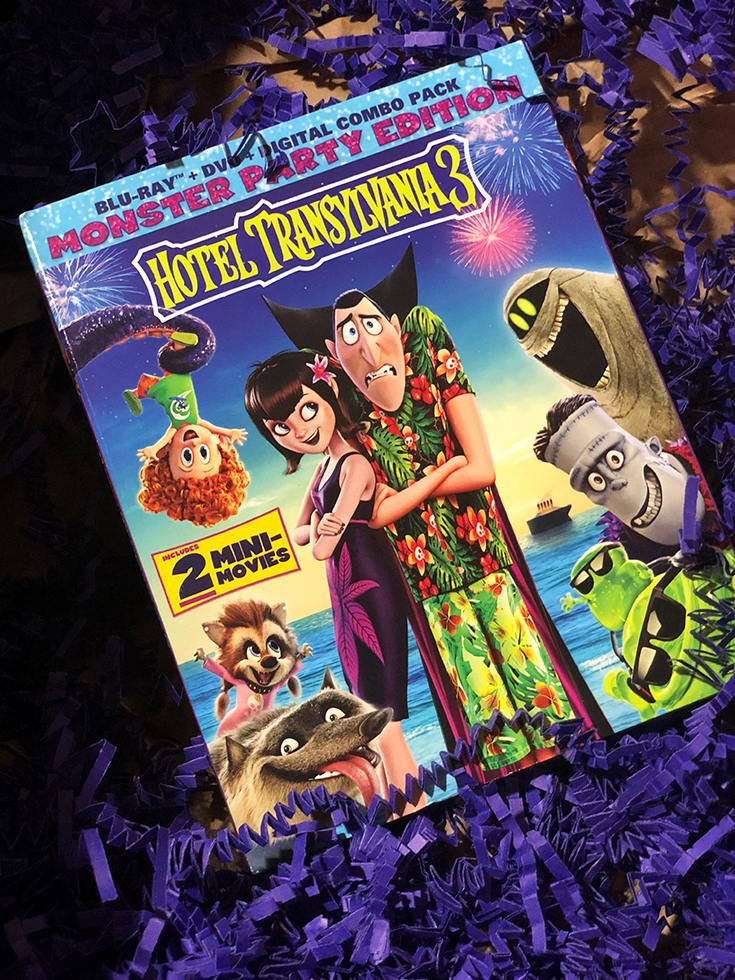 I always like to watch my favorite movies at home once they come out on Blu-ray for the bonus features. the Hotel Transylvania 3 Monster Party Edition comes with the following bonuses:
Bonus Materials Include:
Three All New Scary-Oke Sing Alongs: Sing along to three Hotel Transylvania 3 inspired songs with your favorite characters!

"Dennis Had a Giant Dog" – Sung by Dennis & Winnie
"Monsters Like to Party Down" – Sung by Johnny
"Oh These Wolf Pups" – Sung by Wanda Werewolf

Plan Your Own Spook-tacular Sleepover: This feature will give you all details on how to make your own sleepover spook-tacular! From snacks to crafts to games and more, follow these steps to create a Hotel T sleep-over with your friends and family, the perfect setting to binge watch all 3 Hotel Transylvania movies.
Vampire Make Over: Mavis and Drac Tutorial: Learn how to turn yourself into your favorite Hotel Transylvania 3 characters.
Behind the Screams – The Voices of Hotel Transylvania 3: Step behind the "screams" with the returning stars and hilarious new cast to see how these characters are brought to life in the recording booth.
Johnny's Home Movies (Franchise Recap): Johnny brings viewers up to speed on what's happened in the Hotel Transylvania franchise so far.
"I See Love" Monster Dance Party Dance Along: Get up and get moving to this haunting monster mash.
Drac's Zing-tastic Read Along: It's storytime with your favorite characters have a silly tale about Drac's search for a Zing!  Read along or sit back and enjoy!
Two Mini Movies (rated G): Two mini-features that will have you howling.
Hotel Transylvania 3 Movie Night Ideas
Movie night isn't complete without snacks! I made some Mummy Cookies and some MONSTER Bark! Below you will find some ideas perfect for your Hotel Transylvania 3 Movie Night…
Monster Bark & Mummy Cookies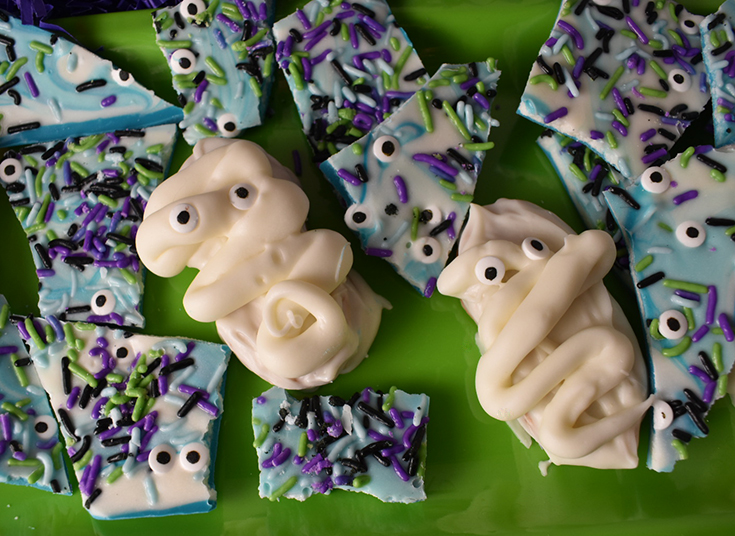 How to Make Monster Bark
Making Monster Bark is super easy! 1) Melt some blue candy chip (in 20-30 second increments), stirring each time. 2) Pour on cookie sheet. 3) Then melt some white chocolate (in 20-30 second increments) like with the blue candy chips. 4) Once melted pour on top of blue. 5) Take a knife and swirl it around. 6) Next add some sprinkles and candy eyes. 7) Place in fridge for at least 5 minutes to harden. 8) Remove from fridge and break into pieces.
How to Make Mummy Cookies
Making these cookies is easy too! 1) Melt some white chocolate in 20-30 second increments, stirring until melted. 2) Dip some Nutter butter cookies in the melted white chocolate. 3) Drizzle more white chocolate on the top in a zig zag motion. 4) Add candy eyes and allow chocolate to cool before eating.
DRACUSTRAWS & DRAC'S Spooky Smoothie Recipe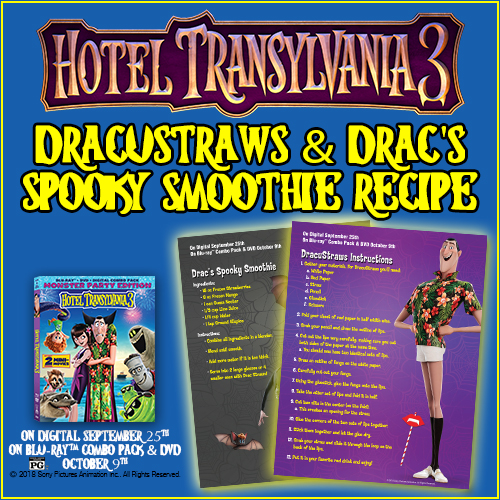 Learn more about Hotel Transylvania 3 at: www.hotelt3.com