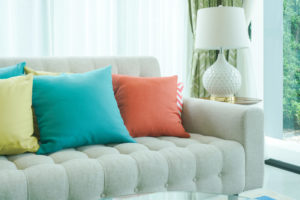 Summer is slowly but surely coming to an end. Soon enough, fall will be upon us. Fall is the perfect time of the year to make hot drinks, pick pumpkins, cozy up in your favorite sweater, and, of course, decorate your home! It's time to take down the bright, summer decor in your home and switch over to all of the fall goodies. And while about two-thirds of homeowners have current plans to renovate, you don't need to completely remodel your home each season. So let's take a look at a few simple and fun DIY decor projects for the fall season.
Fall-Themed Wreath
One of the best, and easiest, DIY fall crafts are wreaths. No home is really complete without a beautiful wreath on the front door and instead of buying an overpriced one, why not make one yourself? You can get all of the supplies you need at a local art store or even a dollar store. All you'll need is:
Grapevine or wire wreath base
Faux leaves, branches, and berries of your choice
Wire cutting tool
Burlap
Start by separating all of the branches, leaves, and berries into smaller groupings so they're easier to place. If you're using a grapevine wreath, simply stick your decor in between the grapevines as desired. If you're using a wire wreath, you may have to use the wire cutting tool or hot glue to wrap the items around the wiring to make them stay. But fill the wreath with all of your goodies and use burlap to hang it on your front door. And there you have it, you're own fall wreath!
Decorated Throw Pillows
While it's true that HomeAdvisor says a basement remodel can offer up to a 70% ROI, remodeling your entire basement isn't always practical. So instead, why not try cozying it up a bit? Adding cute and comfy throw pillows is a simple way to add some interesting elements to any room and they're always nice to snuggle up with on cold fall days. Fortunately, these throw pillows are super easy to make — and you can make them from any material you'd like. You can even repurpose an old canvas bag for the cover. Other materials you'll need include:
Scissors
Hot glue
Transfer paper
An iron
Cushion filling
Start by choosing your template — you can choose things like a leaf or pumpkin outlines or even a cute saying like "happy fall y'all". Once you have your design, print it onto the transfer paper and cut it out as close to the design as possible. Next, decide how much material you'll need to cover the cushion and cut that out. After your material is cut, simply iron on the design, peel off the back, and fill with the cushion. Now you have some cute and cozy throw pillows to add fall vibes to any room in your home.
Fall is an exciting time of the year — and your home should be exciting too! A recent Houzz study found that nearly one in two homeowners, or 48% to be precise, plan to decorate or redecorate their homes this year. So if you're looking for a few simple ways to add some fall feels to your home, give these easy crafts a try.