This is a partnered post with Foster Farms. All thoughts and opinions expressed are my own.
August has been one of my busiest months so far this year! My two youngest children started the new school year a couple weeks ago (one in 4th and one in 8th) and my daughter Hailey is starting college in just a few days! This month has consisted of hours of shopping for the perfect school clothes and supplies, event planning and no time for preparing meals that take more time than I have! Luckily I have my freezer stocked with a variety of Foster Farms products that help bring freezer to table in under 30 minutes!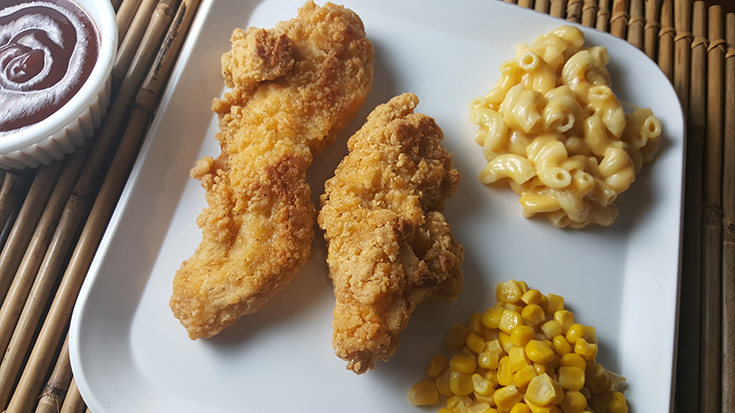 I love to cook but there are many days, especially school days when I just want to be able to prepare a meal for my family that doesn't take very long. I want to use those hours in the evening to talk to my kids about their day, help with homework,  tackle some chores and spend a little time in my garden. My kids know that mom can cook but they also like when I am able to cook dinner FAST!
Foster Farms can help you "Rule Your Roost" by providing an incredible range of tasty, protein-rich, super easy-to-prepare meals your family will love. Just think about how stocking up on Foster Farms frozen crispy strips, buffalo wings, chicken nuggets and many other frozen chicken products and a variety of corn dogs can help you go from freezer to table in under 30 minutes.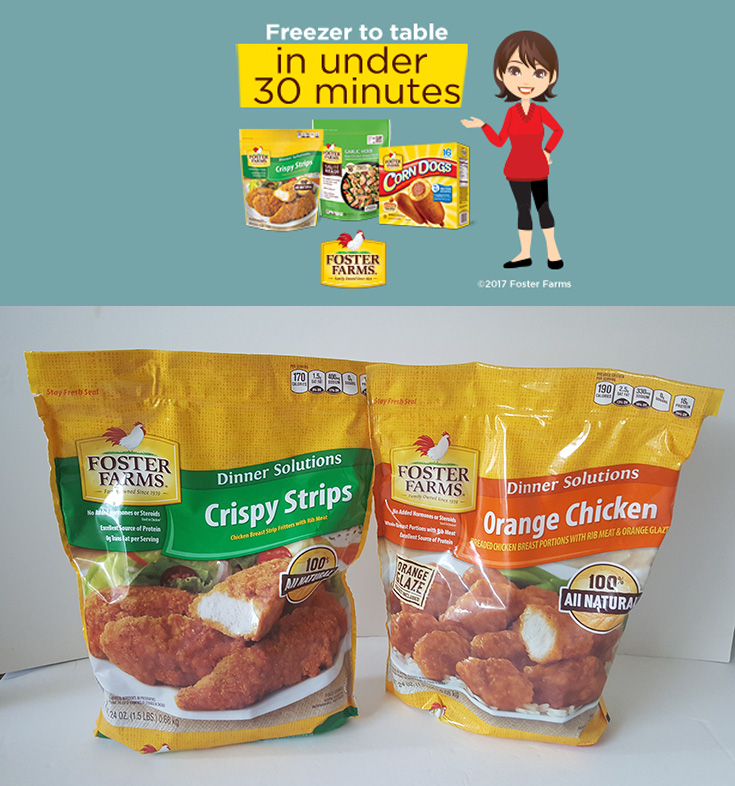 I always have a variety of these products in my freezer because I never know what I am going to make until usually that day. Meal planning isn't for me so I find it handy to have different options that I can grab to make a quick meal that I know my kids will like. I usually even keep a variety of the Foster Farms corn dogs in the freezer for a quick and easy after school snack.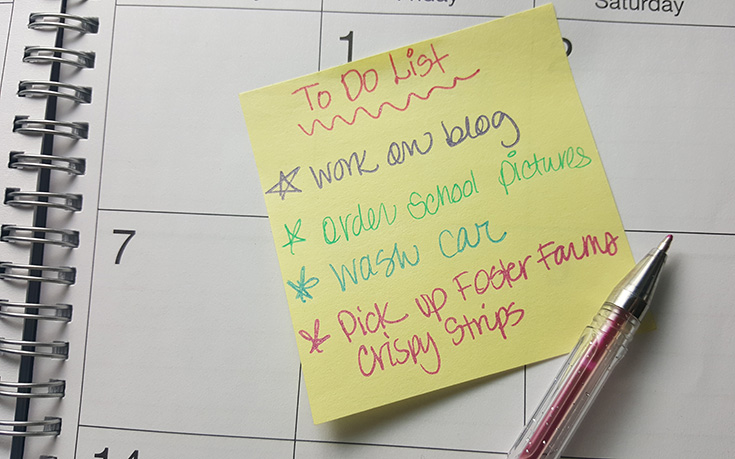 One of my family's favorites is the Foster Farms Crispy Strips. Since everyone here at my house loves chicken strips these are something you will always find in my freezer. I like that the chicken strips only need 15-20 minutes in the oven and while those are in the oven baking, I have some time to make a couple quick side dishes to make it a meal! With my Instant Pot that makes Mac N Cheese in less than 5 minutes and a can of corn, I made a meal for the kids that got NO complaints and just requests for seconds.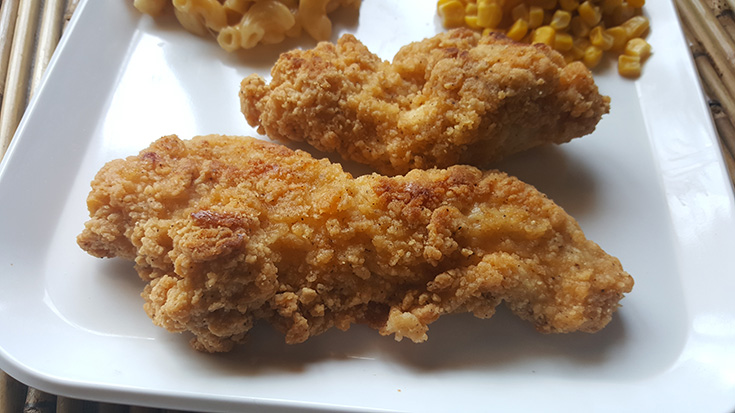 There is also a NEW product from Foster Farms that I am really liking that I have also been using to make easy DELICIOUS meals in about 15 minutes or less! I stocked up on the Foster Farms Saute Ready pre-cut and marinated frozen chicken products which ROCK because these take even LESS time! These new varieties include (Asian Style, Fajita, Garlic Herb and Lemon Pepper) that you can combine in a skillet with rice or veggies or pasta to make a fast, hearty and delicious dinner (up to 7 servings per bag) all in just ten minutes!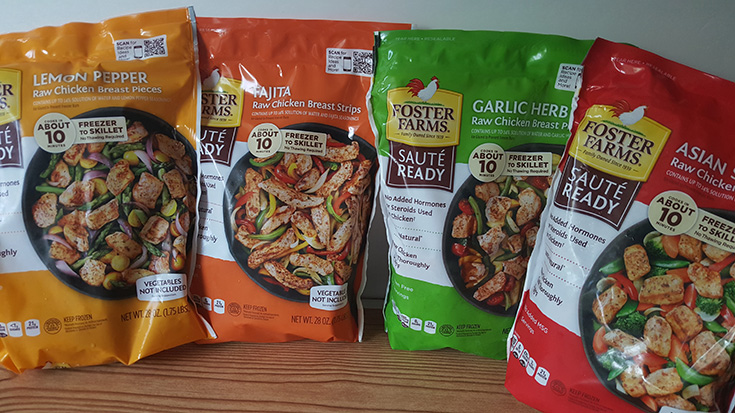 These new frozen chicken products are available at your local supermarket and I found all four varieties at my Safeway for only $9.99. I haven't tried all four yet but I have already used 2 bags of the Lemon Pepper for fajitas because it is that good!
Learn more about Foster Farms at: www.fosterfarms.com
$100 Foster Farms Frozen Cooked Chicken Giveaway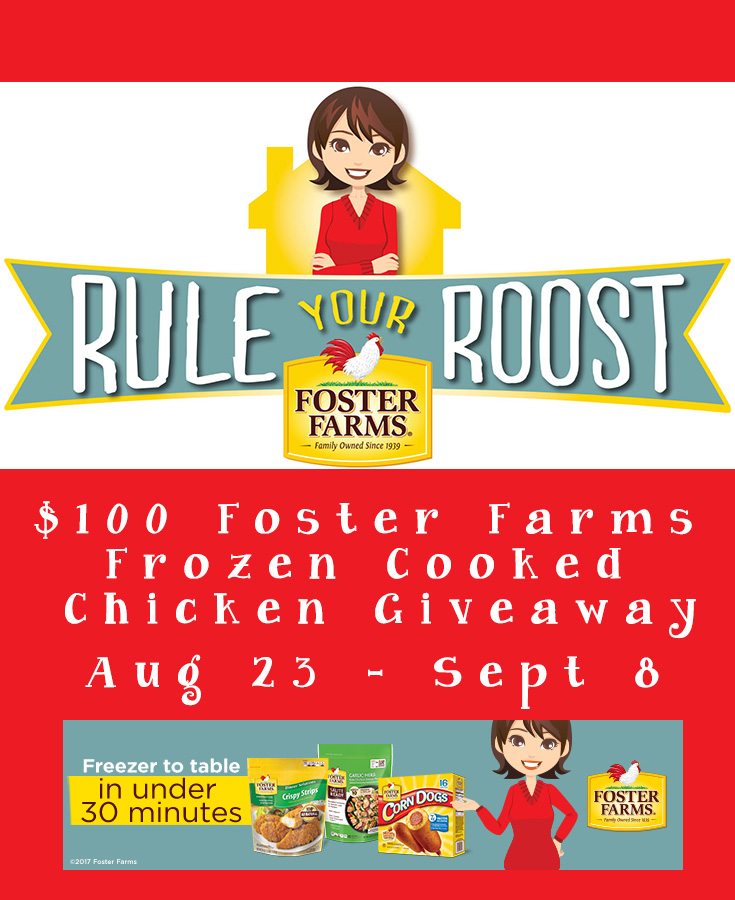 One of my lucky readers is going to get win $100 in Foster Farms Frozen Cooked Chicken coupons to help "Rule Your Roost". To enter for your chance to win all this yummy chicken use the Rafflecopter below: