April is one of my favorite months! I love nature and love celebrating Earth Day. April is usually a month that Disneynature will release a new film on or near Earth Day! This month on April 21st Born in China will be in theaters everywhere and it is a movie you will want to see!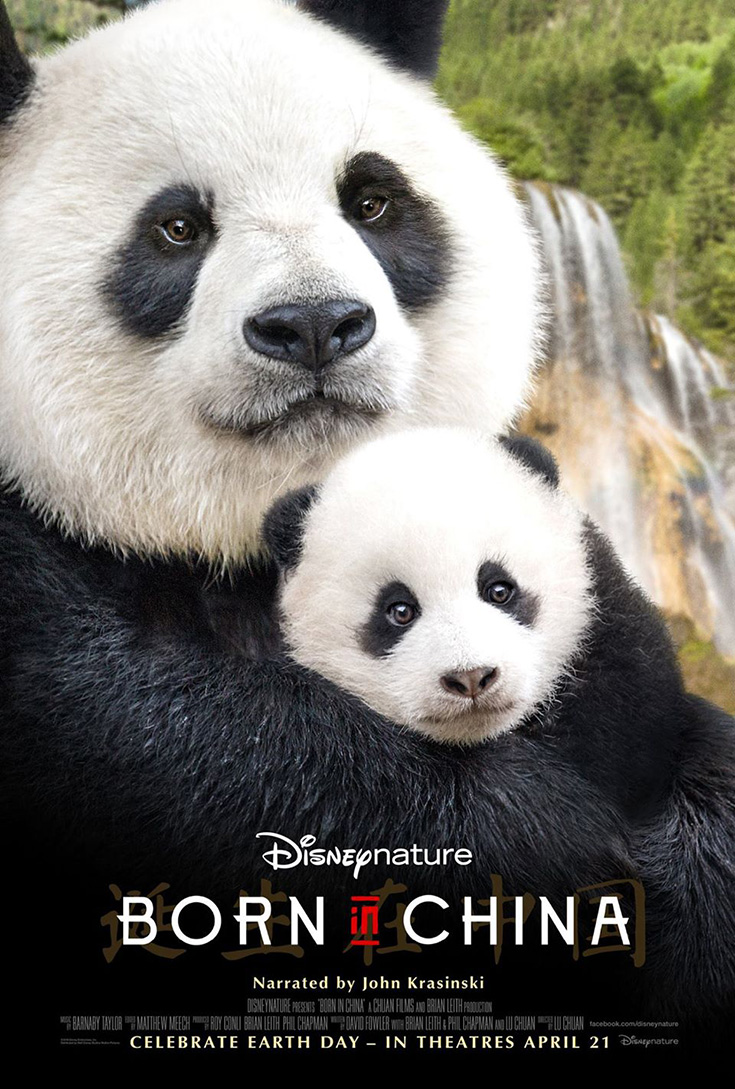 Last month I had the opportunity to screen Born In China and it is AMAZING! This is Disneynature's 7th theatrical release for and is a documentary about a film crew's EPIC journey into the wilds of China to some of the MOST extreme environments where very few people have ever ventured to follow three animals families up close and in the wild where they filmed some of these animal's most intimate moments. Born In China is one of the best animal documentaries I have seen yet, coming in close to Chimpanzee that I am fond of!
If you are a fan of animal documentaries like I am be sure to watch this Born In China trailer below with Producer Roy Conli which will give you a just a tease of what you will see in this film:
When you see Born In China you will learn about a mother majestic panda (YaYa) and her baby (Mei Mei) as she guides her little one from being a baby panda that wants to be with her all the time to seeking her own independence.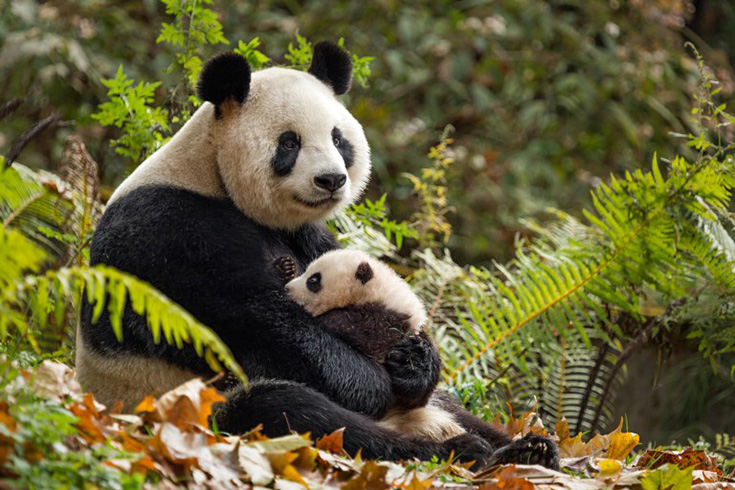 Meet Ya Ya & Mei Mei" Clip
You will learn about a two year old golden monkey named TaoTao who feels a little alone when his mom has a new baby sister which leaves him joining up with some free-spirited golden monkeys his age. I just LOVE TaoTao as I think these golden monkeys are such beautiful creatures and can't wait to take my nine year old son to see this movie. Ever since I brought a TaoTao plush home from my trip he has wanted to movie and is counting down the days to see it.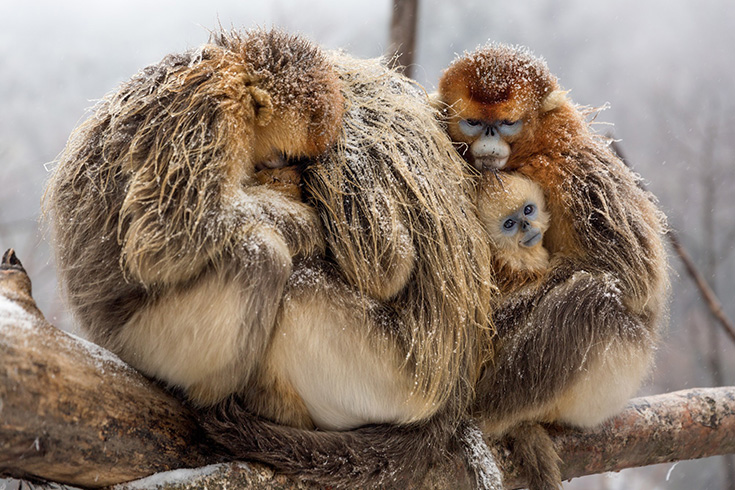 Meet Tao Tao" Clip
You will also learn about a female snow leopard (Dawa) and her baby cubs who lives everyday to protect her babies from predators and provide them with food for survival.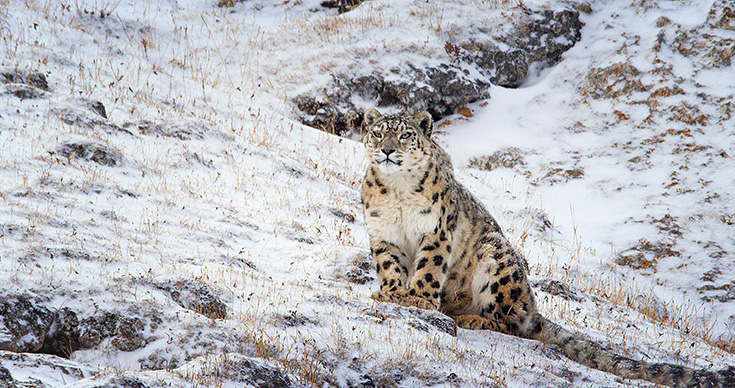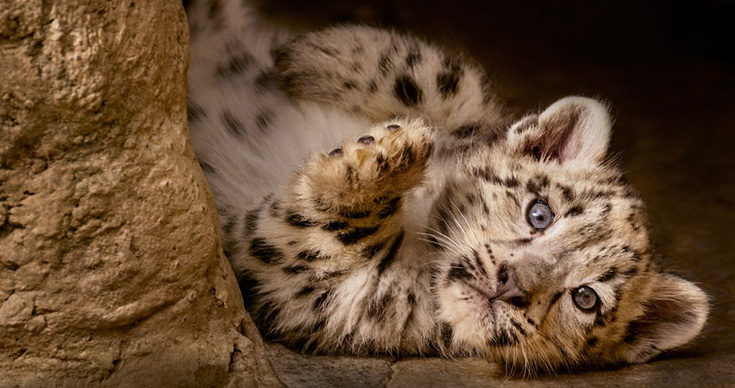 Meet Dawa" Clip
These are not the only animals that you will see in Born In China. You will also see the red panda,red-crowned cranes and more! The footage that the Disneynature film crew was able to catch for this film is beautiful and so breathtaking! I consider myself somewhat of a photographer and know the views that you will see in the film were pretty hard to capture. Since I have never been to China this movie gives me a whole new perspective of the country and made me wish just for a moment that I was part of the film crew. I also was really interested in learning what type of equipment was used which you will also learn about if you watch the film to the very end!
Born In China Panda Fun Facts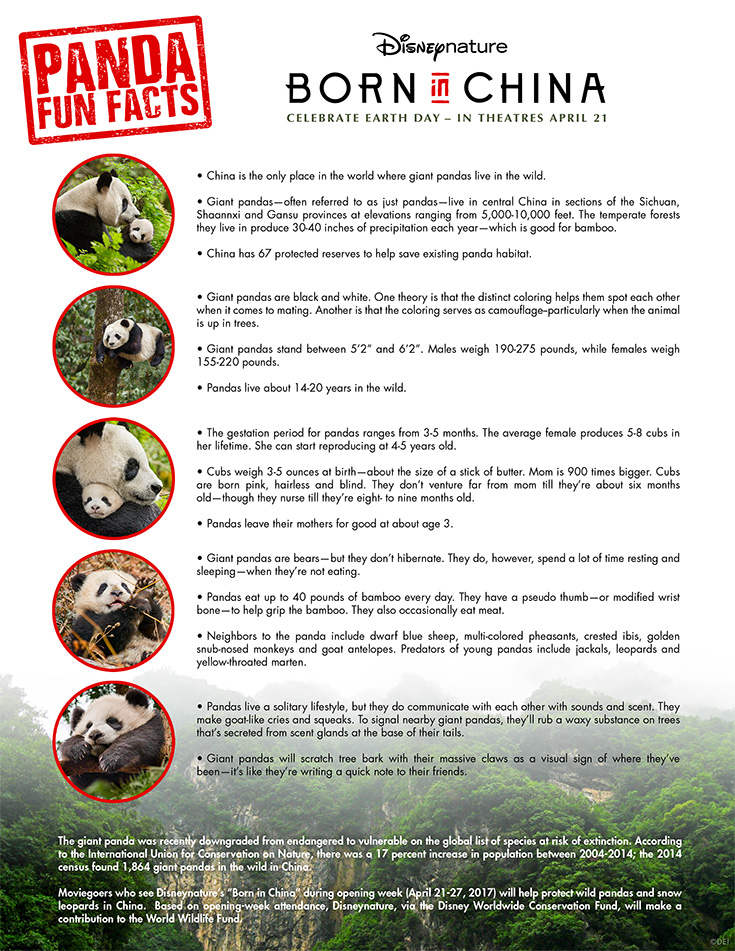 Click image above to download/view PDF file
Find More Disneynature News:
Visit the official BORN IN CHINA website: http://nature.disney.com/born-in-china
Born in China is in theaters everywhere on April 21, 2017