When it comes to Easter I love making cute treats for the kids.  I recently made a fun Bunny Butt Cupcake Recipe that I want to share. These cupcakes took a little preparation but definitely put some smiles on my kid's faces when they seen these cute little candy bunny butts coming out of their cupcakes!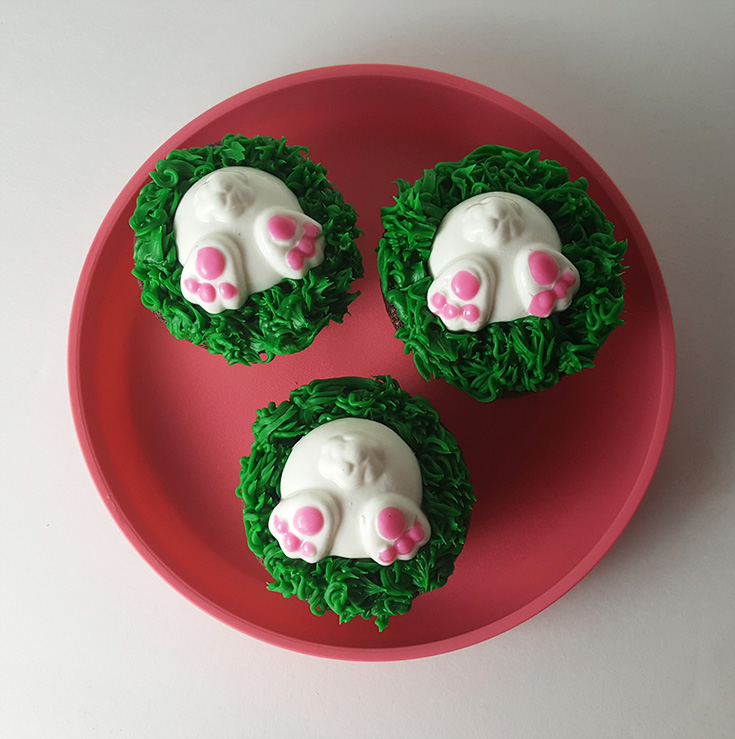 Making these cupcakes might sound hard but they are actually really easy! The first step to make these cute bunny butt cupcakes is to make the bunny cupcake toppers. I purchased white and pink candy melts to use with my Wilton Bottoms Up Bunny Candy Mold.
I think the hardest part may have been getting the pink into the feet on the mold. I used an eyedropper to help me with the three little drops of pink melted candy on each foot.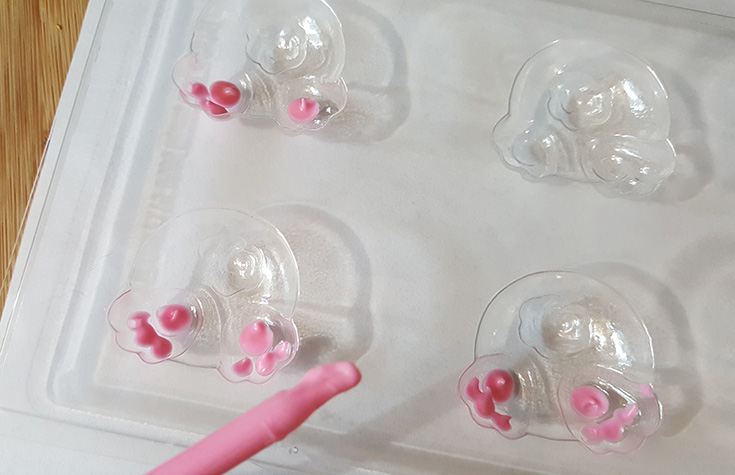 Next I added the white melted candy right to the top of each of the molds. I then let my molds sit overnight but they could have been ready before, especially if I would have put them in the fridge.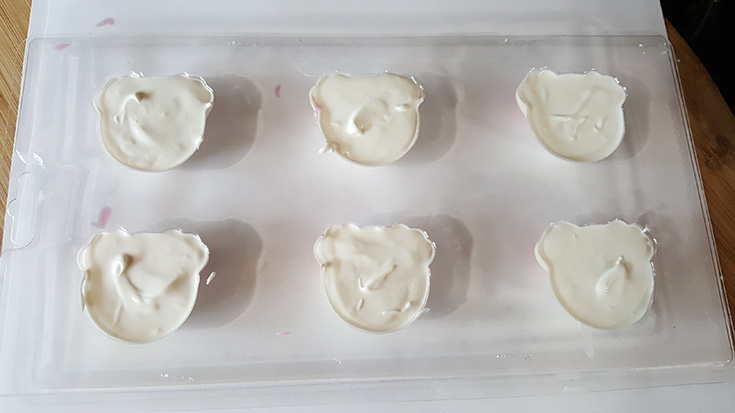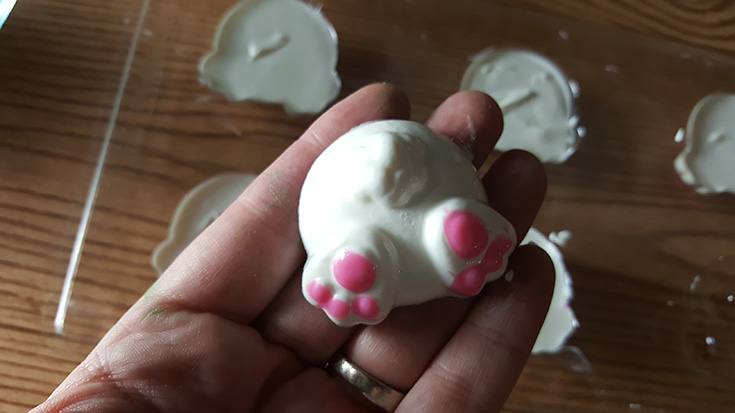 The next day I made a batch of fresh chocolate cupcakes (recipe below). Once the cupcakes were cool I used green frosting and my Wilton Grass Icing Tip and made using quick up and down motions I was able to make the frosting look like grass on the top of each of my chocolate cupcakes.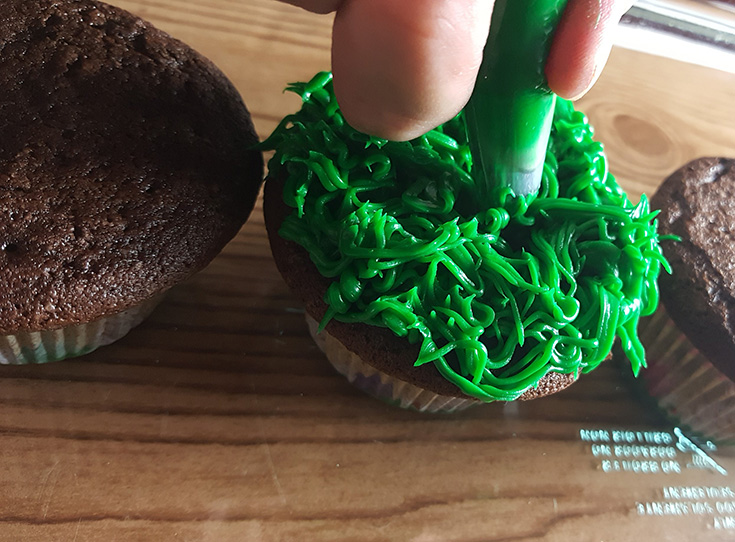 Once the grass frosting was added to my chocolate cupcakes I added the cute candy bunny butt cupcake toppers I made the night before. I put these right in the middle on top of the frosting and gave them a little push to secure them on the cupcakes.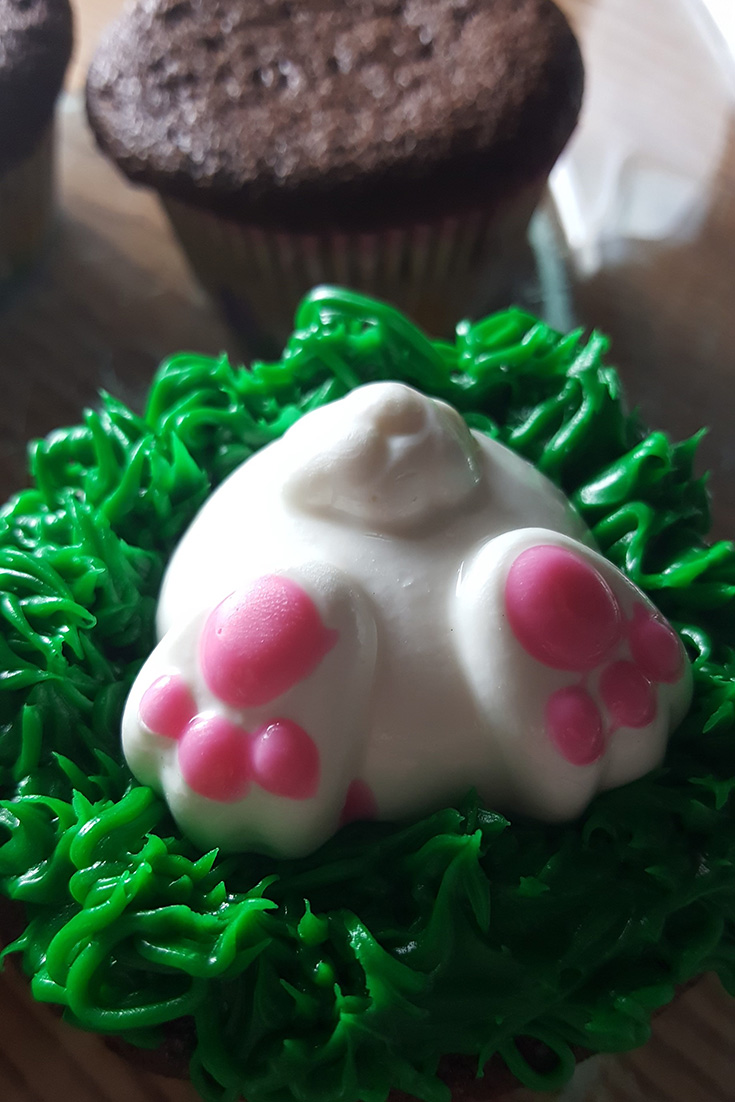 I made only white bunny cupcake toppers but you could get creative and make a colorful bunnies too! Next time I am going to make some some brown or maybe even some red bunnies!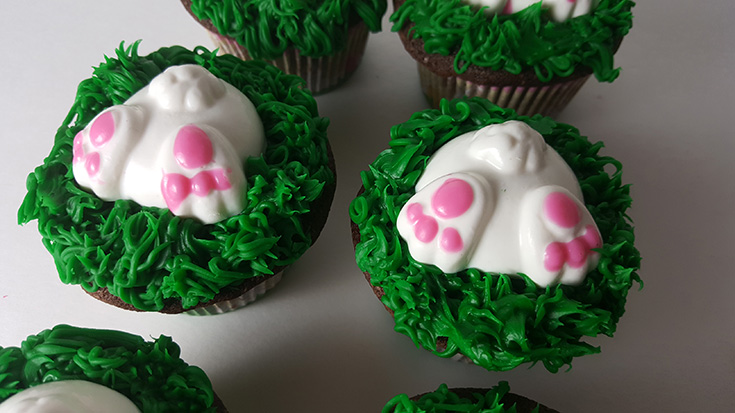 If  you would like to make these cute cupcakes the recipe for the chocolate cupcakes is below: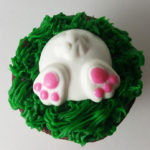 Bunny Butt Cupcake Recipe
Ingredients
3/4

cup

milk

1 1/3

cups

all purpose flour

1/4

tsp

baking soda

2

tsp

baking powder

3/4

unsweetened cocoa powder

3

tbs

butter

room temperature

1 1/2

cups

granulated sugar

2

eggs

beaten

1

tsp

vanilla

Pinch

of salt
Instructions
In a large bowl add flour, baking soda, baking powder, cocoa and salt. Using a whisk mix these dry ingredients well.

In another bowl beat butter and sugar until creamy. Add eggs and vanilla and mix again.

Add butter mixture to flour mixture. Mix for about 2 minutes to make sure your batter is well combined.

Spoon mixture in muffin cups only 2/3 full. Bake at 350° for 15-17, until toothpick inserted in middle of cupcake comes out clean.
For more cupcake recipes you will want to try visit: https://www.pinterest.com/mommye/recipes-cupcakes/