Disclosure – I was invited to the #BeOurGuest press event from Disney. Expenses for trip were paid by Disney but thoughts and opinions are my own.
My third interview this week is with two really awesome ladies! We had the pleasure to interview Audra McDonald who plays Madame Garderobe, an opera singer that is transformed into a wardrobe. Alongside was Gugu Mbatha-Raw who plays Plumette, a playful housemaid that turns into a feather duster in Disney's new live action film Beauty and the Beast that comes out in theaters everywhere TOMORROW!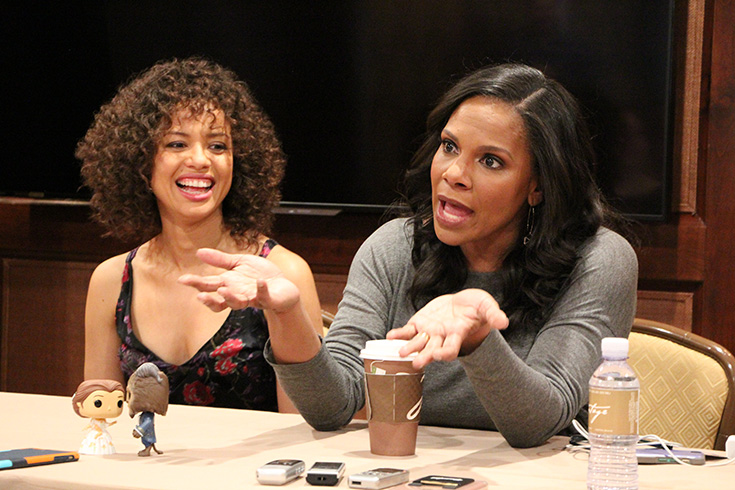 Audra McDonald is just as amazing in person as she is on the big screen! Audra McDonald is an actress and a singer who has been busy the last two decades appearing in both musicals and dramas. She has even won six Tony Awards which is more performance wins than any other actor!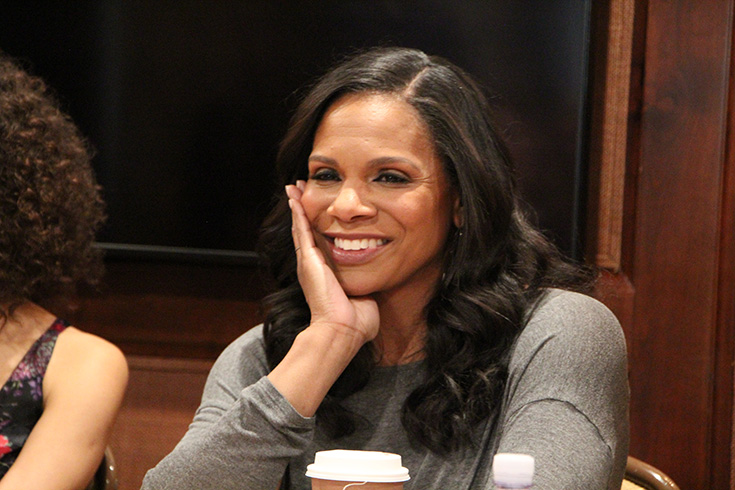 It is fun to say that we got to interview the feather duster from Beauty and the Beast. I loved this interview with Gugu Mbatha-Raw because she is just so charming in person and I love her accent.  Gugu Mbatha-Raw is a British stage and film actress who has been nominated for many awards including: Best Actress at the 2014 Gotham Awards, Satellite Award for Best Actress in 2014, BAFTA Rising Star Award in 2015 and more!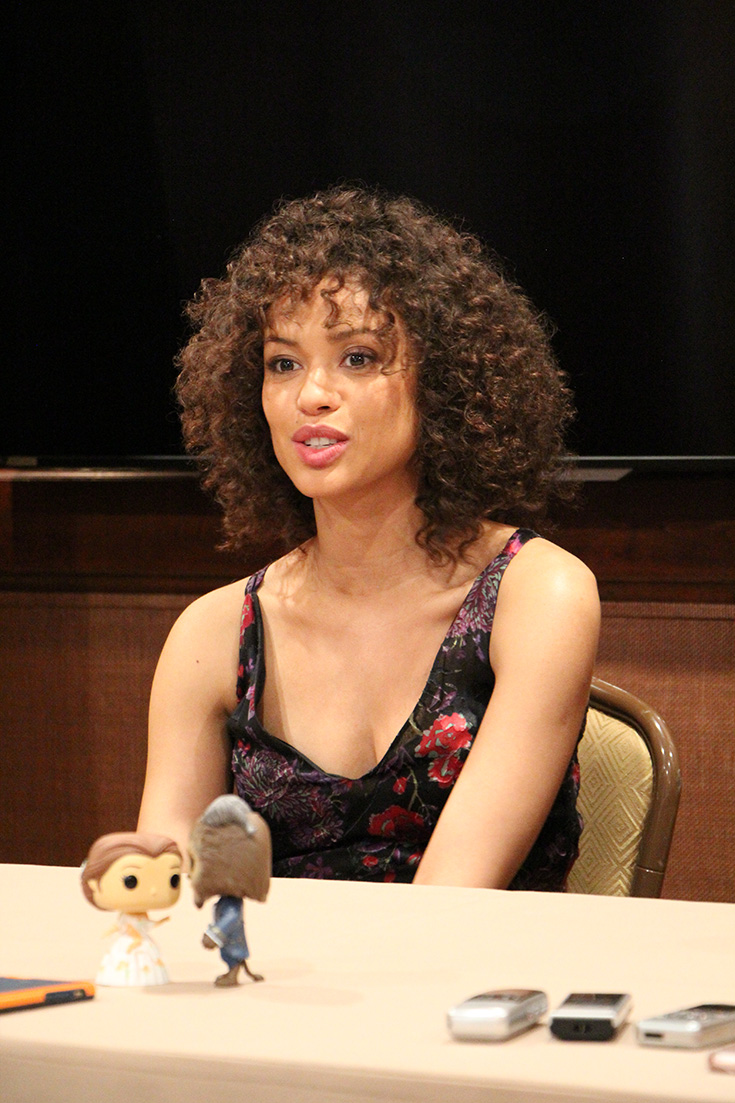 Below I am sharing some of my favorite questions from our interview with Audra McDonald and Gugu Mbatha-Raw. Be sure to scroll to the bottom to LISTEN to the whole interview!
Can you share why you wanted to be a part of this film?
Gugu Mbatha-Raw: Well, for me I was obsessed with the original Disney film.  It came out when I was eight years old, I had the cassette tape and made my mom play it in the car on the way to ballet and tap and modern, everyday.  I knew all the words to all the songs and you know, it is still my favorite Disney movie so I had a very personal connection to it.  And when my agent called and said they wanted me to play a part in this I squealed on the phone, so loudly. 

I think it was probably the biggest reaction to getting a job that I've every had.  I think that little eight year old inside of me was just so excited and it sort of connects you back you know, to growing up with Disney movies.  And then this cast, you know, is just phenomenal. 

Audra McDonald:  When I got the call I'd known that the movie was being made and I was excited about it and my agent called and he said, 'so, Beauty and the Beast,' he's like, 'yeah, they're turning into this, isn't that great?'  he's like, 'yeah, so they want you to be in it.'  I was like, 'excuse me?  That doesn't make sense.  I was like, what?  Why? But if Disney calls, like I said, I would sell churros at the park for them, you know what I mean? I hear that Oreos making churros, that it's a churro flavored Oreo, I just heard.  Anyway, that's something else.  But any way so yeah, so of course, it's just Disney, you want to be a part of it, so yes, it's just an automatic yes.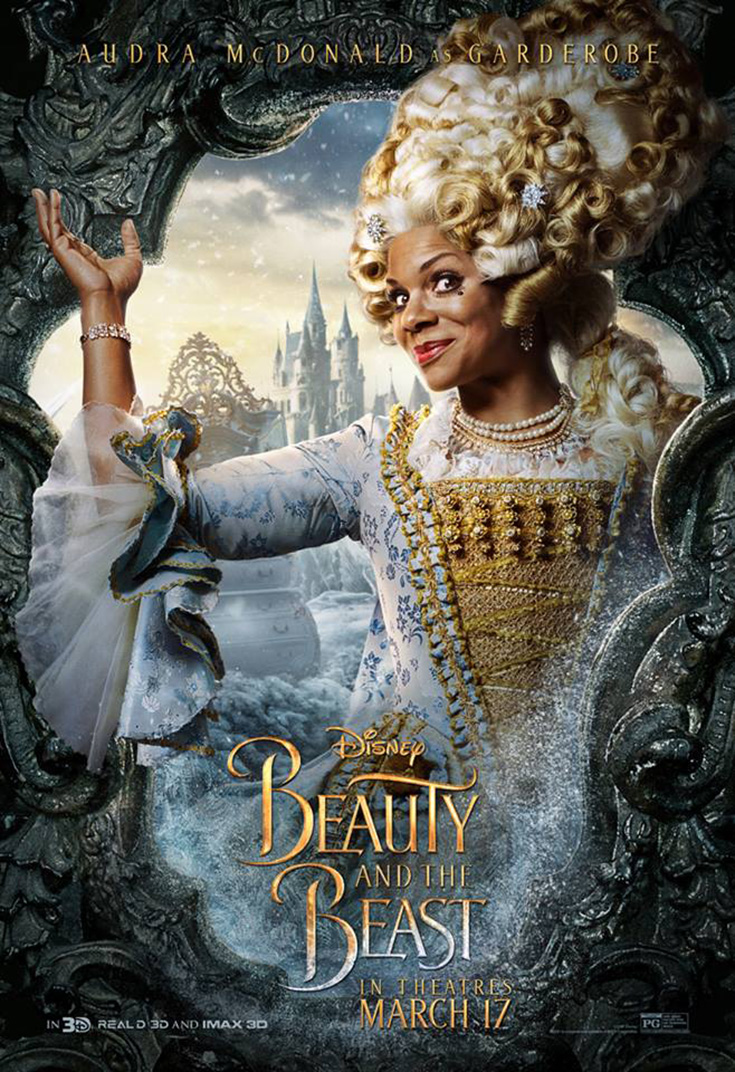 Every time that you sang it lit up the scene.  I have a daughter who's coming into singing so I would like to know what you did as a child, what was your path?
Audra McDonald: Well, this is mommy bloggers right?  So, it was a lot of it had to do with my parents and my mom.  I was a really hyperactive child having, struggling, actually and my parents were struggling with trying to figure out how to help me.  And I was an overdramatic child and having a hard time in school and whatnot.  And they went to the local dinner theater one night and saw a little junior troop that performed before the main musical and it was kid, a group of kids.  I loved to sing at home and all that stuff and I had all this extra energy and drama inside of me.  And they said, 'maybe this is gonna help her.'  And so, I auditioned for that when I was nine years old and that set me on my path and so I really have my parents to thank for looking for something that would be right for me to express who I was and find a way to channel that energy.  And so that's what started me on my path.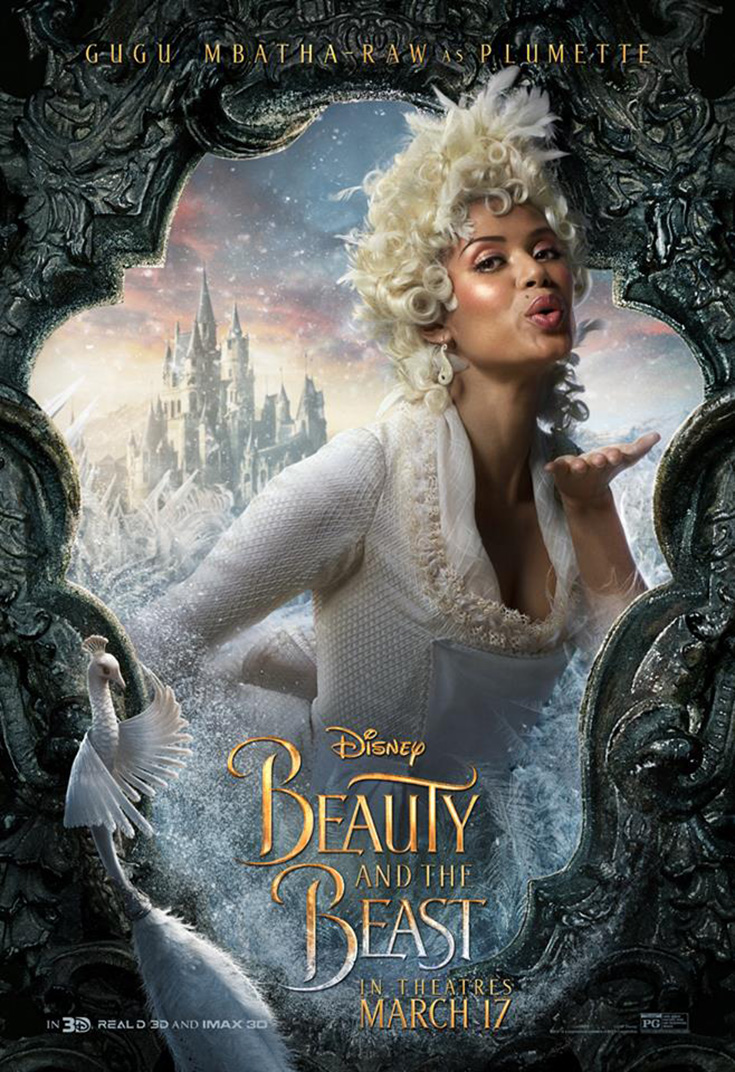 Can we talk about diversity in the film and what your characters are bringing to the twenty first century and your roles as multi cultural cast?
Gugu Mbatha-Raw:  Yeah, I mean I guess we're all just brining ourselves and you know, thrilled that Bill Condon, the director, you know, had the vision to make it such a diverse cast.  You know, it wasn't really something we discussed, you know, which is kind of cool in this day and age, it just sort of is.  And yeah, I'm sort of thrilled about it.

Audra McDonald :  Yeah, we got told that yesterday. We were doing press yesterday, someone was like, 'so you guys are, you're the first and second interracial kisses in a Disney film,' or something like that, or close to one of the first.

Gugu Mbatha-Raw:  In live action.

Audra McDonald :  In live, yeah.  And, Gugu and I are like, 'we are?'  'Oh, okay, cool.'  We didn't even think about it. You know?  I mean and that's a, hopefully we'll get to a day where no one has to think about it.  You know, that's what we're aiming for so I mean I'm just, I'm pleased that Disney recognizes that you know, you've got to represent the entire world out there.  And that's what they're doing. 
How as it different preparing for your role for the animated parts versus the regular parts?
Gugu Mbatha-Raw:   Well, for me it was just so liberating.  I mean, I've never been offered a role like this before obviously you know, I had to come from doing some quite intense dramatic roles and the idea of playing a feather duster, I sort of thought was so whimsical and fun.  But, also you know, it's a lot of vocal work in the recording studio and finding the, not just the singing but finding the voice of the character, working on the French accent with the dialect coach and also just really going back to that childhood thing of like, 'let's pretend.'  You know, it's, you're not limited by your face and your body.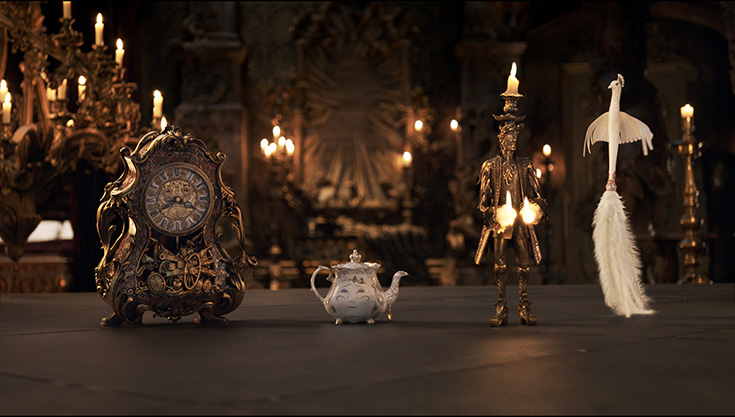 LISTEN to the whole Exclusive Beauty And the Beast Interview With Audra McDonald and Gugu Mbatha-Raw below:
Other Interesting Things I Learned During The Interview:
Audra McDonald originally auditioned for Beauty and the Beast on Broadway but didn't make the cast.
Audra's daughter asked people to make donations to charities in her name for her 15th & 16th birthday because of Emma Watson being her role model.
Gugu was pleasantly surprised to see that they made her into this sort of flying dove like peacock like, very dainty creation.
Audra's dress was so big she had to walk sideways through doorways and scrunch down when she had on her wig.
Audra's costume was so large that she had the set carpenters build a tall slab of wood she could lean on.
Gugu hopes that the Beauty and the Beast audience will get swept up in the romance with the iconic music.
At the end our our interview these talented two ladies where kind enough to take a group photo with my group of amazing influential bloggers who are now even more excited to watch the film again to look for these two characters!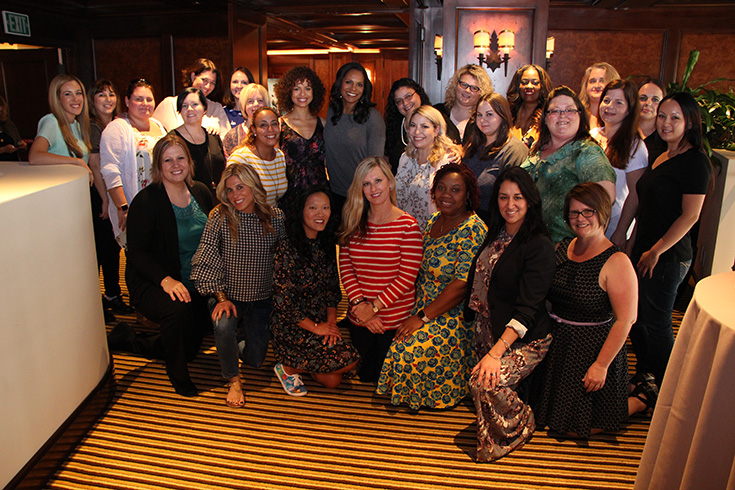 BEAUTY AND THE BEAST opens in theaters on March 17th!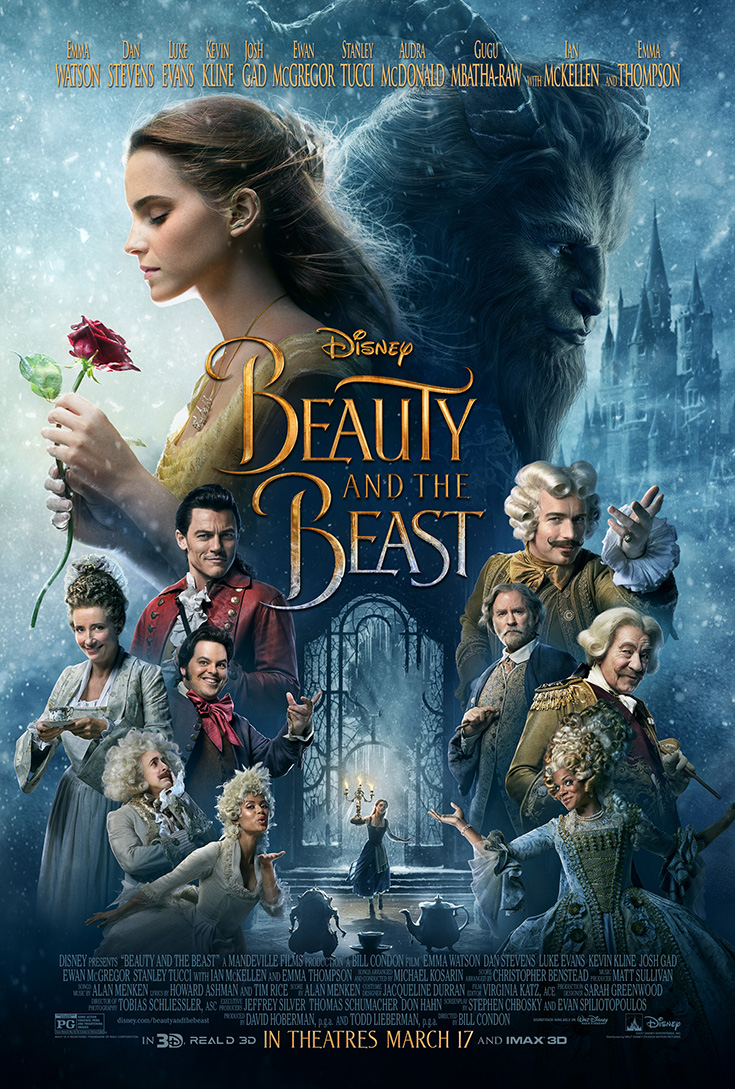 Watch the Beauty and the Beast trailer below:

For more Beauty and the Beast info visit: http://movies.disney.com/beauty-and-the-beast-2017