I recently seen a pigs in a pretzel blanket recipe on the Tasty Facebook page that I knew I wanted to try. I have always loved pretzel dogs and I have always wanted to be able to make my own. While they taste great alone I prefer to dip mine in cheese!
Pigs In A Pretzel Blanket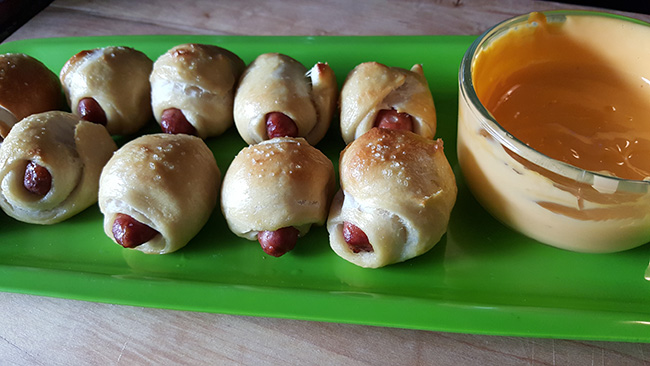 Although the recipe I seen online was a little easier because they used pre-made dough, I thought I would make my own version of these little mini pretzel pigs in a blanket using my own homemade dough.
Making Mini Pretzel Pigs In Blanket
These are really easy to make! Once you have your dough ready you cut the dough in thin strips.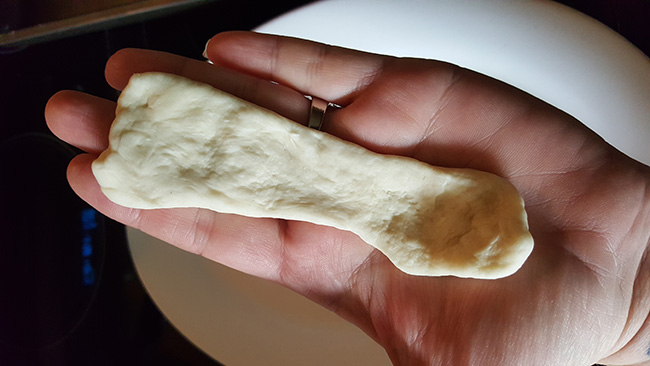 Then you wrap the dough around the little hot dogs a couple times making sure the ends are sticking out.

Next you boil the little pigs in a blanket with some baking soda which will help give them the pretzel effect and then place them on a baking sheet making sure to sprinkle them with some sea salt before going in the oven.
Pigs In Pretzel Blanket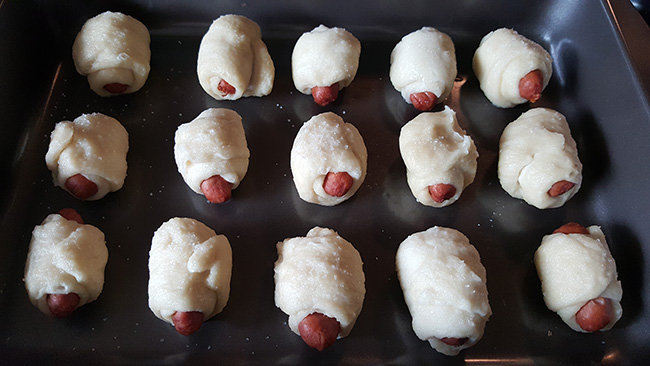 Once they come out of the oven you have a nice little snack or appetizer. My family loved these and have been asking for me to make more!
Pigs In A Pretzel Blanket Recipe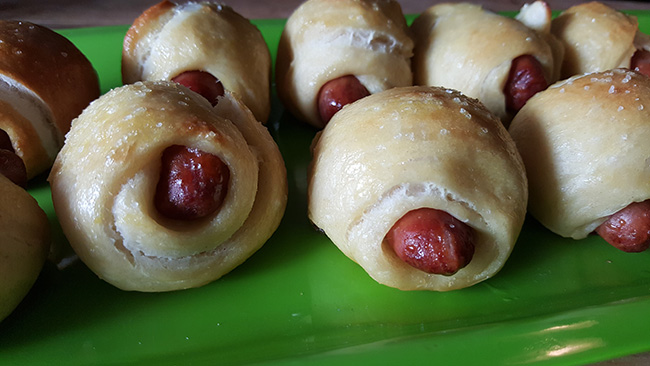 Want to make my version of these mini pretzel pigs in a blanket be sure to print the recipe below. You can also choose to make it quicker by just using pre-made dough.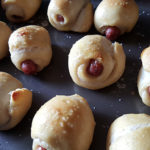 Pigs In A Pretzel Blanket Recipe
Ingredients
2 1/2

cups

flour

1

cup

warm water

1

packet active yeast

1

teaspoon

sugar

2

tablespoons

olive oil

1

package Cocktail Franks/mini hot dogs

5

cups

water

1/4

cup

Baking Soda

1

egg

beaten

Sea Salt
Instructions
Add warm water and package of yeast in a cup and stir. Let sit for 5 minutes.

In a mixing bowl add the water with yeast, oil, sugar and flour. Use a dough hook, knead dough with mixer until dough is soft/silky to the touch but not sticky. You might need to add a drop of water/flour to get the perfect texture. Form dough into ball and place in that has been greased lightly. Cover with plastic wrap and put in warm place to allow dough to rise.

You can use dough right away or choose to put in bowl and cover to allow dough to rise. Allow 2-3 hours to allow it to expand.

On a flat floured surface roll your dough out flat about 1/2 inch. Cut the dough into strips and stretch them out. Roll the mini hotdogs in the dough so the dough wraps around twice, leaving the ends of the hot dog out. Set aside.

Bring 5 Cups of water to a light boil. Add Baking Soda and once dissolved slowly add the wrapped hot dogs in the boiling water for about 20-30 seconds.

Remove from water and place back on a cookie sheet. Brush hot dog lightly with egg and sprinkle with sea salt.

Bake mini pretzel dogs at 425°F for 15-20 minutes until the dough is lightly golden.

Remove from oven and allow to cool. Serve alone or with your favorite dipping sauce.