This is a partnered post. All thoughts and opinions expressed are my own.
I am always looking for creative and cute ways to style my food. I love making my family excited about the treats that I make. When they smile it makes me smile. 🙂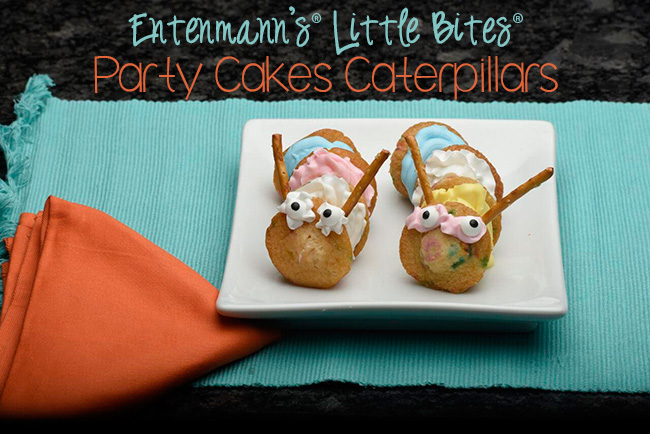 Entenmann's has some NEW Little Bites Party Cakes (delicious little mini cakes with rainbow sprinkles) that are perfect for a snack but can be used to make cute little party cakes caterpillars that the kids will LOVE!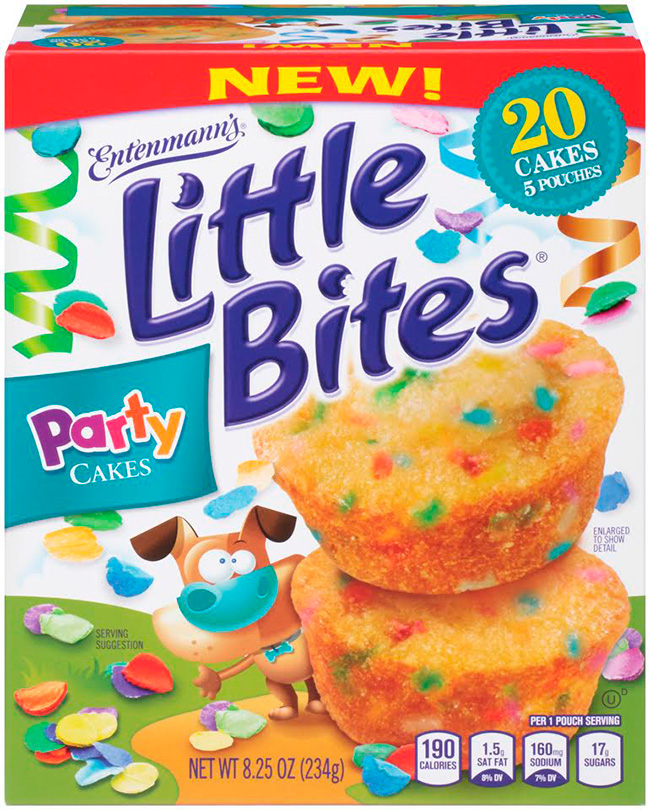 These are just one of many of the Little Bites products that you can make this cute snack with.  The Entenmann's Little Bites products come in a variety of flavors that include:
Little Bites Apple Cinnamon Muffins
Little Bites Banana Muffins
Little Bites Blueberry Muffins
Little Bites Brownies
Little Bites Chocolate Chip Muffins
Little Bites Crumb Cakes
Little Bites Party Cakes
Little Bites Pumpkin Muffins
Little Bites S'mores Muffins
Little Bites Snickerdoodle
Want to make these cute Party Cakes Caterpillars? Print the recipe below:

Entenmann's Little Bites Party Cakes Caterpillars
Ingredients
2

pouches of Little Bites Party cakes

1

can of spray icing

different colors optional

4

small pretzel rods

4

candy eyes
Instructions
Take each Little Bites Party Cakes out of the pouches.

With the icing, take the candy eyes and place them on the top of the Little Bites Party Cakes using the icing, then place on plate, on the Party Cake side.

Take the next Party Cake and spray a different colored icing on top of it. Then place it behind the first Party Cake making them stick together. Do the same for the last to Party Cakes using different color icing between each.

Take two of the pretzel rods and stick them into the top of the first Party Cake.

Repeat all steps with the second Party Cakes pouch and enjoy.
To find more information about the Little Bites products at: www.entenmanns.com