"I participated in an Influencer Activation on behalf of Mom Central for InnovAsian Cuisine. I received coupons for Lemon Grass Kitchen frozen meals to facilitate my review as well as a promotional item to thank me for my participation."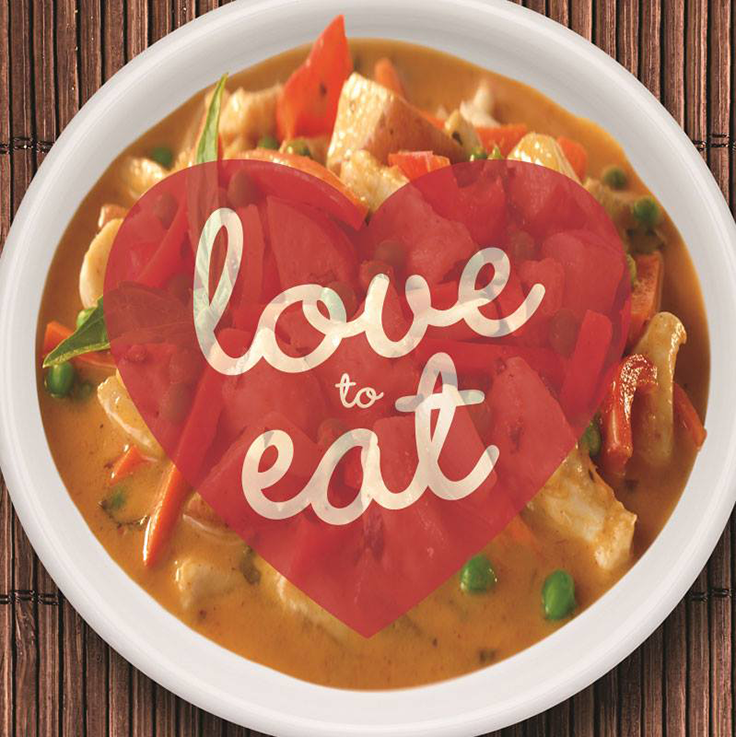 One of my favorite times of the day is dinner time with my family. Now that the kids are back to school, dinner is my time to get together as a family, share a good meal and talk about what happened during the day. While most nights you will find me making meals from scratch, there will be nights when I want to take a break from cooking and prepare quick and easy meals with the microwave.
We enjoy a variety of food and I was excited to try the new Lemon Grass Kitchen line from InnovAsian Cuisine. This is one of the first Thai frozen food lines which has been created by Chef Mai Pham. This new line allows you to bring some flair to your freezer without having to prepare a difficult meal.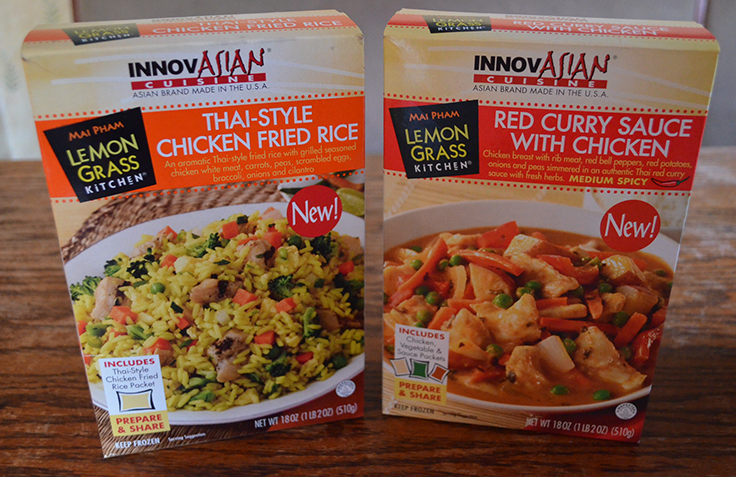 The InnovAsian Cuisine's Lemon Grass Kitchen offers a variety of flavors including:
Chicken Pad Thai
Shrimp Pad Thai
Beef & Broccoli Noodles
Red Curry Chicken
Lemongrass Chicken Stir Fry
Thai-Style Chicken Fried Rice
I buy some of the other InnovAsian Cuisine products on a regular basis to keep on handy when I am craving Chinese food. I love their Sweet & Sour Chicken and their Sticky White Rice. This last week I purchased the Red Curry Chicken, Chicken Pad Thai, Beef & Broccoli Noodles and the Thai-Style Chicken Fried Rice to try.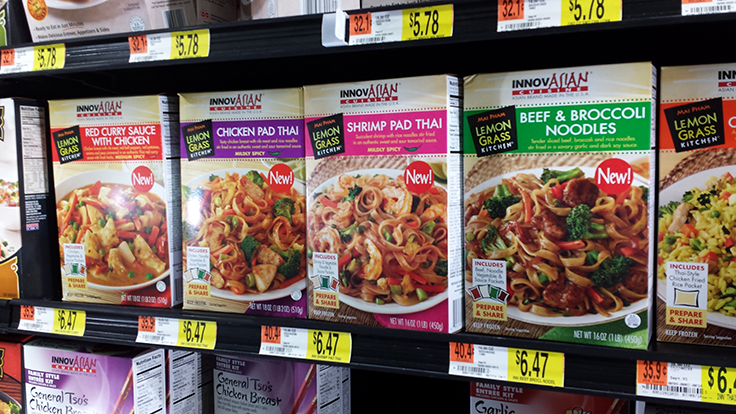 I like that these frozen meals allow you to prepare some Thai style meals at home in just minutes with minimal effort. The Lemon Grass Kitchen line also includes high quality ingredietns that are individually packages for superior freshness and also constructed to prepare exceptionally well in your microwave or on the stove.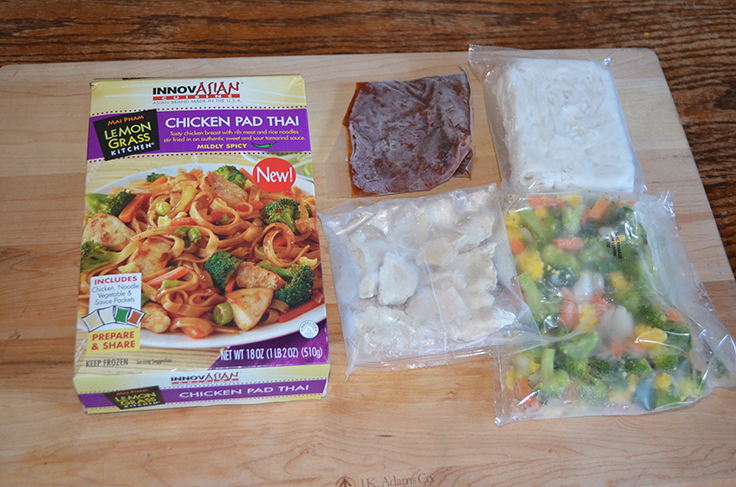 With the meal above you simply add the ingredients in a microwave safe bowl, add a couple of tablespoons of water, cover and microwave.You can also choose to use the stove top which takes just a little bit longer. Dishes can be prepared in a microwave in under 6 minutes whereas you can use the stove top and have your meal ready in 12 minutes or less.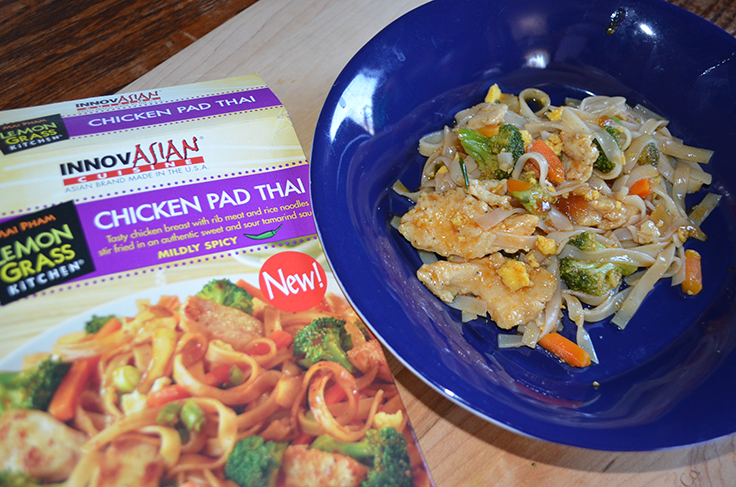 What I also like about InnovAsian Cuisine Lemon Grass meals is that they contain NO MSG and NO trans fat. They can also be customized by simply adding other ingredients to your meal. You can add ingredients like peanuts and bean sprouts to the Shrimp & Chicken Pad Thai or maybe add some basil and cilantro to the Lemongrass Chicken Stir Fry. The options are endless when it comes to making your own unique Thai style meal with InnovAsian Cuisine.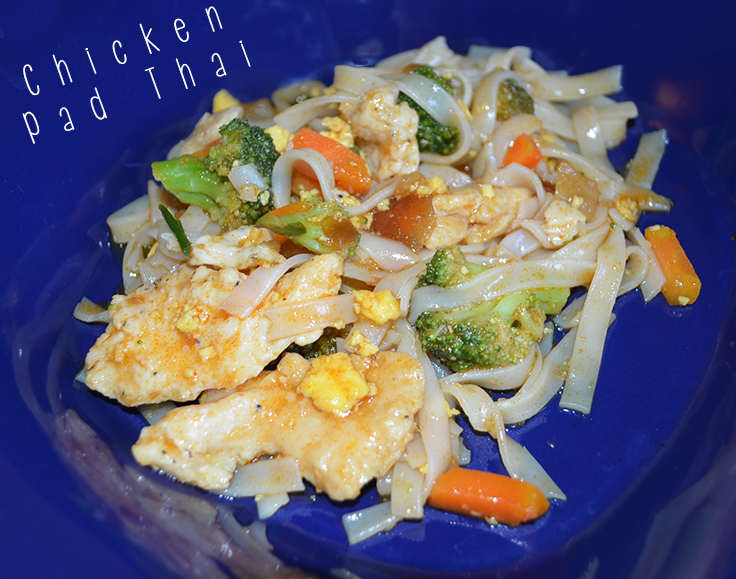 In addition to the Chicken Pad Thai meal I tried, I also tried the Thai-Style Chicken Fried Rice that was really good.
Want to try the InnovAsian Cuisine Lemon Grass Kitchen products? Be sure to PRINT an InnovAsian coupon to SAVE $1.50 OFF your next purchase.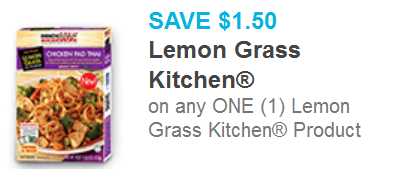 To find out more about InnovAsian Cuisine products visit:
Have you tried the InnovAsian products? Which ones are your favorites?