While browsing HuluPlus a couple months ago I ran across the Trophy Wife TV show and I had to click to find out more. I think the name of the catchy title of the show is what first caught my attention. Once I started watching the first episode, I was hooked.
For me, the show Trophy Wife first reminded me just a little of Julia Robert's character on Stepmom which I LOVED and I wanted to watch more. I am a stepmom myself, so it is interesting watching shows that portray the role of a stepmom. After watching episode after episode, I really began to LOVE her character.
My favorite episode was episode #2 when Kate is trying to get Bert to go to bed by reading him a book and Bert didn't want to fall asleep. I will have to tell you though, I seen the newest episode that airs tonight "Wedding Part #2" and it is really good. I think I might have even shed a tear in happiness at the ending.  While I won't share with you any of the details, I am going to highly suggest watching it.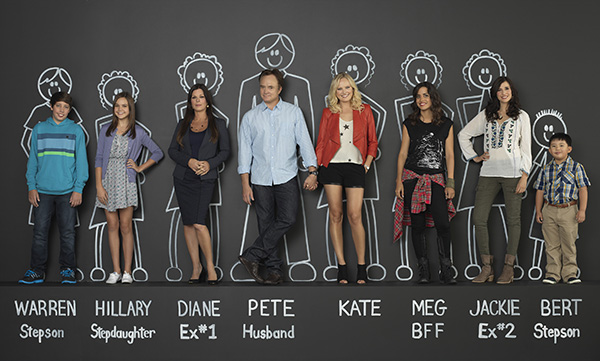 Last week I had the opportunity to visit ABC studios and meet the Executive Producers of the show, Sarah Haskins and Emily Halpern. Not only did we get to meet these wonderful ladies, we got to sit down and ask them some questions about the show that I know you might want to know if you are a Trophy Wife fan like me.
If you haven't seen the show, take a peek at the trailer:
For me getting to interview the producers was a great experience. But what was even more exciting was I got to meet Malin Akerman that plays the role of Kate, the trophy wife prior to meeting the producers. For me this was SUPER cool! I have been watching the show and to meet this TV mom in person was EXCITING.  I am not going to share the details yet of that experience because I have a whole post coming soon dedicated to it, but I do want to show you the picture of Malin Akerman and I that I was able to have taken with my iPhone right before I left the studios.
Now back to the show because I know you want to know what I got to find out. For those of you fellow Trophy Wife fans, here are some of the questions that our #ABCTVEvent group was able to ask the Executive Producers Sarah Haskins and Emily Halpern during our Q&A last week:
How did you come up with the idea for Trophy Wife?
Sarah Haskins: We're the creators, so we came up with the idea together. It's very loosely based on my life. I married an older man who'd been married a few times before and has children from those different marriages. Kind of like Malin Akerman's character, without rocking the short shorts.

It's a situation that while unique and highly specific, is also very universal. People have dealt with divorce and co-parenting. It's very common and we thought has a place on TV.
The characters have very good chemistry. How hard was it to get who you wanted?
Sarah: We filmed the pilot off cycle and we didn't appreciate it at the time. That wound up being a huge advantage because we weren't competing for all the exact same actors as all of the other pilots at the same time. And a lot of that had to do with Malin. She was really the first piece. ABC had actually passed on Trophy Wife the first year we developed it and ultimately it was given a second life when Malin read the script and ABC really wanted to work with her. And so did we.
Why do a wedding episode now?
Emily: We were kind of trying to think of a big episode idea. Honestly, we knew this was gonna air in March. It was a 2-parter. In a comedy, we can't shoot the president [Laughs] so how big can we go? A wedding felt good to us.
What's next for Trophy Wife?
Sarah: Hopefully season 2!

Emily: We just finished editing our season finale and our fate is in ABC's hands. But we hope we get to come back to do some more.

Sarah: Yeah, and appropriately, our season finale is a Mother's Day episode. It helps wrap up Kate's arc all season of "Am I a mom in this family's eyes or am I just a trophy wife?"
How did you come up with the specific characters? Who were the influences?
Sarah: We talked about my emotional reactions to meeting my husband's exes. His first wife is super intimidating. She's French and she's a lawyer and she went to Brown and blah blah blah. So she was so intimidating that we took that intimidating factor and made that Diane. I think everyone probably has an experience with an intimidating ex who you don't want to hear about.

And then the Jackie character came out of dealing with the boundaries of a blended family. No one in particular. It's just hard to say where your nuclear family ends and your everybody family begins. And Jackie is someone who is strongly on the everybody is family portion of the spectrum. That's just a fun character to have.
Do the ex wives know it's about them?
Sarah: I wouldn't say it's about them. One of them watches it and one of them doesn't. The intimidating one does watch it.

Emily: And she has notes every week! [Laughs]

I do think we consciously try to write all three women as strong characters. And once we sort of had whatever the stereotype was, we really worked hard to try to make sure that they felt like complete characters and strong women and had their own independence.
What's the writing process like?
Sarah: There's a lot of diverse life experiences in our writer's room, so people would pitch stories. The Lice Story came from a writer who just had a super embarrassing lice breakdown with her kids at school. They had to take home all the pillows in school and wash them. It sounded horrible.

And just issues like The Punisher, was actually from one of our male co-Executive Producers who was just like, "How does she learn to do that? How do you do that?" And I think that's just his anxiety about being a parent some days. So that's where The Punisher episode came from.

Emily: We also try to think of what's the funniest one line story we can think of. And then just build a bigger story on top of it. If the premise is funny, the story is funny. We can make that work. We have an episode coming up where Warren joins the girl's field hockey team and that idea made us laugh and we built a story around it.