Disclosure – I was invited to the #MuppetsMostWantedEvent. Costs and expenses for my trip were covered by Disney but all opinions expressed are my own.
Last week I had the opportunity to experience something pretty amazing. I was able to walk down the Red Carpet for the Muppets Most Wanted World Premiere at the El Capitan in Hollywood with the rest of the celebrities that were in attendance that night. For those that have never been on Hollywood Blvd during a Red Carpet Premiere, it is awesome. Especially if you are the one of the lucky ones walking into the theater.
We were staying at the Hilton Garden Inn in Hollywood which is in walking distance to the El Capitan and the Dolby Theater that happens to be right across the street that has hosted the Academy Awards ceremonies (the Oscars). Here is a picture of me and the #MuppetsMostWantedEvent group on the stairs at the Dolby Theatre.
Once it was time to cross the street and walk the Muppets Most Wanted Red Carpet Premiere, actress Tina Fey was getting attention of all the fans and press. I happened to be doing what I do best and was messing around with my iPhone. See me in the background?
When you are in front of the El Capitan, you have a thousand cameras and eyes watching your every move. Here is a picture I got to show you just how many people are there to get their shots.
Even though Tina Fey might have been the one catching all the attention at the moment, know that I had to have a good picture of myself standing on the Red Carpet of The Muppets Most Wanted World Premiere as well.
Now of course the Muppets Red Carpet Premiere had to include an appearance by the one and only Kermit the Frog and Miss Piggy too!
Miss Piggy was looking her best in her new pretty blue dress.
Oh and don't think that Kermit and Miss Piggy were the only ones there. Check out the other Muppets that were hanging out the window to check out their fans.
Once everyone was in the theater and in their seats, we were surprised with a special appearance by some of your FAVORITE Muppets, Statler and Waldorf.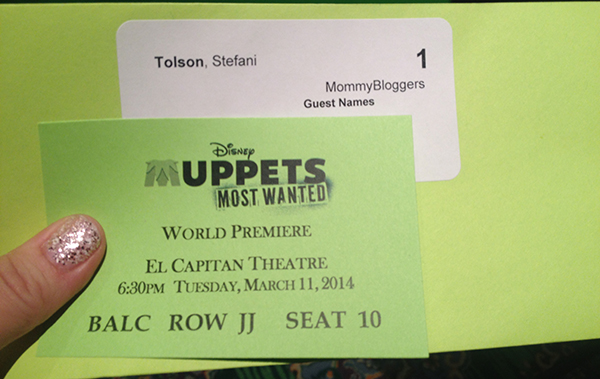 Since I had previously watched a screening of The Muppets Most Wanted, watching it in the El Capitan on the balcony with the two old men Muppets on the stage watching along made the experience even more magical. For me, it brought back memories of watching The Muppet Show when I was young.
Stay tuned for Part #2 of my experience where I am going to share which celebrities I got to meet at the Muppets Most Wanted After Party.