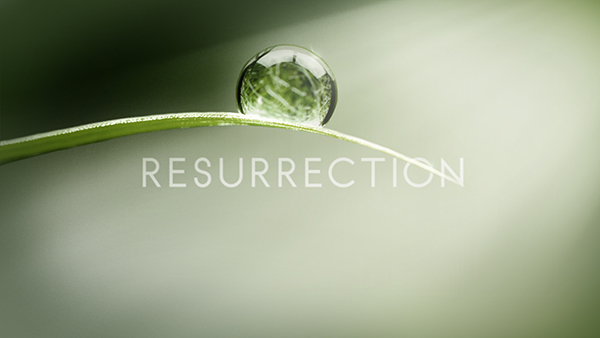 Photo Credit: ©(ABC/Bob D'Amico)
I heard about the show Resurrection a few weeks ago and the story line of the show had me a little intrigued and curious to watch. For a show on ABC, this was something that was "different" to me. I know what resurrection is but it isn't something I think about too often, if at all. When I see it happen in movies, I get that eerie kind of feeling. How about you?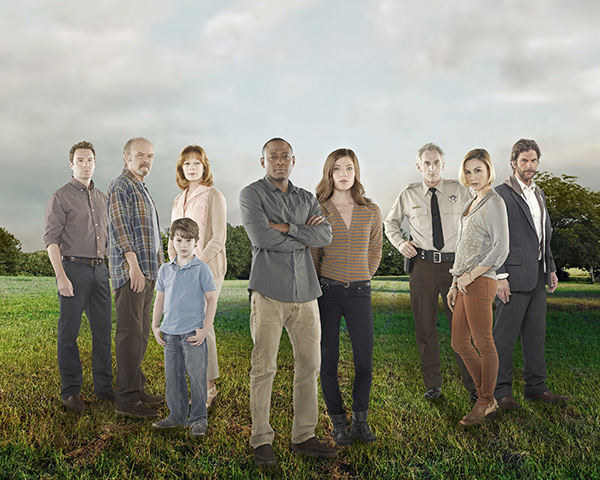 Photo Credit: ©(ABC/Bob D'Amico)
 For those that haven't heard of this new show being aired on ABC, here the synopsis:
The people of Arcadia, Missouri are forever changed when their deceased loved ones suddenly start to reappear. An 8-year-old American boy (Landon Gimenez) wakes up alone in a rice paddy in a rural Chinese province with no idea how he got there. Details start to emerge when the boy, who calls himself Jacob, recalls that his hometown is Arcadia, and an Immigration agent, J. Martin Bellamy (Omar Epps), takes him there. The home he claims as his own is occupied by a 60-year-old couple, Henry (Kurtwood Smith) and Lucille Langston (Frances Fisher), who lost their son, Jacob, more than 30 years ago.
Prior to me leaving to Los Angeles last week I received a copy of Resurrection episode 1 to watch prior to it being aired on TV. I watched the first episode and it definitely had me waiting to see the next. I then arrived in Los Angeles last week and seen these billboards everywhere.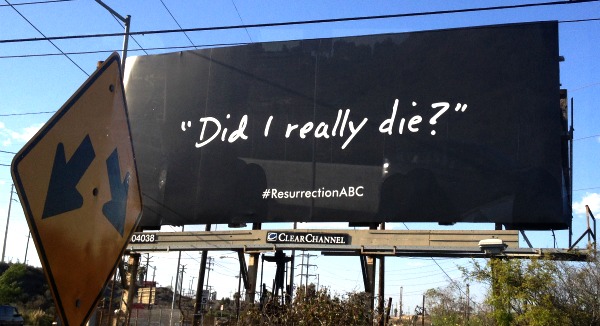 Every time I seen one of these billboards, it made me think of that first episode I seen and was even more curious about what was to happen next. It again gave me that eerie feeling and had me question in my mind what would I do if I had a loved one that came back to life.
This week on Wednesday I was able to visit ABC, watch episode #2 and get to ask the Executive Producers Tara Butters and Michelle Fazekas some questions about the show and what directions it is taking. Here is some of the questions that were asked that you might to hear the answers to.
Q: Are we gonna get some idea of how they're coming back?
Tara: There are some answers but we don't answer everything. We still want to have an investigative drive. Do we know yet? The way we pitched this is… there are several questions. Why here? Why Arcadia? Why is it happening? How is it happening?

When we pitched the season to ABC, we pitched them the last scene of the last episode of the series. So we know where we want to go.
Q: Are more people coming back?
Michele: I think it's safe to say yes.
Q: Just in that town?
Michele: We focus on just Arcadia for those 8 episodes. It's 8 episodes including the pilot. We have certainly planned more and there's a cliffhanger at the end of the season that hopefully makes people want to come back for the second season.

Jacob's like a stone that's thrown into a pond and the kind of ripple effects he has upon his return and how it affects Fred and Maggie's relationship upon his return. These characters are all affected by his return in different ways, some good and some bad.

As more return, we kind of multiply it.
Q: LOST an influence?
Tara: Absolutely. I don't think you can do a show like this without having some influence. I feel very strongly that this show shouldn't be more than 13 episodes a season, because my favorite seasons of LOST were the shorter seasons because they could be so much more.

Michele: When you're building these continuous storyline episodes, you can't jump around, you have to sort of build them in order. And if you change something back here, it sort of affects this. So that's why we really liked having a smaller number of episodes, so you can really craft it and be smart about it. Versus just kind of filling space.
My Resurrection Review – As I previously mentioned, I have already seen episode #2 that airs TONIGHT and it was really GOOD as I kind of thought it would be.  I love the story line and I love the actors that they have found for all of the roles. I like to watch shows that leave me in suspense without all the blood and gore. It is one of those shows that has me hooked and I will be patiently awaiting next weekend to find out what happens next.
For those that want to watch it as well, Resurrection airs on ABC on Sundays at 9|8c.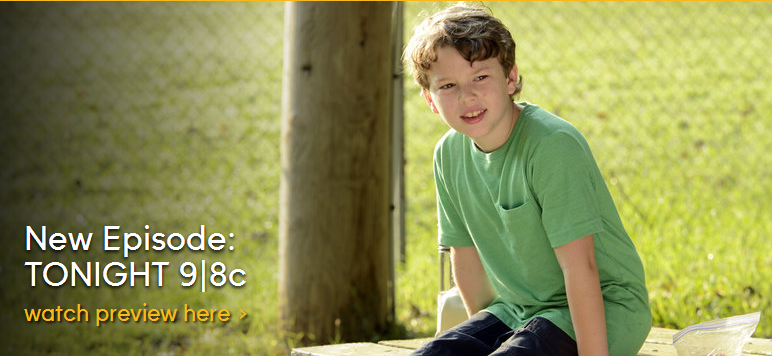 Will you be watching to see who comes back alive next?