"I participated in a campaign on behalf of Mom Central Consulting for Heinz Vinegar. I received a product sample to facilitate my review and as a thank you for participating."
Ever since I was a little girl, I have seen and used the vinegar products from Heinz. My first memories would have to be making Easter egg dye with food coloring and the Heinz Distilled White Vinegar with my Nana each year when I was little. Over the years I have found that the Heinz Vinegar products have so many different uses. Not only do I keep a bottle of the white distilled vinegar in my pantry, I also keep a bottle of the Heinz Apple Cider Vinegar as a staple in my kitchen too!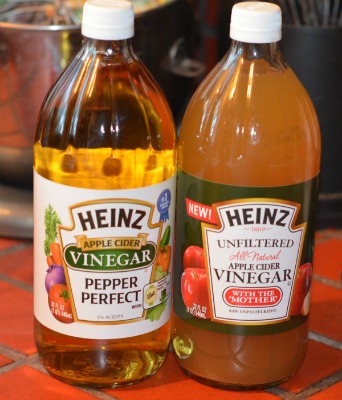 Not many are familiar with just how handy vinegar and especially the apple cider vinegar can be. Below are different ways I found that apple cider can be used. These are just some ideas and there are a TON more uses for this stuff!
For Your Hair – You can use apple cider vinegar as a rinse for your hair after you shampoo it.
To Relieve Nausea – Mix 1 cup of water, 1 tbsp of apple cider vinegar and honey to taste.
Helps With Allergies – You can drink to help with relief but there are pill supplements now available.

For Your Teeth – Rub the apple cider vinegar directly on your teeth to help remove stains.
For Your Face – It can be used to help regulate the pH of your skin.
Soothes Bug Bites – For those with itchy bug bites, this can used for relief.
As A Cleaner – Mix a solution of 1 part apple cider vinegar to 1 part water and mix in a spray bottle.
On Your Toes – Helps to get rid of fingernail or toenail fungus.
Repel Fleas – Used to make a wash to help repel fleas off your pet.
Use in marinades, dressings & sauces – A great staple for those who love to cook!
For me, I mainly use the Heinz Apple Cider in my kitchen. Since I love to cook, I use it in different dishes that I use, especially pasta salads. Since I don't use any harmful chemicals in my house to clean, I like to use the apple cider vinegar and mix it with water to make my own cleaner to clean the kitchen with.
Heinz® Unfiltered Apple Cider Vinegar is vinegar in its most natural and wholesome form. The product retains the "mother" of the vinegar – a compound created naturally during vinegar's fermentation process. It is used in cooking to bring out refreshing flavors, and has a variety of other unique uses.
Another favorite way I am now using the Heinz Unfiltered Apple Cider Vinegar is in a BBQ sauce recipe I found on their website. I know many of you like to use the grill during the summer and even in the winter, so I thought I would share their recipe in case you want to try some yummy BBQ sauce too!
Texas Barbecue Sauce Recipe
Recipe Type
:
Marinade, Sauce
Author:
Ingredients
1/4 cup Heinz® Apple Cider Vinegar
1/3 cup Lea & Perrins® The Original Worcestershire Sauce
3/4 cup Heinz® Tomato Ketchup
1/4 cup brown sugar
2 tablespoons vegetable oil
1/2 teaspoon garlic powder
1/2 teaspoon salt
Instructions
In a medium saucepan over medium-high heat, combine all ingredients and bring to a boil. Reduce heat and simmer, covered, for 10 minutes, stirring occasionally.
I LOVE to find recipes online. I pin the recipes that I make and want to make on Pinterest, but it is also a great way to find recipes that I want to make. If you are looking for more recipes using the Heinz Apple Cider Vinegar, visit the following pages:
What uses do you have for the Heinz Vinegar products?