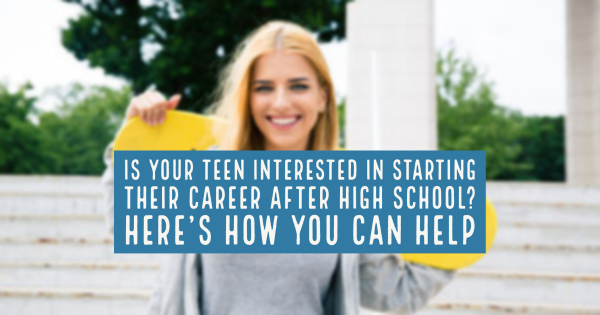 Is your teen going to graduate from high school soon? Perhaps your teen's a junior or senior in high school. It may be time to start thinking about future plans. If your teen would like to find a job after graduation, there are several paths they can take to start building a successful career.
What should your teen consider when finding a job? Here are some factors to consider as well as some job ideas based on what your teen is interested in exploring. All of the following jobs can be started after high school with some exceptions of obtaining training and certification.
Factors to Consider
As your teen begins thinking about their future career and exploring options available to them, it's important for them to first think about a few questions:
What are my interests?
What am I passionate about?
What do I like doing for fun?
Do I like working with other people or on my own?
Do I want to work in an office environment?
Do I want a job that involves working with my hands?
Do I want to travel or be able to relocate?
Do I want a government job?
These kinds of questions will help your teen brainstorm why, how, and what kind of work they could pursue. Especially when it comes to attending classes and training and taking certification exams, having an idea that a certain job will be of interest to your teen is important so they don't waste their time or money.
Based on what interests your teen and the work environment they strive for, here are some job ideas that your teen can explore.
If Your Teen Enjoys Working With Children
Many teenagers babysit in middle and high school to earn money and gain work experience. Through babysitting or simply being around younger siblings, cousins, or family friends, many teens discover that they truly enjoy working with children. Thankfully, there are several jobs that teens can pursue after high school that involve directly working with kids.
Becoming a teacher's aide is a great job. Teacher's aides can work in public or private schools. With
86% of private schools having less than 300 students enrolled, there are plenty of opportunities to make close-knit connections with coworkers and students alike. Teacher's aides assist students in the classroom, and they can truly make a difference in a student's day and life.
Another job that involves working with children is in childcare. Your teen could pursue an entrepreneurial career and start his or her own daycare, or they can work as an assistant in a daycare that is located in someone's home or in a pre-k centered daycare in a building.
If Your Teen Wants to Work In the Medical Field
There is always a need for workers in the medical field, as there is always turnaround as well as a need for assistants in a variety of careers within the field. If your teen wants to work directly with patients, becoming a medical assistant could be a great career path. Home health and personal care aides can go into peoples' homes and help take care of elderly people or individuals with disabilities.
Becoming a dental hygienist is another great career move within the medical field. After obtaining certification and training, a dental hygienist can work in a dental office to tend to patients. Only
half of adults say they visit the dentist every six months — but perhaps your teen would like to help increase these numbers or help provide dental care to underserved communities by working at a nonprofit dental clinic. There are several options and opportunities to help people in the medical field, which may be something that interests your teen.
If Your Teen Is Interested In Travel
Is your teen interested in moving away from home and traveling? Perhaps they're open to relocating in order to move around the country or world. Your teen should explore becoming a flight attendant. Flight attendants can travel the world through their job, and they can do so after attending a short amount of schooling.
Similarly, cruise ship workers are provided the opportunity to travel the world through their job. Some countries also look for individuals from the United States to teach English to young students in international schools, which also may be something your teen is interested in. Au pairs also have the opportunity to travel. Au pairs are similar to nannies. They live with host families and care for their children, but they often have the weekends to travel and explore as they please. These types of jobs may be of interest to your teen if they have a hankering for exploration and travel.
If Your Teen Wants to Be a Business Person
Some teens have a calling for business and sales in high school based on having a sociable and friendly personality and a drive for making money. Becoming a real estate requires a test and certification, but with the proper training and connections, this career path can become very lucrative. The average length of time required to sell a home is typically 65 days over two months, but if your teen has a knack for business and a charming smile, perhaps they could become a professional seller who can close a deal in under a month.
Customer service is another career option for business-minded individuals that doesn't require schooling. Working from the bottom up, by perhaps starting out as a cashier, stock person, or sales associate, can allow for career growth down the road as a manager and leader.
There are several career options your teen can consider based on their interests, passions, and work preferences. Sit down with your teen and start discussing career plans so they can start preparing for their future today.