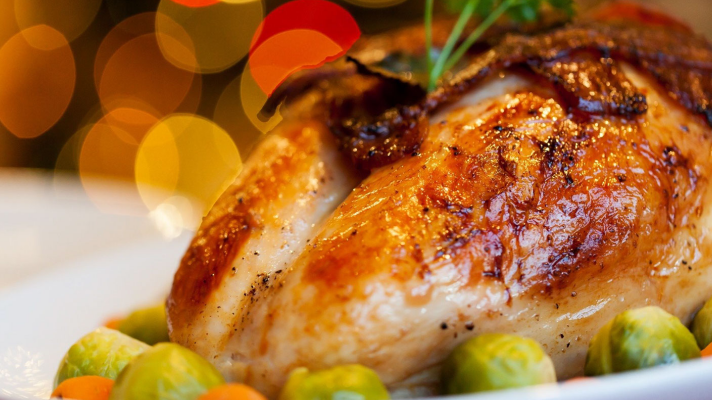 The holidays are right around the corner — and while you may not be prepping for a large gathering with your extended family, you're probably still finding ways to make things festive. That very well might include making a big meal on Christmas Day or ordering from a local restaurant on December 24. While supporting small businesses is a great way to go, many people will prefer to do the cooking themselves during this time of year. But no matter what, you need to practice stellar food safety. Here are just a few tips you'll want to keep in mind while you stay at home.
Wash Your Hands and Surfaces Frequently
One of the mantras of the pandemic is "wash your hands." But just because you're home doesn't mean you can forget to use soap and water. Since the four primary sources of contamination are bacterial, chemical, physical, and cross-contamination, you need to wash your hands frequently — especially before and after handling raw meat. You should also clean surfaces like countertops, cutting boards, and knives after handling to prevent cross-contamination.
Keep It Pet-Friendly
Your dog's sense of smell is about 10,000 times stronger than yours, so it's no surprise that your pup might beg at the table for some scraps. If you do plan to give your dog a bit of a treat, however, it's important to know what they can safely consume. Be sure to remove bones from meat and to make certain it's cooked properly before giving your dog a taste. Don't let your dog eat bread dough or anything that contains raw eggs and steer clear of grapes, nuts, pork products, nutmeg, onions, and garlic. If you're looking for pup-friendly foods, items like sweet potatoes, raw green beans, carrots, pumpkin puree, and apples are all great options that your dog can snack on.
Defrost, Cook, and Refrigerate With Care
Defrosting, cooking, and refrigerating are important steps for preserving food safety. Although anywhere from 8,000 to 18,000 people are hospitalized with Legionnaires' disease every year in the U.S., around 128,000 are hospitalized for foodborne illnesses on an annual basis. That means you need to exercise caution when bringing food to a safe temperature. Food needs to be cooked to proper temperatures in order to reduce safety risks. Make sure to use a food thermometer to test that meats are cooked through properly before serving. There are a few different ways to safely thaw frozen food, including in the refrigerator or microwave. Never thaw food on the counter or in hot water. Hot foods should be kept at temperatures of at least 135 degrees Fahrenheit, while cold foods need to be kept at 41 degrees Fahrenheit or below. Any food that's kept at room temperature for more than two hours should be discarded. If in doubt, throw it out.
While there are a number of factors that can improve food safety, these basic tips can ensure your family has a happy (and delicious) holiday at home.