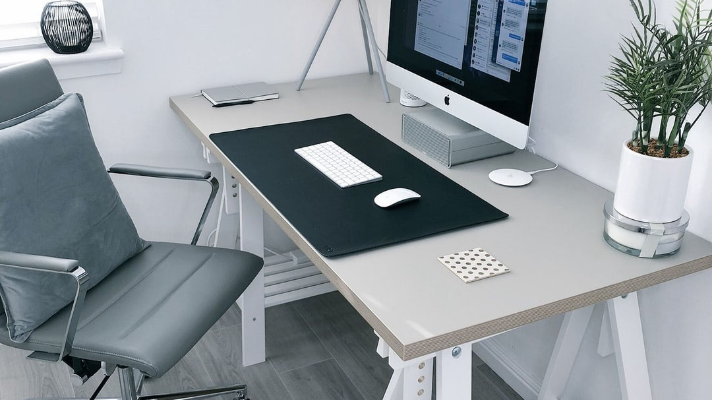 Although businesses are starting to reopen across the country, many organizations are opting to operate in a remote capacity for the foreseeable future. Whether you were already set up to work from home as one of the 400 million entrepreneurs worldwide or you're trying to adjust to this new normal, there are always improvements that can be made to your home office for the COVID age. And while renovations are common, with homeowners remodeling more than 10.2 million kitchens and 14.2 million bathrooms each year, you don't necessarily have to break down any walls to be more productive while working from home. Here are a few suggestions that will take your home office to the next level.
Functional Furniture
If you've been using your living room as a makeshift office or you never really got around to purchasing a new chair or desk, your body might be paying the price after a few months of remote work. If your work station doesn't keep ergonomics in mind, you're probably experiencing more back and neck pain than before. You'll definitely want to get yourself an adjustable office chair with lumbar support and look for a desk that provides the right height. While the standard height is around 29 inches, people who are taller or shorter than average may do well with a slightly taller or shorter desk. Adjustable desks or tables may provide a good solution, but there's an easy way to check: if you sit up straight, determine whether your forearms are parallel to the ground and your wrist stays fairly straight when you type or use a computer mouse. If your forearms or wrists have to bend, you'll need to make an adjustment.
Aside from purchasing an ergonomic chair or even using a standing desk, there are a few things you can do to reduce overall strain. If your computer is too high or too low, thus causing strain in your neck, you may need to play with its height or even use a laptop stand. When sitting in your chair, you should ensure your feet can comfortably touch the ground. If you're in a position to get a new computer monitor or two, make sure to go for high-quality options; while they're a bit more expensive, they'll be less likely to cause eyestrain. And speaking of eyestrain, look into getting glasses that filter blue light from your screen. Although these work just as well at a conventional office, it's good to keep a pair at home for remote work situations. Of course, you shouldn't rely solely on the glare of your screen to light the room. Ideally, you'll want a mix of natural light and overhead lighting, but take care to avoid placing desk lamps too close to your screen to prevent unnecessary strain.
Connectivity and Cybersecurity
Fast, reliable, and safe internet are a must in the digital age. Many businesses will use cast routing technology to ensure web visitors access a site through a firewall and CDN, which makes for faster loading speeds. But as much as consumers expect quick loading times, workers and business owners also rely on speedy connections. And if you plan on working from home for the foreseeable future, you'll need an internet provider that's up to the challenge. Ethernet and WiFi typically offer the fastest connections and are among the most versatile options for home internet. If you've found your internet connection has held you back during the last couple of months, it may be time to explore your options to reduce frustration.
Not only does your connection need to be dependable, but it also needs to be secure. Cybersecurity is a huge concern for businesses that have recently gone remote, as phishing attacks and other threats are on the rise. Cyber crime involves the use of the Internet to communicate fraudulent representations to consumers. It's a good time to bolster your web security while you spruce up your home office. Make sure to update all of your software, invest in a password locker, and consider using a virtual private network (VPN) for an extra level of protection. Screen locks should be used, while the use of USB sticks and default passwords should be retired. If your employer has yet to implement a specific set of policies for company-wide cybersecurity when working remotely, that should be a priority moving forward.
Supplies and Gadgets
Of course, having access to the latest technology can make working from home easier and more enjoyable. But that doesn't mean you need every fancy device on the market. Although 3D printers can be used to build bridges (which can hold up to 250 pounds) and to create everything from medical devices to footwear, you don't necessarily need one in your home office. You may, however, need a printer and scanner, a surge protector, a headset or some noise-canceling headphones, some lightning cables or a docking station, and possibly an external microphone or webcam (depending on your video conferencing needs).
Take note of where your setup has been lacking over the past couple of months and decide what really needs to be upgraded. Keep in mind that many businesses do opt to provide necessary equipment for remote workers or may offer a technology stipend. If you're not able to go into the office to retrieve your equipment or that equipment needs to remain within that facility, it may be worth talking to your boss to see whether it might be feasible to gain access to some equipment for work purposes. While it may not be completely state-of-the-art, it may allow you to avoid spending too much on tech that you won't use outside of working hours.
Let's face it: even people who are accustomed to working outside of the conventional office are having a tough time with this new normal. But if you'll be working from home for at least the rest of 2020, you deserve a better setup. By keeping these tips in mind, you can be productive while you stay at home.