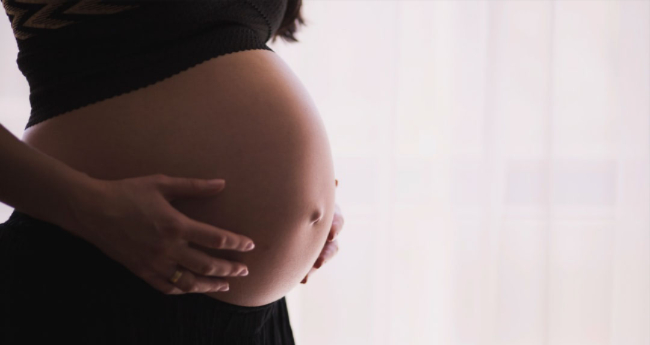 Mothers-to-be are understandably concerned about how their diet may affect the overall health of their children. After all, everything that a pregnant woman eats will almost certainly impact the well-being of the baby, which is why expectant mothers should cut out things like caffeine, alcohol, and many processed foods to reduce the risks of certain health conditions for their kids down the line. One study even found that moms who consume high levels of junk food might set their children up for unhealthy lifestyles later on — which means that while Americans ages 18 and older consume 65% of all candy produced each year, you might want to decrease the amount you eat once you're with child.
But, as is often the way with food-related science, it's not a hard and steadfast rule that pregnant women should steer clear of foods with higher fat concentrations. In fact, you may be doing your child a favor by embracing a diet that's higher in fat during your pregnancy.
At least, that's what a new study suggests. Even though high-fat diets do come with their own risks, researchers have found that following this type of nutritional plan could protect the minds of offspring. In fact, it could even prevent children from developing Alzheimer's disease later on in life.
Considering that 5.7 million Americans are currently living with Alzheimer's and that this number is expected to increase to a staggering 14 million by 2050, the results of the study are encouraging to many. However, it's important to note that the study was conducted on mice, rather than human subjects, which means that there's really no telling whether the results can be replicated. That said, mice who were fed high-fat diets while in utero showed symptoms of memory preservation and synapse functionality, along with a reduced buildup of amyloid beta amino acids. Therefore, the dietary routine followed by these mice — who were given regular food once they were born — was found to "turn off" the genes most closely linked to Alzheimer's disease due to an increase of FOXP2 protein activity.
As researchers explain, the results could very well translate into potential among human subjects. Dr. Domenico Praticò, the study's senior investigator, noted: "In humans, it has been known that individuals whose mothers develop Alzheimer's disease after age 65 are at increased risk of also developing the disease around the same age… Our findings suggest that, to be effective, Alzheimer's disease prevention probably needs to start very early in life, during gestation. Diet at this specific life stage can have critical, but underestimated, long-term impacts on brain health."
With more than 10,000 people reaching the retirement age of 65 each day and the senior population being the fastest-growing in the nation, it makes sense that researchers are focusing on ways to promote improved health among older individuals. But it might come as a surprise to some that the habits formed during pregnancy — before a person is even born — could set the course for that child's overall health journey. While there's certainly more research to be done here, the findings might inspire expectant mothers to incorporate more healthy fats into their daily meals. Until additional information emerges, however, it's probably best to follow an "everything in moderation" regimen.