This post is sponsored by the National Frozen & Refrigerated Foods Association (NFRA). All opinions are my own. For more inspiration during #JuneDairyMonth, be sure to check out delicious ideas from the NFRA at EasyHomeMeals.com
I love cooking in the kitchen but there are days when I prefer to grill outdoors. When I am in the kitchen it is usually just me doing all the work but when I am outside cooking the food on the BBQ the whole family is usually outdoors including my husband who usually takes charge! I recently made some BBQ Cheeseburger Meatballs that were a hit that make for a perfect party appetizer or you could even make them a meal!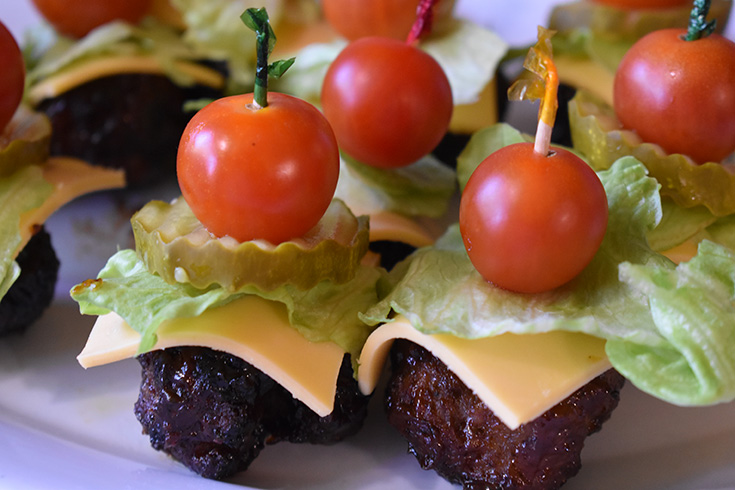 One of my family's favorite things to grill is cheeseburgers. I thought I would put a little twist on the cheeseburgers this time and make them finger foods so we can enjoy some of the other foods I like to make. I BBQ'd some meatballs, added some Kraft Deli Deluxe American Cheese on top, then added lettuce, a pickle and a cherry tomato!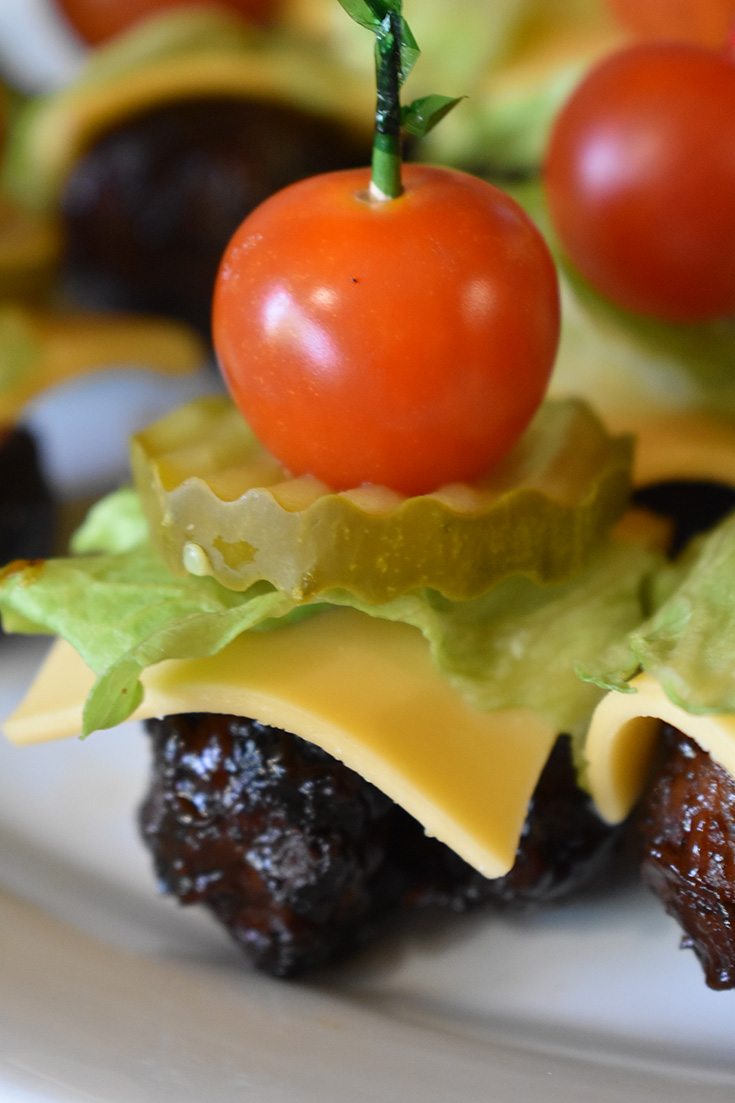 When making a cheeseburger of any size, the type of cheese matters! I always have Kraft cheese on hand because it is the brand I grew up eating and the cheese my whole family LOVES, especially on our burgers and our grilled cheese sandwiches! Kraft is creamy, rich and full of flavor! I have been known to eat a slice by itself for a snack. For my BBQ Cheeseburger Meatballs I used the Kraft Deli Deluxe American Cheese which I cut in smaller squares of 4 to fit right on top of the meatballs once they were done on the grill.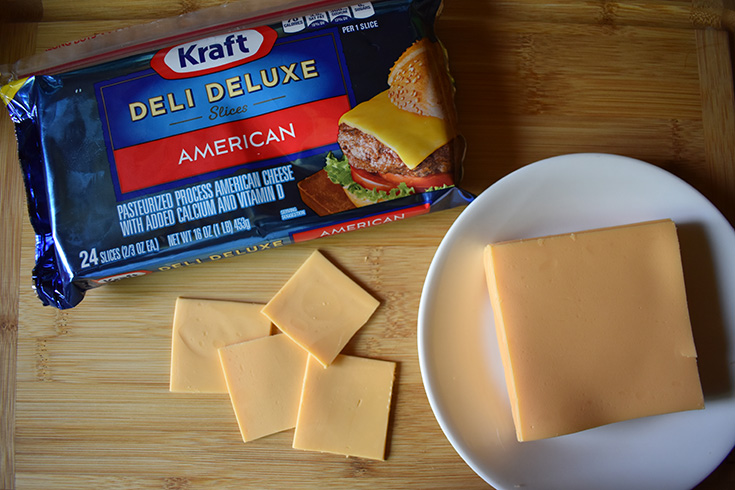 You can get creative when you make these depending on how you like your burger. I know that not everyone likes pickles in my family so I made some without pickles. One thing I did forget though was the bacon which I will be adding next time. Kraft also has a variety of cheeses too! For my burgers I like to use the American cheese but Kraft is available now in more varieties with White American, Sharp Cheddar, Reduced fat (made with 2% milk), and new flavors Jalapeno and Smoky American that would all go great on a burger or sandwich.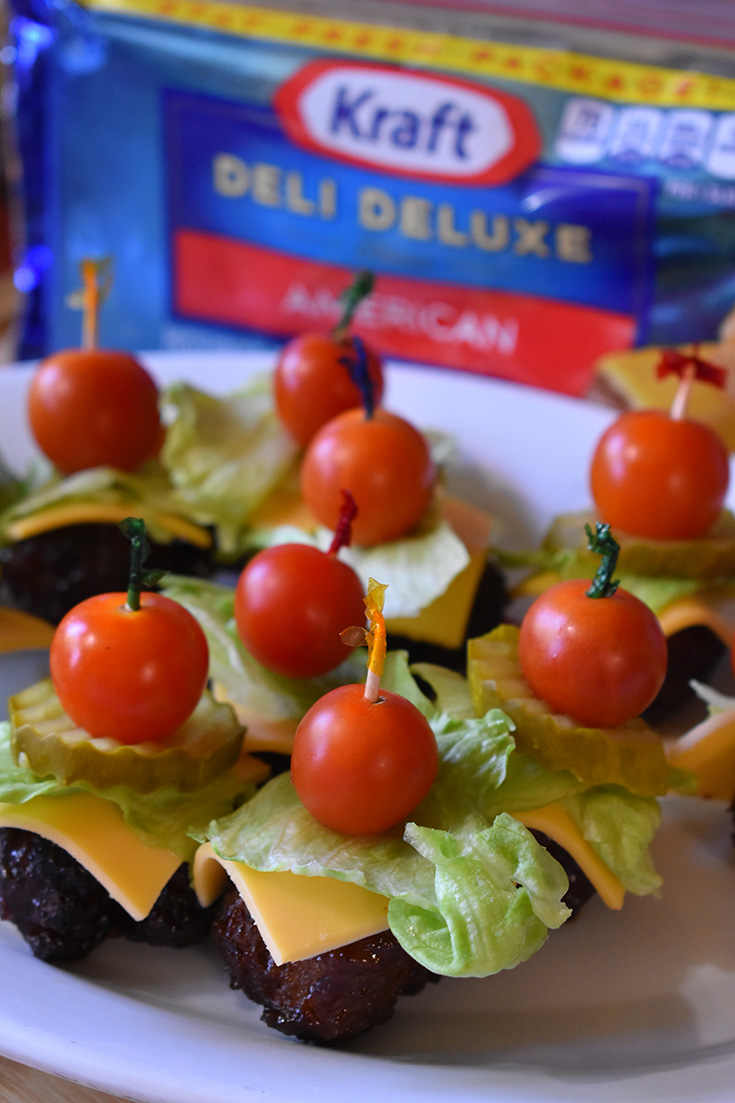 This is just one way to use the Kraft cheese on your next BBQ! I love that with Kraft you can get deli quality American cheese that you can grab straight from the Dairy aisle because this mom doesn't always have time to wait in the deli for her cheese to get sliced!
Want to serve these yummy BBQ Cheeseburger Meatballs at your next party? Be sure to print my recipe below: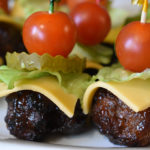 BBQ Cheeseburger Meatballs
A recipe for BBQ Cheeseburger Meatballs that are a perfect appetizer for your summer parties.
Ingredients
1

pound

ground beef

1

egg

beaten

1/2

cup

panko bread crumbs

1

tbsp

hamburger seasoning

5

slices

Kraft Deli Deluxe American Cheese

cut in quarters
Instructions
In a bowl add all ingredients and thoroughly combine all the ingredients but do not over mix.

Shape beef mixture into (20) 1-inch meatballs. Refrigerate 1 hour.

When meat has chilled you will then want to preheat your grill for direct cooking over medium heat.

Place the meatballs on the preheated grill over direct medium heat and close the lid. The easiest way to do grill meatballs is by placing them on stainless steel kabob skewers. You can use wood but they have a chance of burning if your flame is too high.

Cook for about 12 to 15 minutes, turning them at least twice until cooked through. If your meatballs stick to grill, allow more time to cook which causes them to release.

Remove from grill and allow to cool for a couple minutes. Place a piece of Kraft Deli Deluxe American Cheese. on each meatball, top with your favorite garnish such as lettuce, pickle, cherry tomato or even onion, and then secure each with a toothpick.






Visit Easy Home Meals for great recipes and meal solutions and to enter the June Dairy Month Sweepstakes for a chance to win up to $10,000 in prizes! #JuneDairyMonthBlog