I was invited by Disney/Marvel to attend the #BlackPantherEvent. All thoughts and opinions are my own.
If you had a chance to see Black Panther you probably just as amazed as I was with the costumes that you will seen in the movie. There are two people that I had the opportunity to meet last month at the Black Panther Press Conference that played important roles in making this film so successful. We had the chance to sit down with Ruth E. Carter (Costume Designer) and Heather Beachler (Production Designer) to learn more about their experiences with helping with this film.
Our first question for these ladies is how did they get started. We wanted to know how did they start with such a film so big and was there a fluid kind of creative process?
Ruth tells us that she is going to let to let Hannah start because Hannah is the one that usually starts the design process. Hannah goes to tell us about the time they were interviewing that Ryan tells her that Ruth Carter's in the office and how she was just standing there so Ryan says "you wanna come in and meet her?".  She tells us how she came in and they  started talking about other things like Ryan's suit because he is getting married and how they didn't even talk about the interview. Then Ruth shares how she felt when she left…
Ruth E Carter:  And when I left I thought, you know, Hannah's gonna say get her. Get her. I had such a good feeling from this.  A warm feeling. You know when you're in the right place and in the right space. That's what I felt like when I left. And I knew that Marvel takes a while to make their decisions. So, I made sure I said to Ryan, you know, let me know, you know. Somebody else could be knocking on the door behind you. But they did. They made the decision and there I came.
Photo Credit: Natasha Nicholes – Houseful Of Nicholes
I LOVED what Hannah had to say about Ruth's response:
Heather Beachler: Yep, yep, it was pretty awesome. So, that was an honor for me, because I know your work. And so that just made everything. You know what I mean? It was like, okay, we're all in good hands.
Heather tells us how she came on first because production designer's are usually on films right after the director, hired by the director and producers. She tells us how Ryan was really good at guiding her with the process that started at the macro and how they talked about where is Wakanda and that that was going to determine everything that goes around.
Hannah Beachler: We kind of set it in sort of eastern sub-Saharan Africa. So, basically you can kind of place it on the border of DRC like right above Burundi and Rwanda. So there was like Kibuye was there, Kenya, Uganda, above Uganda, Sudan. So, that's sort of where we are. And we also took from Omo Valley tribes in Ethiopia. So you go down a little bit, but we wanted to keep it sub-Saharan. We wanted to keep it very specific. 
Heather tells us about how she reached into Western Nigeria, into Lagos and did a lot of research in Nairobi and the bigger cities around for the film. She tells us how she researched Kenya, Johannesburg and Cape Town just for some of the architecture and that she looked at the older architecture.
Heather Beachler: So, that's really where my process started really big. Where are we? And then it was like what is the typography of the land? Next step is where does each tribe live on that land and why? And what is each tribe's history. So then I go down and dot through each tribes' history, and like this is why they live here. There is a story and a reason behind every single thing you see on that screen coming from me and coming from Ruth.
We wanted to know more about the costumes! There is some amazing and beautiful costumes that you will see in this movie.
Ruth E. Carter: We were looking at Afropunk. We're looking at modern fashion. We're moving everything forward. Everything has to be beautiful. We are not going to lie in any stereotypes at all. Whatsoever. We wanted to present this world as a kingdom. What if Africa was not colonized? This is what they would honor. And you see these images of the Himba girl with her leather drape on and her Himba paced all over her skin and her costume, and she's pushing like a grocery cart in like a little convenience store. This is like a real photo that I saw. And I thought, wow, this is like really cool how you can mix ancient indigenous tribal culture with modern. We don't want to make a documentary. This is a futuristic place. This is a place that has the richest mineral known on earth, Vibranium. And, you know, they're aware of it. They're aware of their richness. So, let's just move that forward. Looking at Afropunk, those images that you see on your phone, going through your Instagram, you see that beauty. And that's some of the beauty that we wanted to infuse.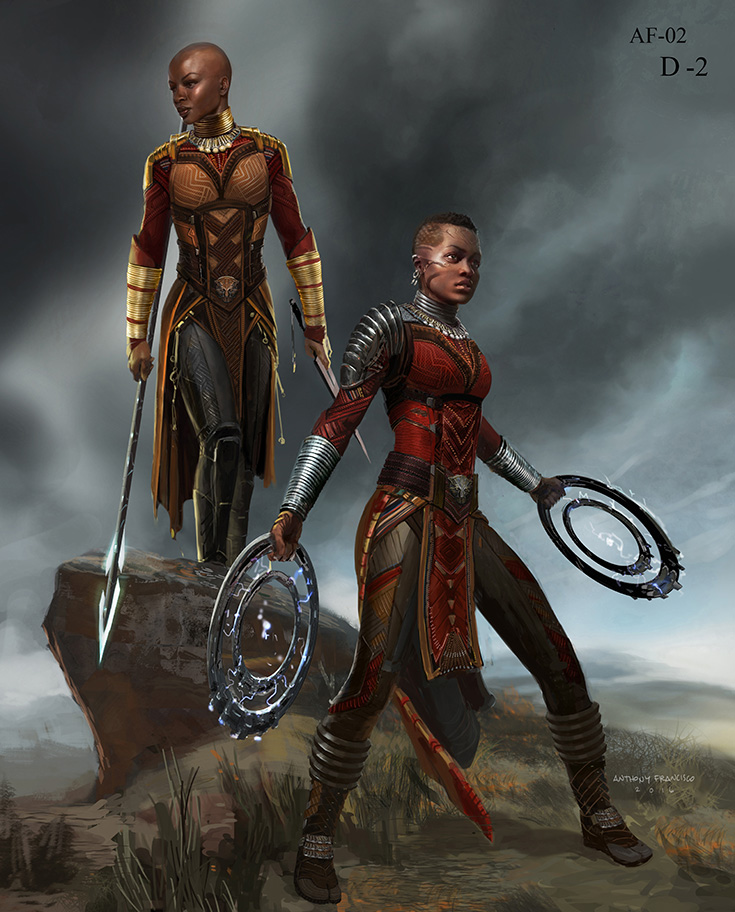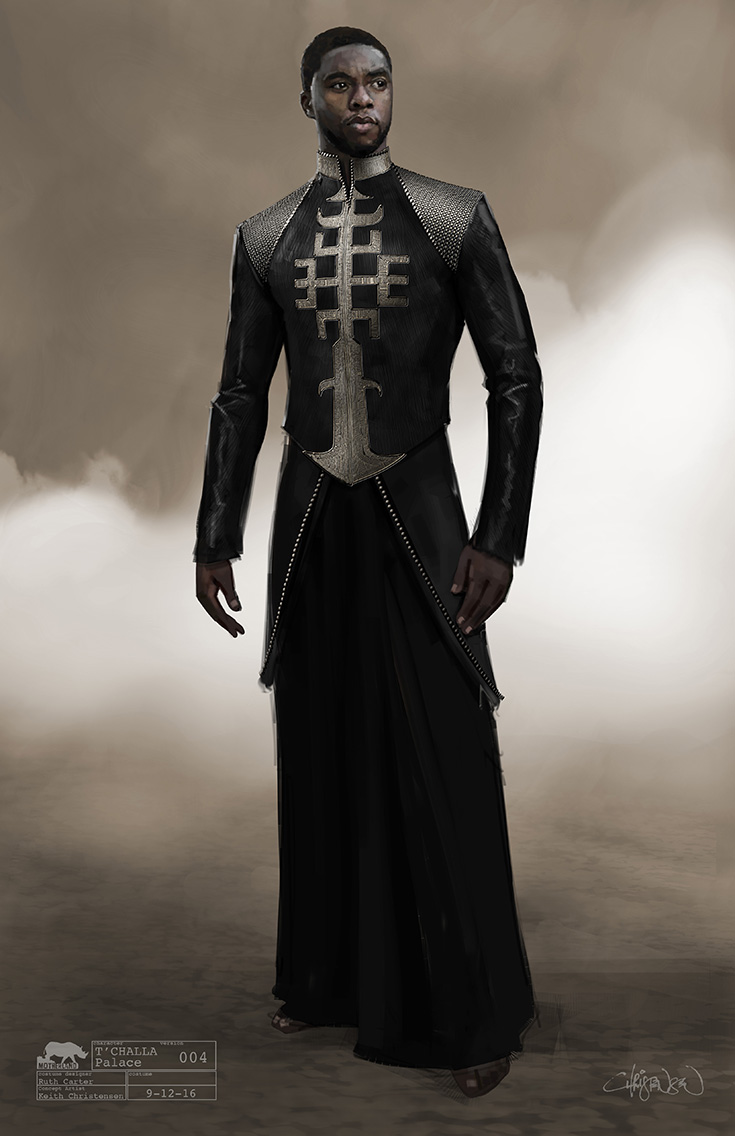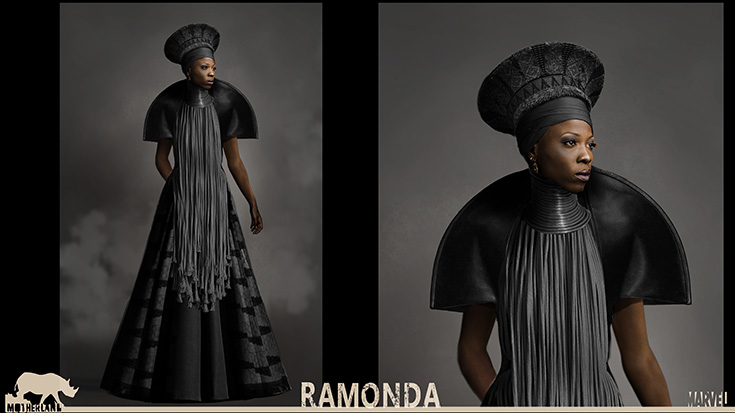 I always think it is interesting to learn more about the costumes, the set and everything else that goes into making a big movie so successful. At the end of our interview with these ladies they were kind enough to take a photo with us that we could share!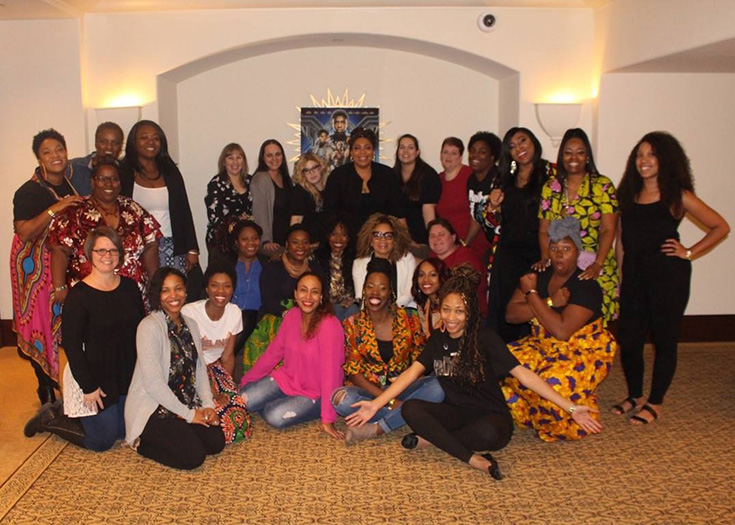 Haven't seen the movie yet? Take a peek at the Black Panther official movie trailer below:
Black Panther is playing in theaters everywhere!
Take a peek at the latest #BlackPantherEvent tweets below: