I was invited by Disney/Marvel to attend the #BlackPantherEvent. All thoughts and opinions are my own.
Tomorrow Black Panther in theaters everywhere! I am excited to be able to take my kids to watch a movie that I haven't been able to stop talking about! Today I am sharing our exclusive interview with Andy Serkis (Ulysses Klaue) and Winston Duke (M'Baku) who may just be your new Marvel favorites!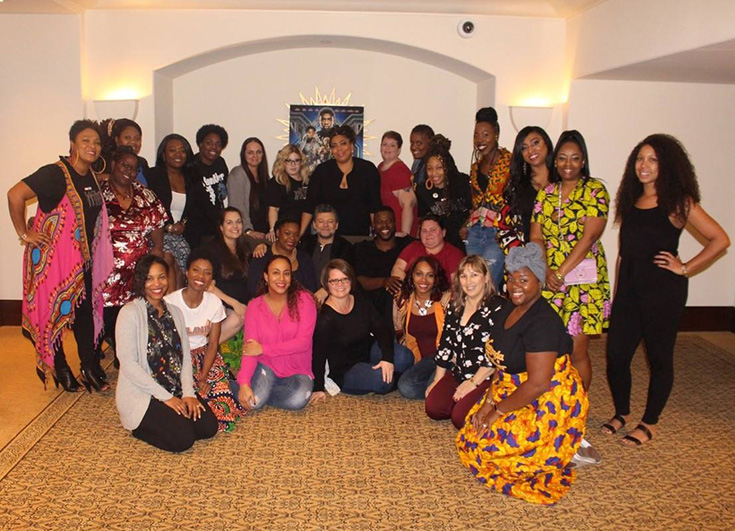 Here are a few of the questions from our exclusive interview that month during the Black Panther Press Conference that I want to share.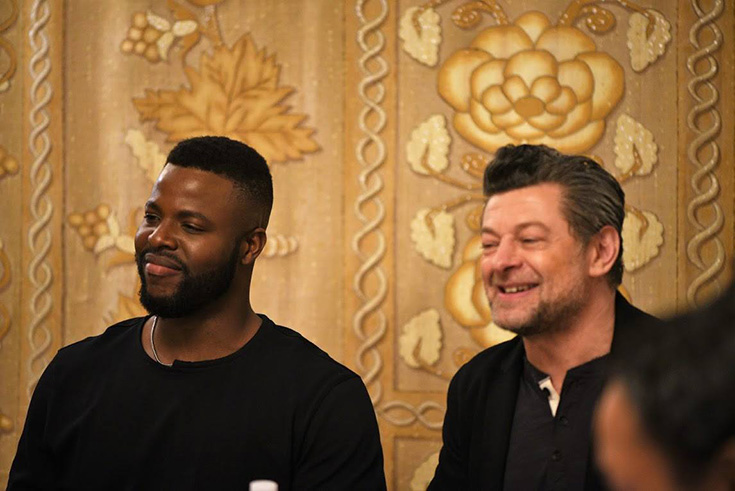 Photo Credit: Natasha Nicholes – Houseful Of Nicholes
Tell us what it's like to bring to life these crazy characters that people want to root against on screen?
Andy Serkis: I mean the thing is it is great fun being able to dip into the dark side, because it in a safe environment.  And we work in the world of story where you're allowed to do that.  But what I wanted to do with this character, with Klaw, was not make him in any way a kind of an archetypal villain or considered evil, although of course he is one of the world's worst, because he is entirely driven by being selfish.  I mean he epitomizes in this film he really epitomizes what it is to be ultimately selfish in every aspect of living.  And he's a taker, he's one of the world's takers, he just grasps and pulls and brings it all to himself.  But you kind of to make that character live and be human, I wanted to make him sort of strangely someone you might like to hang out with.  And then that sort of tension for me is more interesting than playing him as a complete bad ass, you know, who's just threatening and nasty and you don't and then he gets killed and then good.  So it's constantly as an actor you're wanting to challenge the perception of good and evil.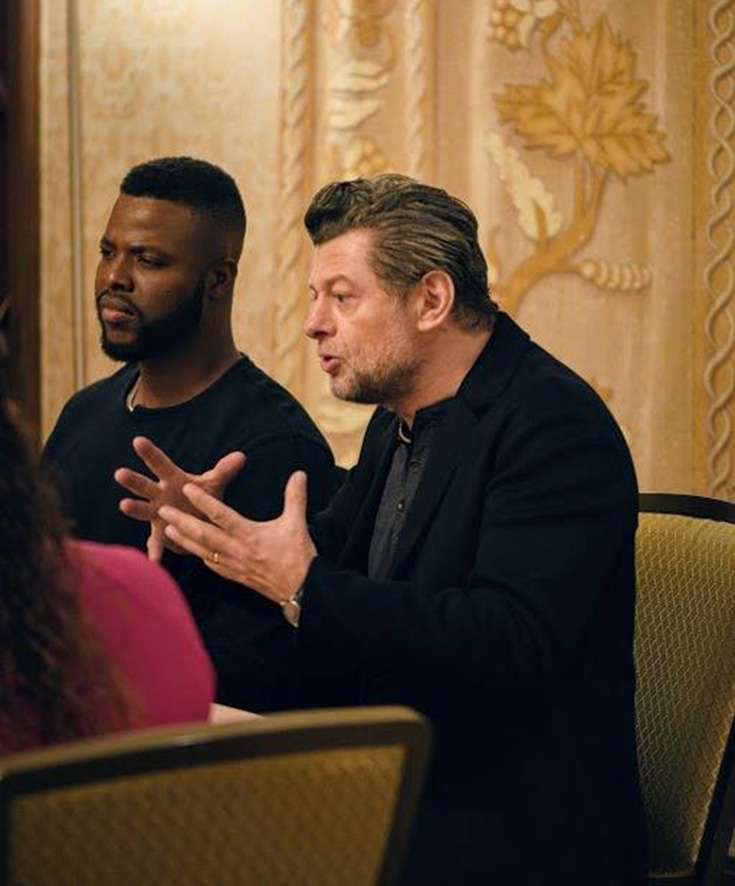 Photo Credit: Natasha Nicholes – Houseful Of Nicholes
This is the absolute perfect cast for this movie, how were you cast? 
Andy Serkis: The way that I came on board actually was when I first started working with Joss Whedon who's directing Avengers Age of Ultron, it was using performance capture, I was helping Mark Ruffalo with the Hulk.  Because they came to our studio in London called the Imaginarium and we were working with him and then James Spader to create the character Ultron because it was using the technology that I'm very familiar with.  And then Josh said oh man there's this great character which I'd really love you to play, it's only a small scene. But I think if the Black Panther movie comes on, you know, he's very much an adversary for T'Challa in the Black Panther and I said oh wow that's great.  And it was just this very quirky like you say kind of idiosyncratic slightly left field gangster character.  So that's how the character got introduced.  And then when Ryan took it on in this, he just wanted to have even more fun with it.  So it was- that was my way into it.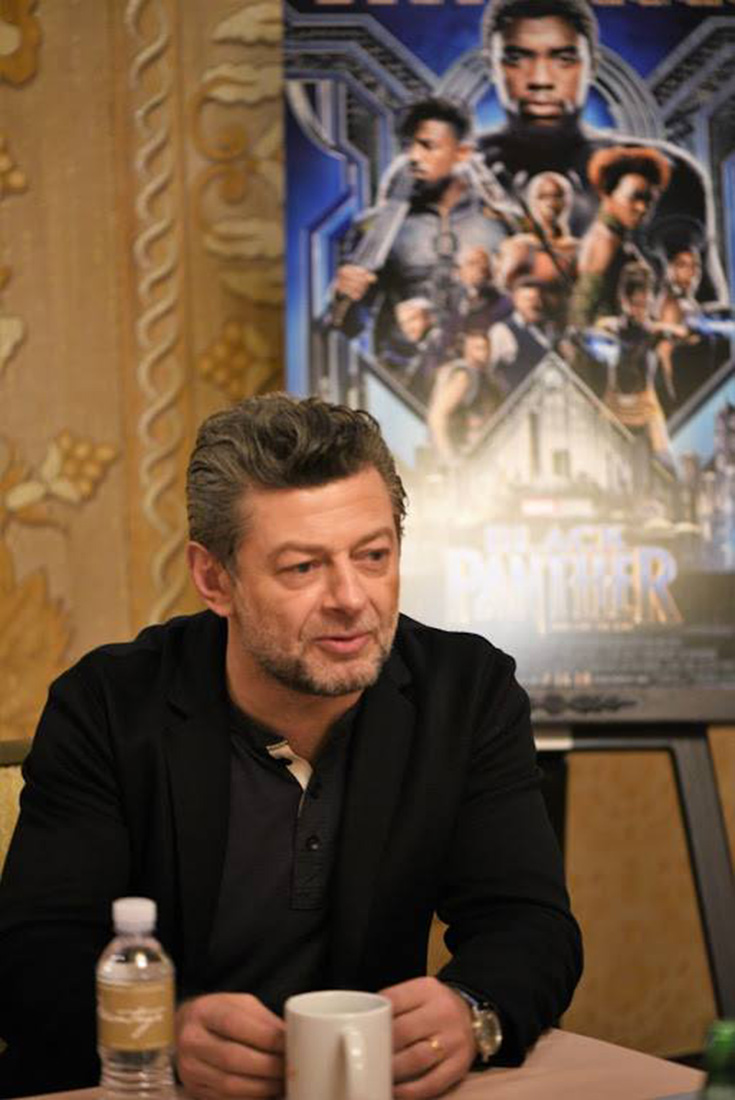 Photo Credit: Natasha Nicholes – Houseful Of Nicholes
Winston Duke:    I think I went through, since I was more of a unnamed actor, and I went through the standard audition process.  So I was the audience.  So I'm only hearing about Black Panther and seeing the cast come together and they're like oh my god, Chadwick Boseman I'm like Chadwick Boseman and then it's Michael B. Jordan, I'm like Michael B. Jordan is in it too?  And then they announced Lupita Nyong'o.  And then they're like Danai has joined the cast. I'm like Danai has joined the cast and it just kept going and going and I wanted to, I told my representatives, I said I'd just love to get in that room.  I love Ryan Coogler's work, I think it has a really strong sense of social justice, every single thing that he does.  And I want my career to have a strong social justice footprint, even if it is commercial.  I want it to be connected in some ways so I kind of expressed that mission for myself and my career. And then lo and behold I got in the room with him, he had me do it like twenty different ways and he's like cool cool cool, can you make it a little bit more personal, personal, can you make it more personal. But he just kept going more personal more personal, we do it, we did it another way we did it another way we did it another way we did it another way.  Change the lines here change the lines there.  He wrote sides specifically just for the audition. And we just kept going and going and going and I didn't hear back for maybe four weeks.  So I was like that was fun, I got to work with him, you know, I actually got to work with him.  Because this took like forty five minutes, to go through the whole process.  So I was content and then I got another call and they're, they really like you and they're asking more questions.  And they want to test you.  I go and I do the test and it just felt very organic, I got home, I said a prayer, I heard a voice say everything is going to be cool.  You're all good, don't worry about it.  And the rest is history.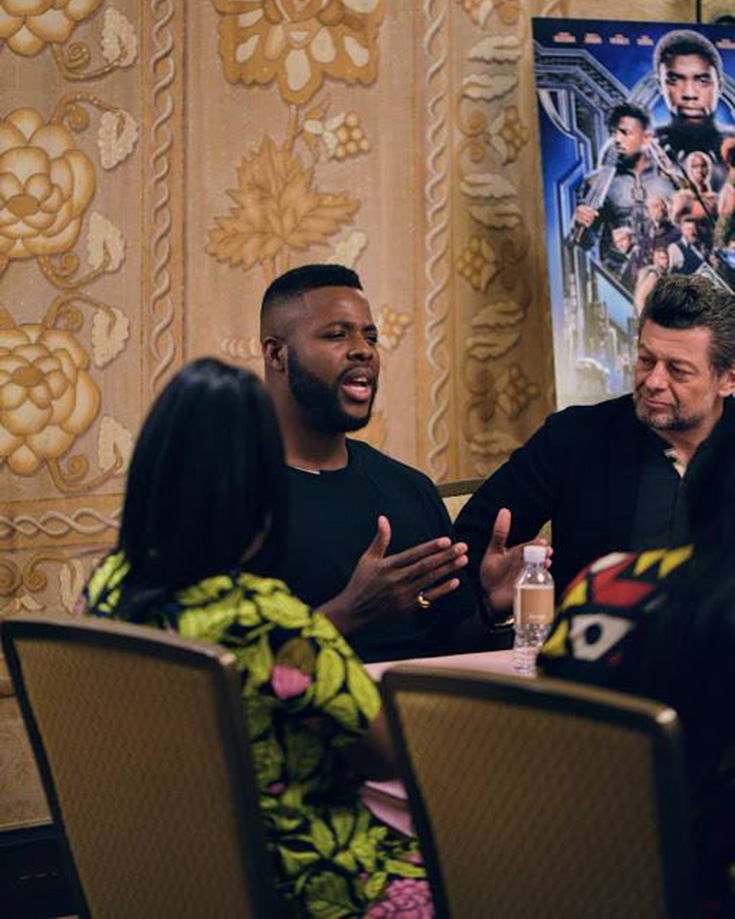 Photo Credit: Natasha Nicholes – Houseful Of Nicholes
How does it feel to see the fan engagement all over the world, especially with those smaller parts?
Winston Duke: Well for me a major thing especially after watching the film last night is an excitement, it's an excitement to know that people and not adults but children are going to be exposed to narratives like this.  Before they're fully developed and before they've ingested and consumed placed narratives, narratives that were formed before they were born about them, and they're getting to see representations of people who look exactly like them. Before they're fully formed, which is going to help them see their world differently.  It's going to change their paradigm from a really young age and they're going to be consuming this in a way that they're not seeing, I hope a four year old isn't watching this, even though they might be watching this with an awareness of race.  But they might be and that's just the world we live in.  But for them to, if they do have an awareness, a fully developed or an idea of race.  And they're watching this and going man I could be like that and man T'Challa looks like my uncle, man T'Challa looks my cousin, Michael B. Jordan looks my dad, Winston looks my dad Winston looks like my cousin, Winston looks like me and they're getting to see that.  And children in Tobago are getting to see that, people in Trinidad, people in Brazil, people in Latin America, people all over the diaspora are going to get to see this and develop agency. That's exciting.  And I was just watching and being like, this is wonderful, it's a great time to be in a super hero movie.  And the movie itself is a super hero, it took on its own life.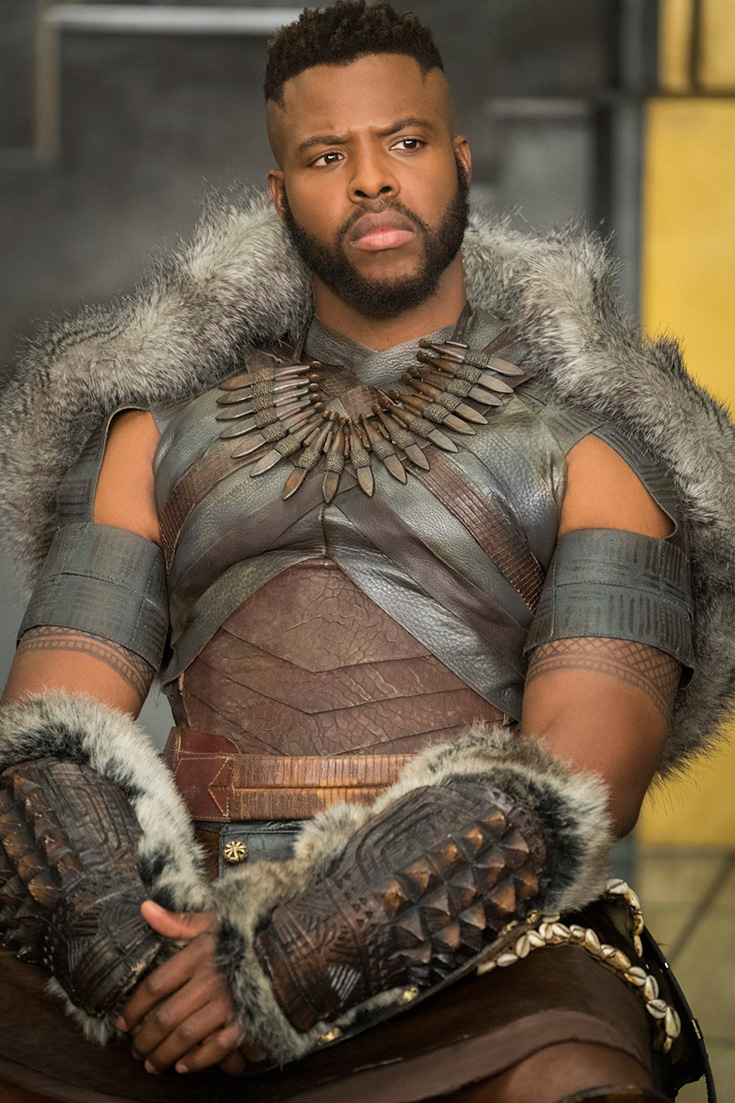 Haven't seen the previews yet? Take a peek at the Black Panther official movie trailer below:
Black Panther is in theaters everywhere TOMORROW February 16th!
Take a peek at the latest #BlackPantherEvent tweets below: