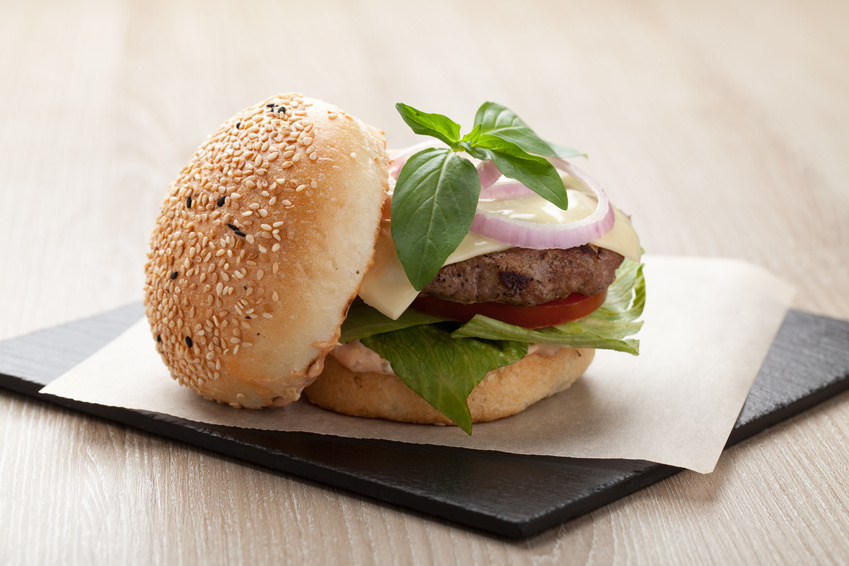 Father's day is fast approaching. This is the day to show the fathers in your life how much they mean to you. And one of the most popular ways to show your appreciation is with an old fashioned Father's Day Barbecue. In fact, if you're looking for last-minute Father's Day ideas, you can't go wrong with a barbecue.
Of course, planning any party or celebration can be difficult. There are dozens of decisions to make, from decorations to drinks, activities to food.
A cookout can be a tempting idea for the less culinary inclined party planner, but while grilling seems easy, there is a fine art to making even the simplest of grill fare. The best burgers all have a perfect balance of these key elements: Richness, Acidic, Savory, and Bitter.
If you're a grilling novice, here's a simple formula for the ultimate Father's Day burger.
The Beef
The quality of the meat you use can make or break your barbecue. In the past, you could almost always trust the meat available at your local grocery store, but with meat consumption skyrocketing (it's on course to reach 200 pounds a year per capita by 2018), many people are cutting corners in order to fill the demand.
Many things can affect the quality of burger meat. The blend of different cuts, the lean to fat meat ratio, and the coarseness of the grind. Generally speaking, coarser meat will make for better burgers. Either ask your local butcher for a coarse grind or, for DIY cooks who grind meat at home, use the largest sizing option available to you. (Hint: you can get meat an extra 20% coarser by feeding it straight into the hole at the top of the screen).
And if you are purchasing meet at the supermarket, don't just throw it straight on the grill (more on that later).
Organic or Not?
While organic meat won't make or break your burger (and it very well might break your burger budget!), you should at least consider the option. Not only is organic meat better for you and your loved ones, but it also has a smaller environmental footprint. Most grocery stores now offer an organic meat section, but you can also find organic and free-range meat online. Millennials are especially likely to prefer free-range or organic meat products, as almost three fourths of young people say that they would pay higher prices for sustainable products.
However, if your Baby Boomer parents are into the green lifestyle, consider hosting an organic Father's Day cookout this year. In addition to organic meat products, look for organic tomatoes and greens or prepare a delicious organic salad as a side dish.
The Bun
If you are a fan of burgers, you know that the bun is an essential and often overlooked ingredient. Unfortunately, many "grill masters" will take the easy way out, buying cheap bulk buns that taste like spongy cardboard. The best burger buns are made of brioche, a rich and creamy pastry from France.
The Fixins'
You'll notice there is no section here on onions, mustard, or even cheese. That's because all that you really need for a burger is the meat and a bun. All the rest are meant to accentuate the flavors already present in these essential two ingredients. To understand how to choose the right fixings, you'll need to understand how these flavors work together.
Both beef and brioche are heavy flavors, which can quickly coat the palate and block you from tasting anything else. To counteract this, use something with acidity. The most common acidic ingredients are tomatoes, ketchup, or pickles, and all three offer a bright pop to clean the palate and allow you to really enjoy the flavor.
Other popular elements include salty and savory items like bacon, softer flavors like a mild cheddar cheese, and bitter flavors like onions.
Pro Tip: Instead of offering cheese, bacon, and onions on the side, finely chop these ingredients and mix them directly into your ground beef!f
The Drinks!
Finally, don't forget the drinks. Whether your guest of honor prefers craft cocktails, craft beer, or something simpler, you need to make sure everyone stays hydrated. That means you need to remember to stock up on ice and drinks before the party starts. If you are planning to serve alcohol, party planners say you should plan on serving two to three drinks per guest.
You can plan on serving two to three drinks for every youngster at the cookout as well, but you also can't go wrong with a bowl of punch.
Mix and Match
Once you have the basic combinations down, you can create any number of arrangements for your burgers. Here are three of our favorites to consider this Father's Day:
Burger on a brioche bun with goat cheese (acid) and sauteed onions (bitter).
Burger on a brioche bun with grilled pineapple chutney (acid) and bacon (savory).
Burger on a brioche bun with blue cheese (pungent), a fried egg (savory), and malt vinegar soaked spring onions (acidic).
Looking for more mouth-watering barbecue recipes? Here are 10 delectable dishes for dads who grill.
We can go our whole lives enjoying a food without truly understanding why. Hopefully, this guide to the ultimate Burger Formula will help you create the perfect barbecue for your loved ones this Father's Day.