This is a partnered post with Foster Farms. All thoughts and opinions expressed are my own.
Yesterday I was watching the news and seen that the Golden One Center here in Sacramento where the Sacramento Kings play was getting ready for March Madness! It is college basketball tournament time which means time to follow along with your brackets, root for your favorite teams and don't forget to put out your favorite foods to enjoy while you watch all the action!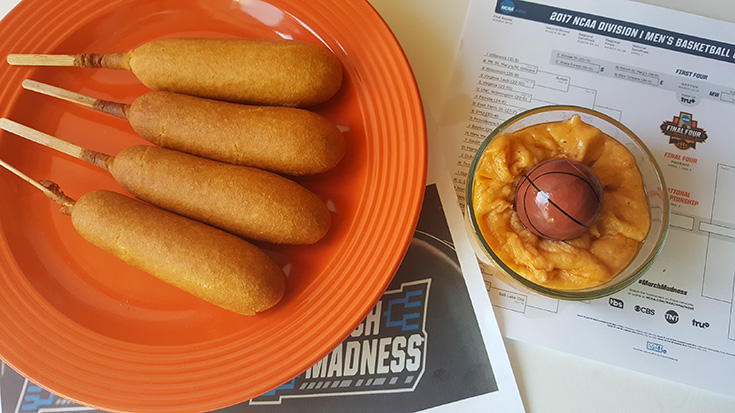 Most of the time I dip my corn dogs in a mix of ketchup and mustard but there are days when I like my foods cheesy! If you like things cheesy too you can buy the Foster Farms Jalapeño & Cheese or Chili Cheese corn dogs or get creative and make your own cheesy dip!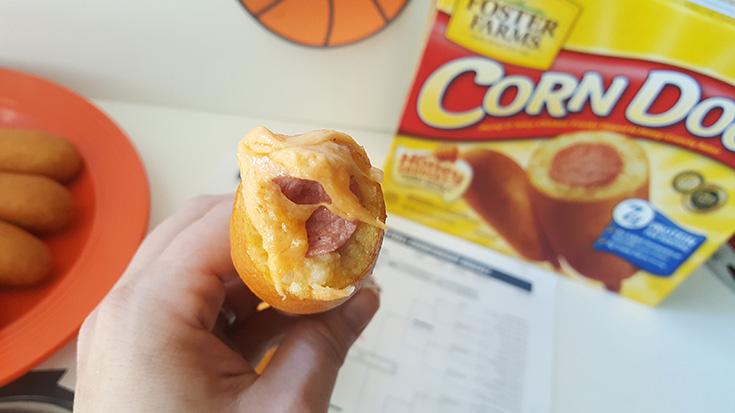 Foster Farms corn dogs come in three great flavors that include Honey Crunchy, Jalapeño & Cheese and Chili Cheese, plus a 40-ct box of mini honey crunchy corn dogs. They serve up fast, in less than 20 minutes if you use the oven and are made with NO added hormones or steroids. Foster Farms Corn Dogs are the perfect option when looking for something good and quick to make!
Cheesy Dip Recipe
Ingredients
1/2 cup shredded Gouda cheese
1/2 cup shredded sharp Cheddar cheese
2 oz cream cheese
2 tbs sour cream
1 1/2 tbs flour
1 tsp mustard
1/4 tsp Paprika
1/8 tsp pepper
Directions
Preheat oven to 350
In a medium pot, add all ingredients and cook on medium heat until cheese is melted, stirring continuously until smooth.
Remove from heat and allow to cool a 1-2 minutes. Place in bowl to dip in.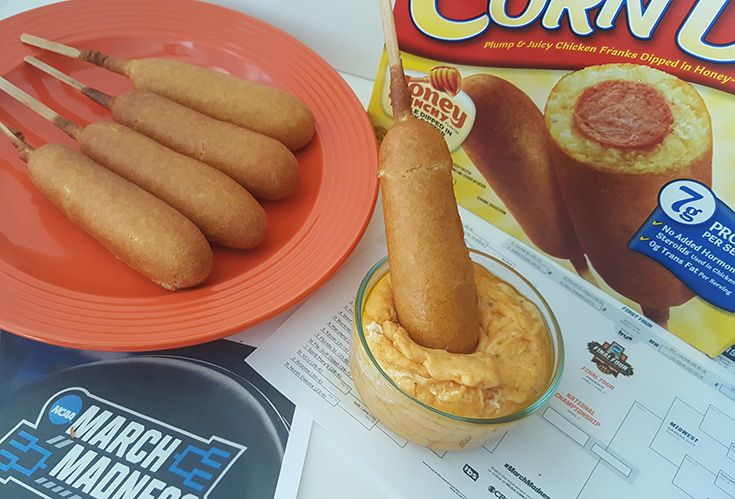 This is just one Snack Time Bracket Busters idea that you can enjoy while watching the upcoming college basketball tournament! Foster Farms is the better bet for game time snacking! Get your comfy clothes on, print out the college basketball bracket list and have your snacks ready!
With the Foster Farms Corn Dogs you can…. Heat 'n eat in under 20 minutes!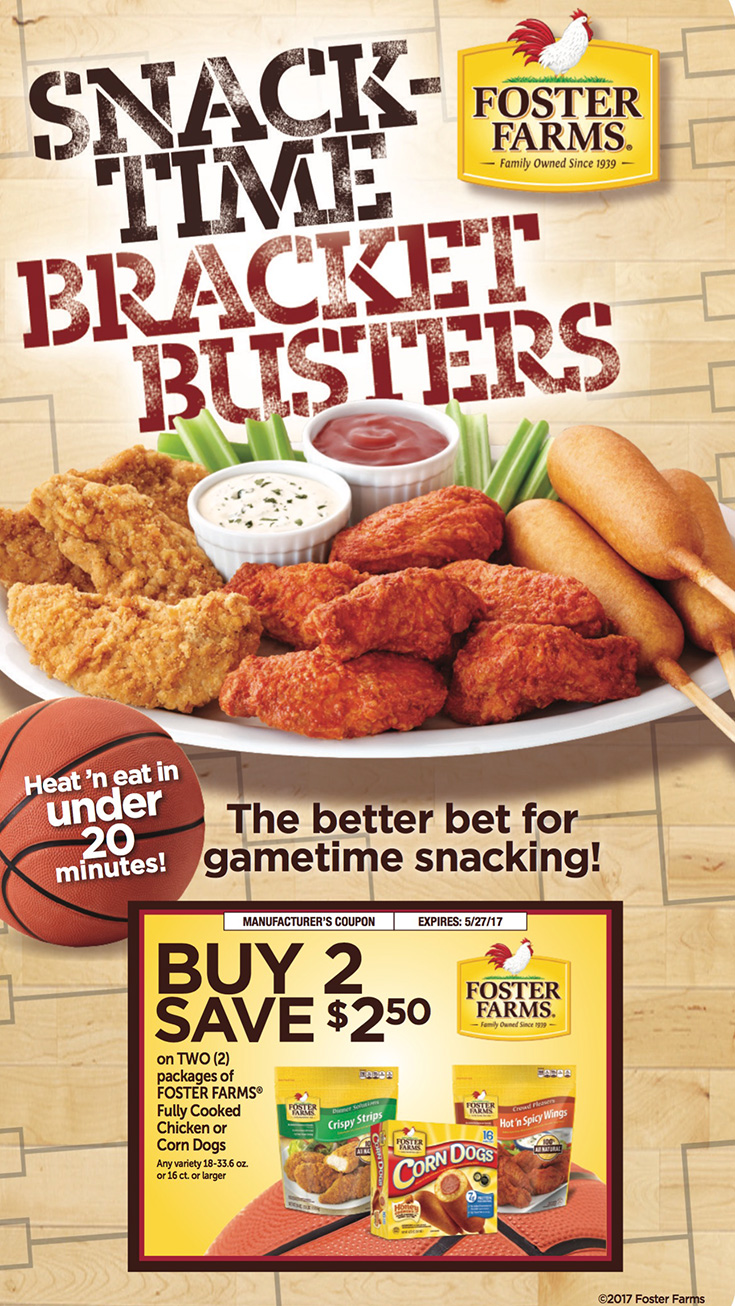 Learn more about Foster Farms Corn Dogs at: www.fosterfarms.com/frozen-meals-and-snacks/corn-dogs/
Foster Farms Corn Dog Prize Pack Giveaway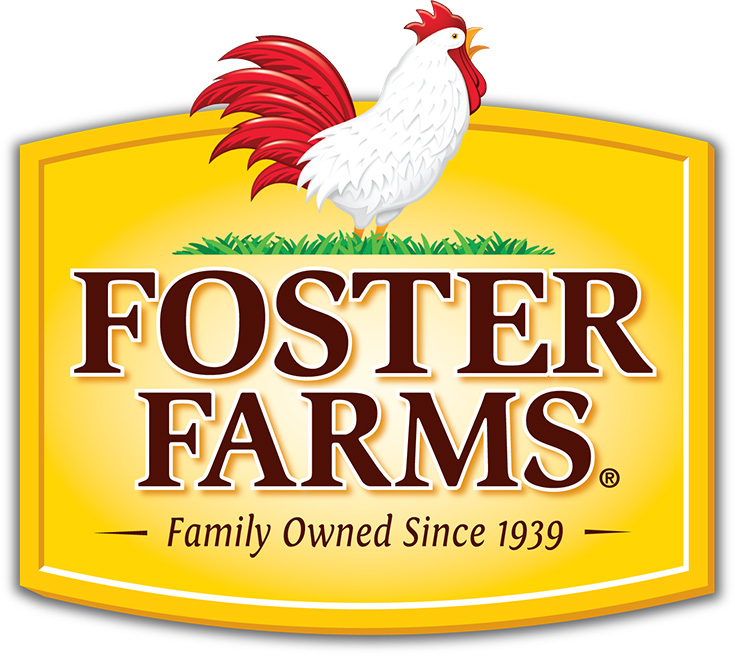 One of my lucky readers is going to WIN a prize package that includes 11 BOXES of corndogs.  One winner (US Only) will win 11 Free Foster Farms Corn Dog Coupons ($77 in value). To enter for your chance use the Rafflecopter below: