The epic journey continues for MOANA fans! Walt Disney Animation Studios has introduced an all-new sing-along version of the hit, critically-lauded comedy-adventure MOANA for those that want to sing along too! Don't miss MOANA Sing Along in theaters starting January 27th!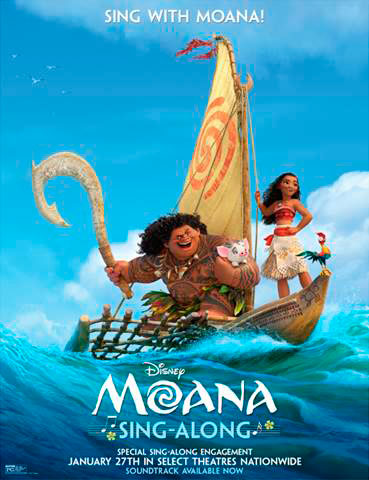 Fans are invited to warm up those vocal cords and set sail with an all-new sing-along version of MOANA launching in more than 2,000 theaters nationwide on Jan. 27 and exclusively at Hollywood's El Capitan Theatre on Jan. 20.
The sing-along version of MOANA includes the full feature film with on-screen lyrics, so audiences can belt out the words to their favorite songs, such as the Golden Globe®-nominated "How Far I'll Go." Moviegoers can check local listings for showtimes and theaters; the sing-along run will vary by location.
MOANA Sing Along Version In Theaters 
At Hollywood's El Capitan Theatre, the MOANA sing-along will begin Jan. 20, one week prior to the nationwide opening. Daily showtimes are at9:30 a.m. and 12:30 p.m. Tickets are available at El Capitan Theatre (6838 Hollywood Blvd.), by calling 1-800-DISNEY6 (347-6396) or online at www.elcapitantickets.com.
More links to see:
Visit the official MOANA website here: http://movies.disney.com/moana