Last week I was invited to Atlanta by Coca-Cola to visit the World Of Coca-Cola where I learned more about their 5by20 initiative.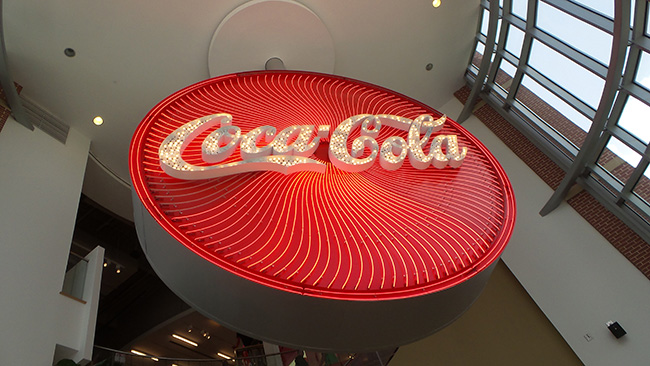 The Coca-Cola's 5by20 initiative is to enable the economic empowerment of 5 million women entrepreneurs acrossthe 200 countries that they work with by 2020. This initiative was launched in 2010 and since then the Coca-Cola company has developed and implemented programs worldwide that help address the barriers that prevent women entrepreneurs from succeeding in the marketplace. Currently Coca-Cola's 5by20 is offering programs in 40 countries around the world to enable women to build their own businesses, support their families and build their communities.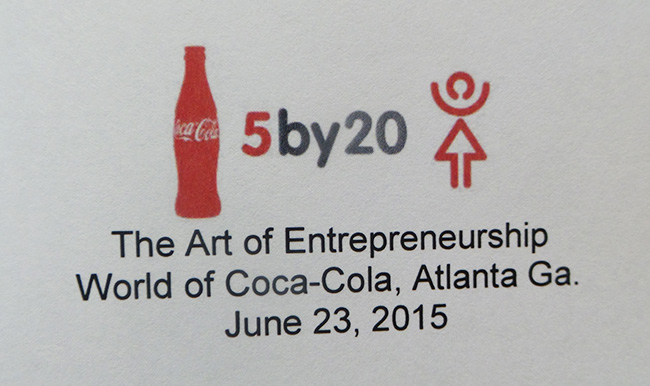 On my trip to the World Of Coca-Cola for The Art Of Entrepreneurship Event I got learn more about some of these programs that Coca-Cola is providing to these women entrepreneurs, see some of the products that were made that are now available for purchase online and in the Coca-Cola stores in the US and meet some of the people involved in this 5by20 initiative.
One of the entrepreneurs that we got to meet and that was a speaker at the event was Kathleen Plate, Founder and Designer of Smart Glass Jewelry. Being the entrepreneur myself, I was amazed by Kathleen's story.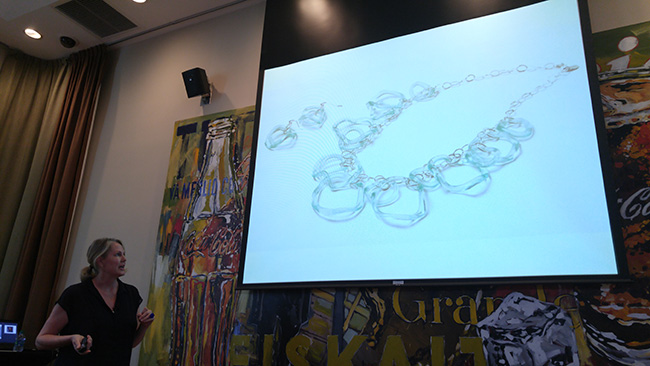 Kathleen had grown up being frugal, growing vegetables in the family garden and and was always conscious of her own consumption. When Kathleen was in college and didn't have the extra money to spend on gifts for friends she did what she did best, she used what she had. For a friend's birthday she broke a pretty wine bottle that she had found and made a pair of homemade earrings that her friend LOVED that had her creating more jewelry with glass, then leading her to create her own business.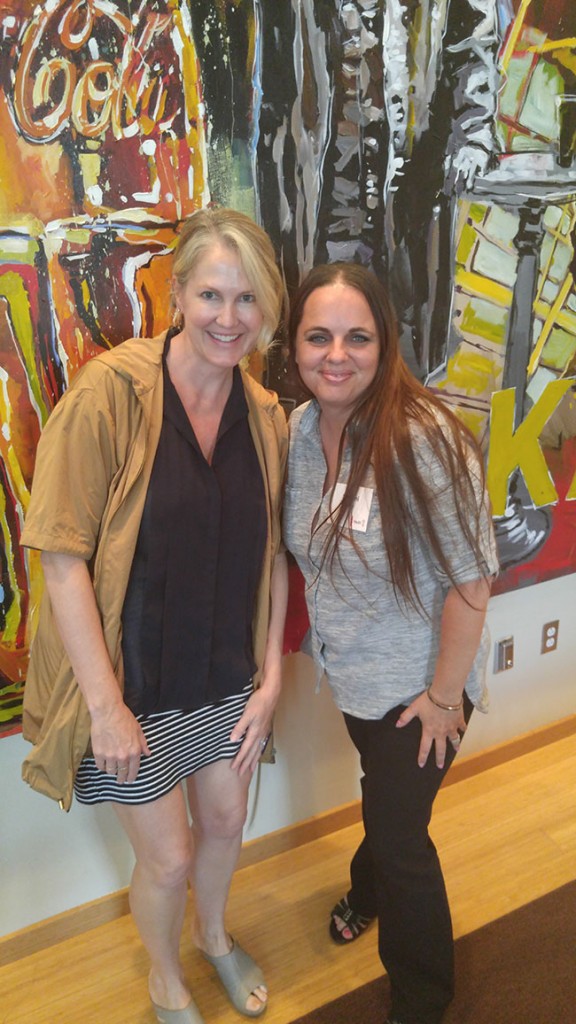 Kathleen Plate is now a talented designer and makes some amazing things with glass like cute necklaces, earrings and rings made from Coca-Cola bottles. She even makes these awesome one of a kind chandeliers. You can see some of her amazing work at the World Of Coca Cola's gift shop!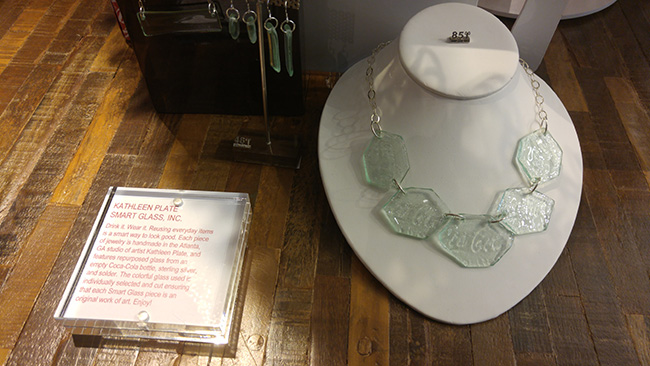 During the event we also met Judy Achar who is the Founder and President of Mitz Foundation. Her story is also pretty amazing!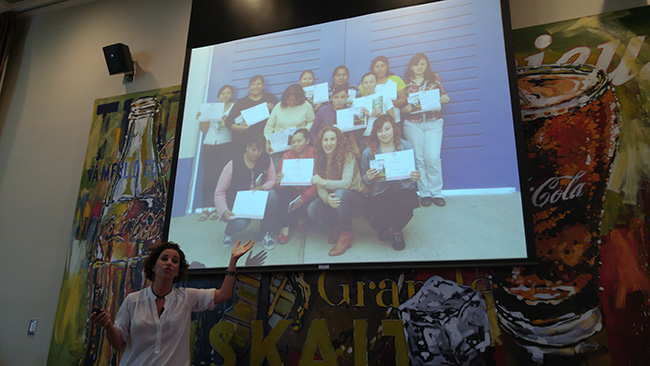 Judy created the Mitz Foundation in 2003 with a primary objective to making one of the few privately owned schools for impoverished children "Children's House from Palo Salo" self sufficient. She put together a group of moms where they explored different projects to help fund the foundation until they came upon the Nahuati weaving techniques that transform leftover packaging into products like handbags, coin purses, iPad covers and more that help to provide an income for the women making them.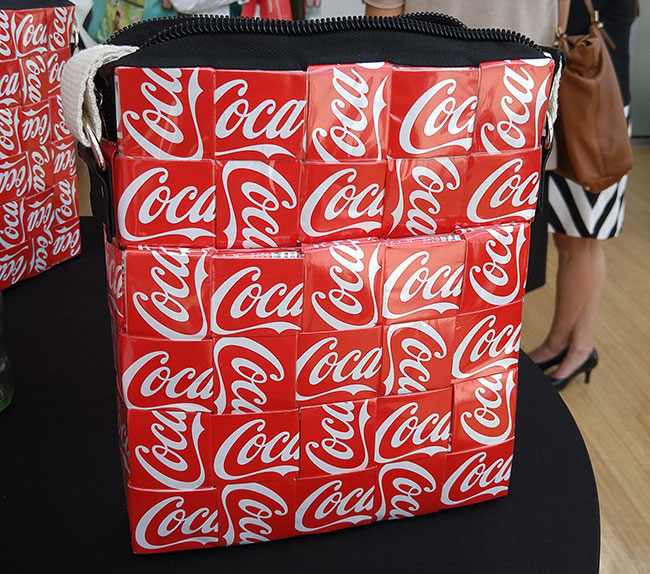 During the event Judy showed our group this weaving technique where we all finished a bookmark that was made with leftover Coca-Cola packaging. I thought it was fun learning this weaving technique that these women are using to make these products.
It took some help from Judy but I was able to finish my bookmark which made me smile! This is something I will keep forever and will probably hang on my Christmas tree this year so that if someone asks about my Cola-Cola bookmark on my tree I can tell them about my trip to Atlanta.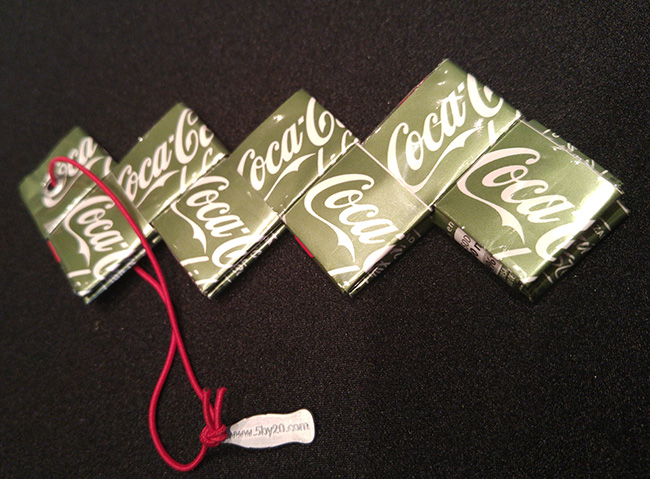 Towards the end of the event the 5by20 Artisan made products were unveiled at the gift shop at the World Of Coca-Cola. One of my favorites was the Soda Can Giraffes made from Acacia Creations.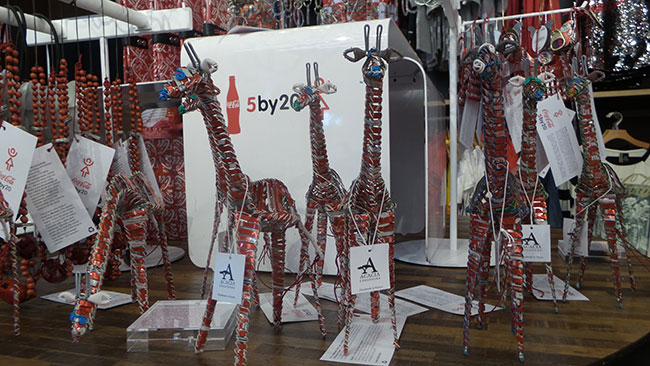 These giraffes and other animals are made in Kenya and are helping to provide income and encourage creative recycling solutions in a country where recycling is rare.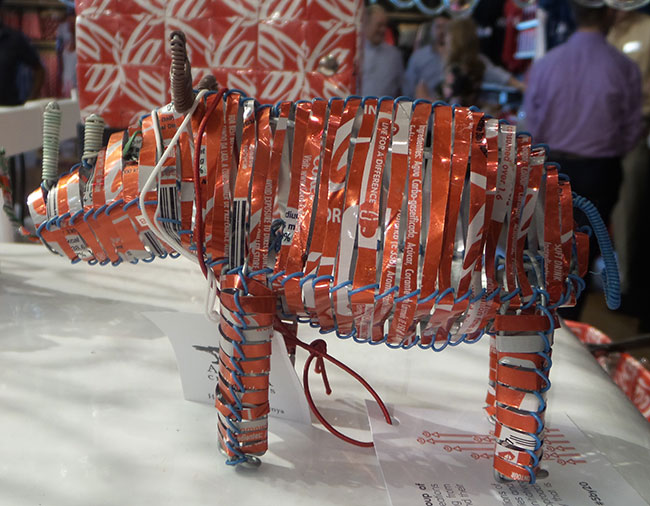 These are just a few of the neat things that you can find that are made by Coca-Cola's 5by20 initiative that are helping other communities and families in need. To view the pictures that I took during the Art Of Entrepreneurship that includes more pictures of these artisan items I saw during the event watch my video below:
I loved being able to participate in this unique event. In 1996 when I was pregnant with my first child I taught myself html and built my first website and starting earning money with affiliate programs to help support my family. I then launched Mommy Enterprises in 2002 as a website to provide moms with resources to find ways to make money at home too. I have always had a passion for having my own business since I was a child and I loved learning about Coca-Cola's 5by20 initiative that helps women entrepreneurs provide an income for their families and communities.
To learn more and purchase the 5by20 products at: www.coca-colastore.com/5by20