This is a partnered post with Foster Farms®. All opinions expressed are my own.
Now that the kids are on summer vacation this mom is on duty full time in the kitchen looking to create and make new recipes that my family will enjoy and hopefully ask me to make again. I love when I make a meal and there is no leftovers, makes my heart feel full as well as everyone's bellies. I have a family of six and pleasing everyone isn't something that is always easy. My youngest can be quite picky at times making something that he likes, that everyone else is going to like can sometimes be a task!
There is one type of meat that everyone in my family enjoys eating and that is chicken. With that said you will find me making lunch or dinners that include chicken at least a few times a week if not more. The recipe ideas that you can create with chicken are pretty much endless. You can grill it, bake it, fry it or you can even get creative with it.
I got really got creative last week and I stuffed my chicken!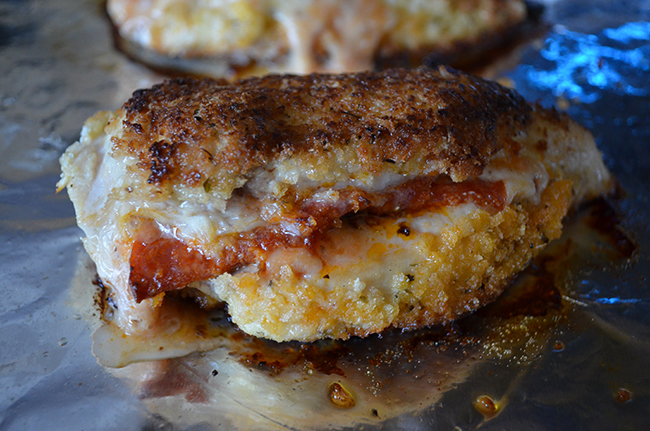 One thing that I have learned throughout my years of cooking is that all chicken is not the same. I prefer to buy the Foster Farms chicken when shopping for fresh chicken at the supermarket. It is a brand that I have bought for years and I like that Foster Farms fresh chicken is locally grown to the West Coast and American Humane Certified.
In the last few years I have tried to buy more organic, especially when it comes to buying meat and vegetables. I care about what I feed my family and parenthood is driving the demand for Organic and Antibiotic-Free Chicken. I don't like the idea of feeding anything to my family that may have steroids, hormones or even pesticides in or on it. Last week when I made my Pizza Stuffed Chicken Breast I used some of the Foster Farms Simply Raised chicken and it was a huge hit at my house. My kids really LOVED the idea of pizza and chicken together. I don't know why I hadn't thought of this idea before.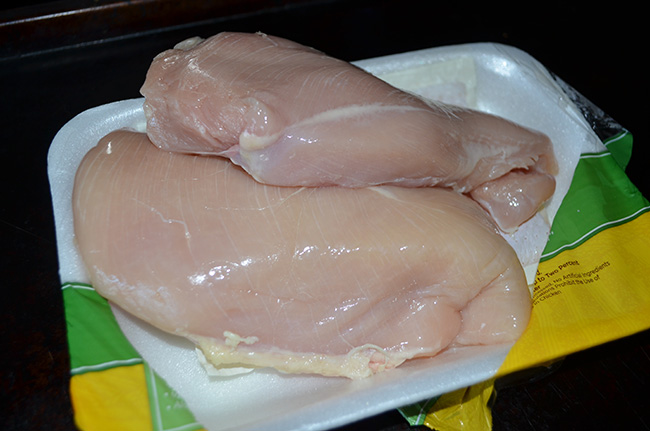 The Foster Farms Simply Raised is fresh chicken that has NO antibiotics, NO additives, NO preservatives, NO steroids, NO hormones and is 100% vegetarian feed. Simply Raised is locally grown throughout the Western states including CA, OR and WA.
With my Pizza Stuffed Chicken Breast I chose to go with the Simply Raised Breast Fillets. These fresh chicken breast fillets are large and perfect when you are making any type of stuffed chicken breast recipe. What I also like about the Foster Farms Simply Raised products is that they also have NO added salt which is perfect for those watching their sodium intake.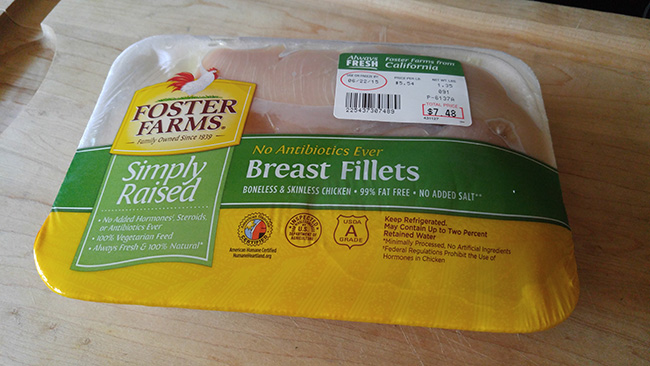 For those that have never made a stuffed chicken breast, it is easier than it sounds. It is just one of many ways that you can get creative with fresh chicken and look like you are a chef to your family.
How To Make Pizza Stuffed Chicken Breasts
For my Pizza Stuffed Chicken Breast recipe I took each of the Foster Farms Simply Raised Breast Fillets and with a sharp knife I made a cut down the side of each of the chicken breasts so that I could open it up and make a pocket.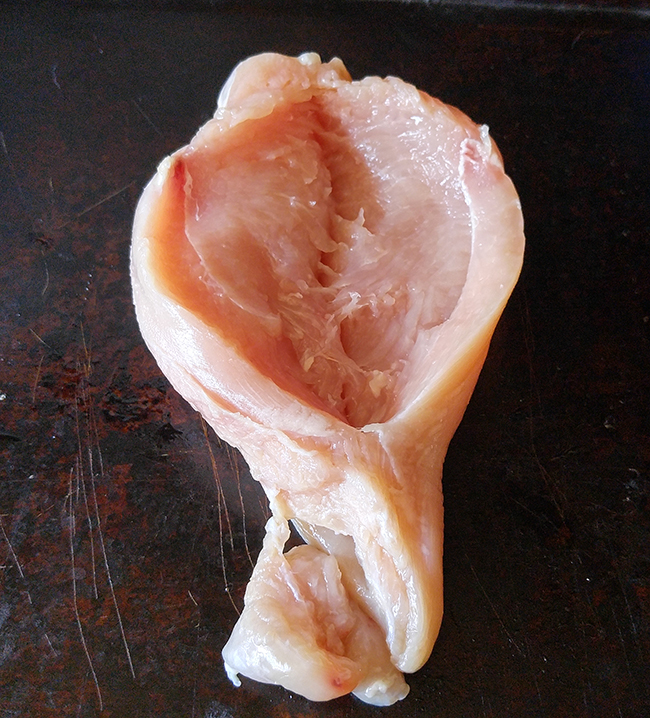 Next I just added some shredded Mozzarella cheese.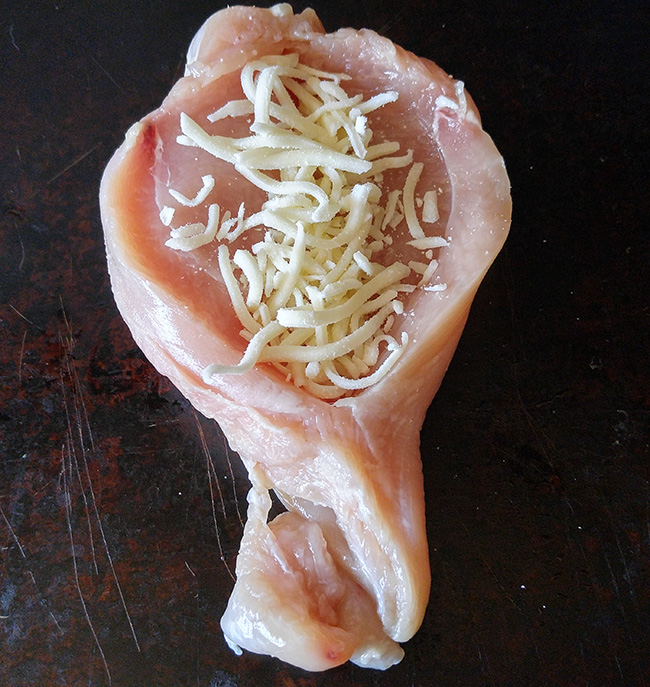 I then added 4 pieces of sliced pepperoni in each of the chicken breast fillets.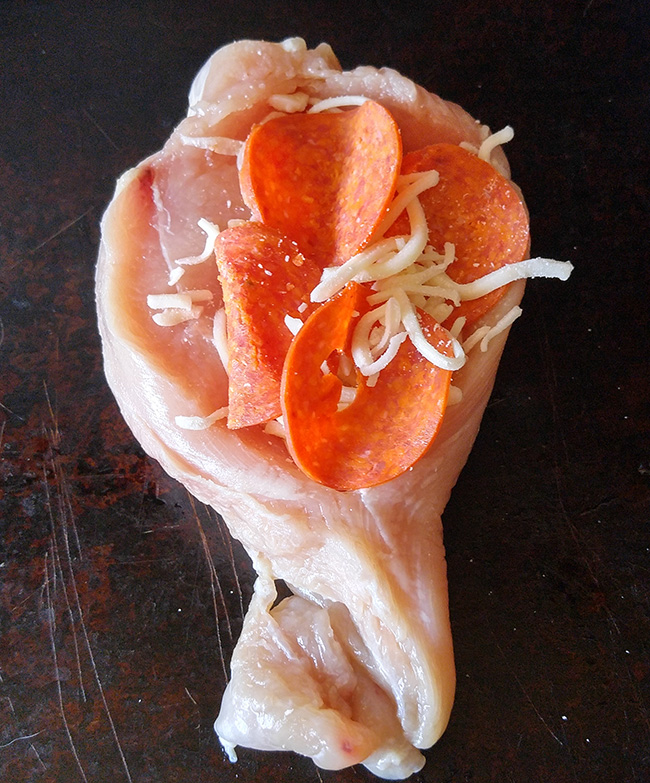 Next I added 1/2 tablespoon of marinara sauce to give it some pizza flavor.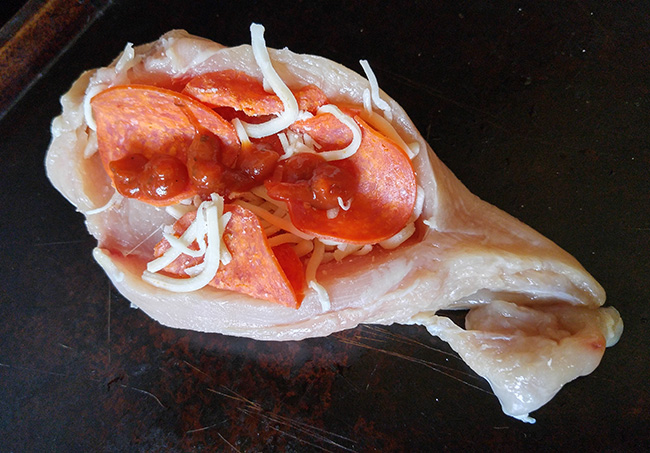 The next step is to close the chicken breast, keeping the ingredients inside packed nice and tight.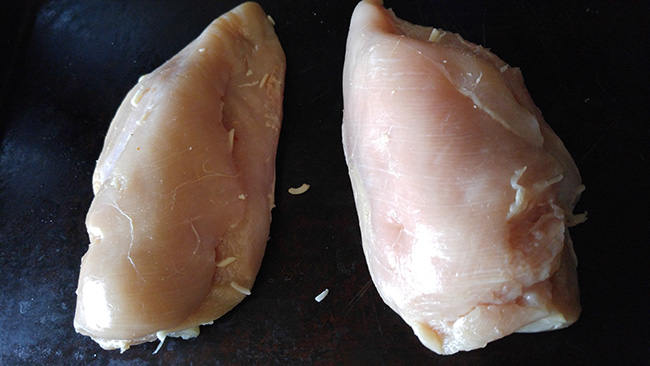 The next steps are a little messy. Once you have your chicken breasts stuffed you then have to dip them in some flour, then egg and then some breadcrumbs. I like my food to have flavor so with my flour I added a dash of salt and pepper. For the breadcrumbs I used the Panko style breadcrumbs and mixed in a teaspoon of Italian Seasoning.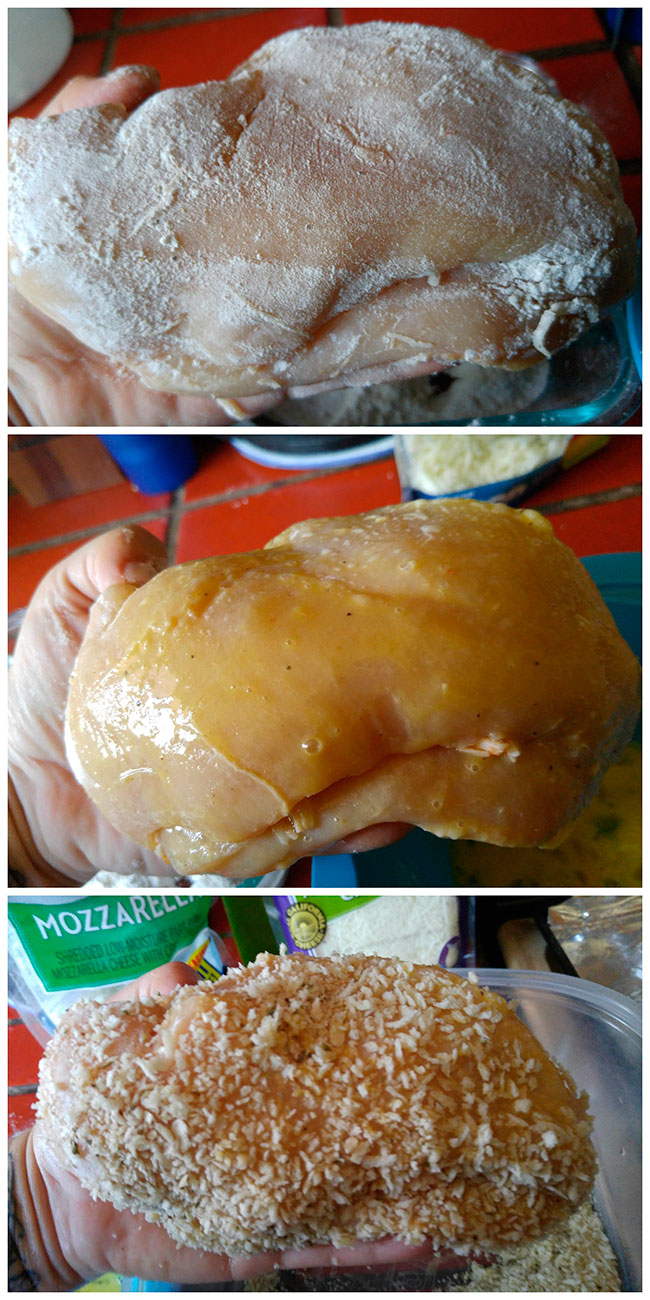 Preheat your oven to 350° degrees. Next heat a large skillet to medium/high with about 5-6 tablespoons of your favorite cooking oil. I used vegetable oil but you can use what oil you prefer to cook with. Once oil is ready, place chicken in the skillet and cook until they are golden on each side. My chicken breasts took about 30 seconds to cook each side but it will vary. Be sure not to burn them!
Remove the chicken breasts from skillet and place on a baking sheet and bake for 25-30 minutes or until cooked through. These tend to get a little messy so make sure that you line your baking sheet with some aluminum foil. Once they are done remove from oven and allow to cool for a few minutes because those insides will be HOT.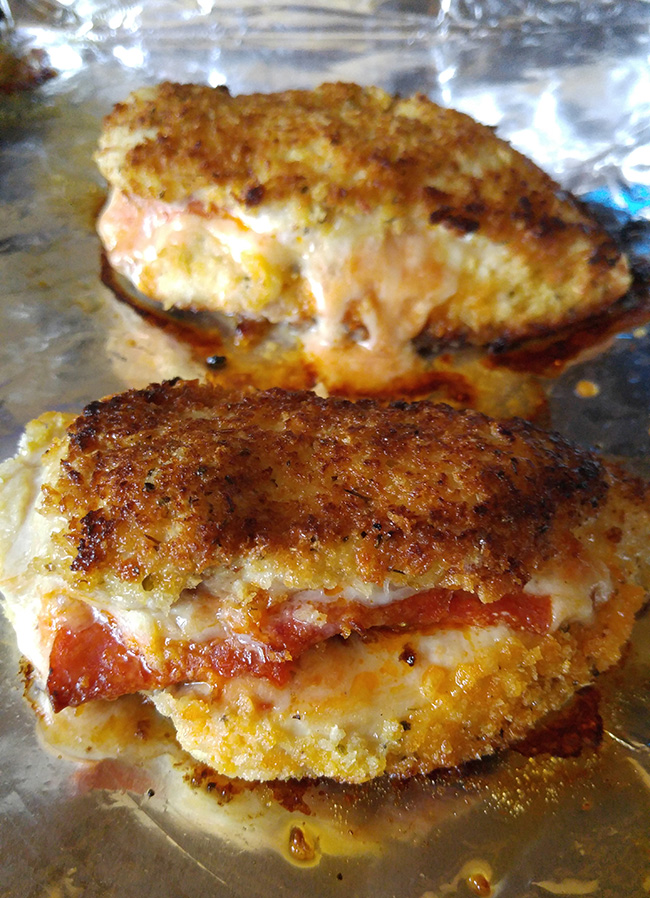 This is just one of many recipes ideas I plan to use with the Foster Farms Simply Raised chicken products. Foster Farms is family-owned and operated since 1939. Foster Farms is the West Coast's leading poultry producer and a brand that has been in home since I was a kid! You can buy the Simply Raised cut in breast fillets, thin-sliced fillets and breast tenders.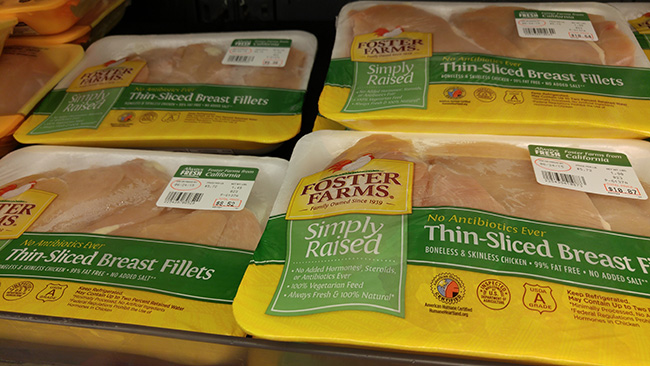 The Foster Farms Simply Raised and the Foster Farms Fresh & Natural products can be found in CA, WA and OR. For those of you that shop organic, you can also find Foster Farms Organic products at Costco and select supermarkets in CA. The average cost of each of the Foster Farms chicken products per pound are:
Simply Raised: $6.49/lb
Fresh and Natural: $5.99/lb
Organic: $8.99/lb
I found these Foster Farms Simply raised products at my local Walmart for only $5.54 per pound so those prices above might be even less! For more information on Foster Farms, recipes, FAQ's and more visit: https://bit.l5Dk3y/1Of
This post is sponsored by Foster Farms®, the opinions expressed are my own.